Poor People Are Crazy, But Rich People Are Eccentric
Alice (Kristen Wiig) has a prepared statement. She also has Borderline Personality Disorder, a mental illness that has robbed her of nearly everything in her life. She's lost her job as a veterinary technician, her ex-husband has come out, and her daily routine has shrunk. She lives in a small apartment and endlessly re-watches episodes of Oprah, so much so that she knows them by heart. Alice repeats Oprah's mantras about self-actualization, but it all feels hollow.
Alice also buys a lottery ticket every day. One day, she wins the lottery. Now she has $86 million dollars, and she's seized upon an idea that her therapist, Dr. Moffet (Tim Robbins), absolutely loathes. Taking a page from Oprah, Alice approaches Gabe Ruskin (Wes Bentley) and Rich Ruskin (James Marsden), a pair of brothers who own an independent television studio. Their studio focuses on infomercials, but business has been bad. Scratch that, business was bad until Alice tells them she wants to create a talk show. All about her, and only her. She then writes them a check for $15 million to make it happen.
So begins Welcome To Me, a film that walks the knife edge of being hilariously funny and profoundly sad. It's also anchored by a fearless performance by Kristin Wiig. She's surrounded by an incredible cast, which also includes Joan Cusack as the TV station's acerbic director, an unrecognizable Jennifer Jason Leigh as a technician with a crisis of conscience, and Linda Cardellini as Gina, Alice's only real friend.
Usually, movies about mental illness portray the afflicted as a holy fool (The Fisher King, Benny & Joon), or as someone suffering an endurance test (Girl, Interrupted, A Beautiful Mind). Welcome To Me succeeds partly due to a willingness to view Alice from numerous perspectives. She's funny, when she's demanding a swan boat for the entrance of her show. She's a figure of pathos, when she has a breakdown in the middle of a casino. She's disturbing, when she's neutering dogs live on camera. She's portrayed as a three-dimensional character, and director Shira Piven and screenwriter Eliot Laurence don't treat her as a joke, but don't let her off the hook for having a mental illness.
There's also some sly jabs at the culture of narcissism we live in. When people post grinning selfies from concentration camps and status updates about minutia, a talk show totally focusing on one person is not a stretch. Speaking of narcissism, I also loved the idea that Alice's wealth insulates her from consequences. Like Howard Hughes, a vast fortune allows you to get away with essentially anything, no mater how bizarre or depraved.
Unfortunately, Welcome To Me won't necessarily be everyone's cup of tea. Some viewers will find it too uncomfortable to spend time with Alice, a character that isn't easy to like. Others may get hung up on her Borderline Personality Disorder diagnosis, which may not be entirely accurate. But characters in movies don't need to be likable, they need to be interesting. Plus, a movie like this shouldn't be concerned about pleasing everyone. It has a unique and idiosyncratic style, and I suspect that the people who like this movie will absolutely champion it.
Alice is fascinating, and it's great to see Kristen Wiig taking on such a tough role and infusing it with so much humanity. Since she's made it big after SNL, she hasn't become the female Adam Sandler and settled for making safe choices. Welcome To Me is probably the best work of her career so far. It's brave and challenging, and it's always wonderful seeing a talented actor dig deep.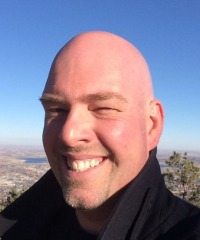 Tim has been alarmingly enthusiastic about movies ever since childhood. He grew up in Boulder and, foolishly, left Colorado to study Communications in Washington State. Making matters worse, he moved to Connecticut after meeting his too-good-for-him wife. Drawn by the Rockies and a mild climate, he triumphantly returned and settled down back in Boulder County. He's written numerous screenplays, loves hiking, and embarrassed himself in front of Samuel L. Jackson. True story.