3-Day Road Trip Adventure:  Day 3–Pagosa Springs
If you're looking for a place for relaxation then Pagosa Springs is a great choice.  It is a small-quaint town with a lot of personality.  It's about a 5-hour drive (one-way) from Denver with glorious scenic views along the way but only a 3-hour drive from Ouray, where I had started my journey to Pagosa Springs.  This was my last stop to my three day Colorado road trip and I was looking forward to a little pampering.  
Things to Do: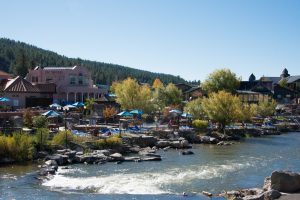 The Springs Resort and Spa (Hot Springs):  Enjoy their 18 hot springs pool with varying temperature degrees for just $26 (adults) and $14 (child).  Discounts provided for military and senior citizens.  You have access to lockers for $2, towels for $3 and robes for $10, all optional, you can bring your own towel and/or robe.  
The pools overlook the San Juan River, San Juan Mountains and downtown Pagosa Springs, so you'll have a phenomenal view while soaking up in pure pleasure.  
Horseback Riding:  If you'd like to take a relaxing stroll on horseback while taking in the beauty of the San Juan and Weminuche Mountains then check out Diamond Hitch Stables.  They offer various riding time options from 1/2 hour up to 2 hours and prices range from $30 to $75.  They also provide pony rides for small children.  
Where to Eat:
Pagosa Baking Company:  Great place for breakfast or lunch with simple tasty meal options that contain local organic ingredients.  It's interior has a warm and homey feel to it, you'll feel like your in grandma's home.  The staff was friendly and welcoming.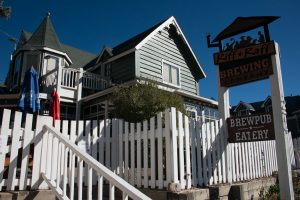 Riff Raff Brewing Company:  This is a fun place to watch a game on TV, listen to live music on the weekend or make new friends while enjoying a tasty burger with a cold beer in hand. 
Accommodations:  
You will find various lodging options in Pagosa Springs whether you're on a budget or would like fancier accommodations.  I chose to go the Airbnb route.
Airbnb is a great option.  You can reserve an entire place if you prefer privacy or have a large group of people.  If you wish to save some money, then the private room option is a great alternative.  I have personally done both options at various locations throughout the U.S. and overseas.  For Pagosa Springs, I chose a private room with a private bath at a home residence walking distance to downtown.  Three things I rely heavily when deciding which Airbnb option to choose:  the pictures posted, the reviews from previous guests and location.
There are numerous things to do in Pagosa Springs.  For more information on activities, lodging, dining and shopping go to http://www.visitpagosasprings.com/discover-pagosa-springs/facts.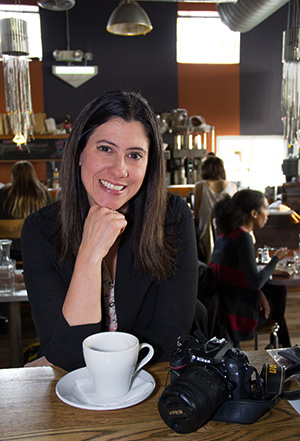 Alida is a photojournalist, photographer and world-traveler.  In 2015, she made Colorado her home after serving 20 years in the Air Force to pursue her love of photography on a full-time basis.  She specializes in Architecture, Real Estate, Lifestyle and Travel photography.  She holds a B.A. and M.A. in Business as well as an AAS in Photography.  Traveling is one of her biggest passions, she has visited 28 countries and continues to mark off locations from her bucket list.  During her free time, she enjoys traveling, photographing and exploring new places, and meeting new people along the way.  She calls herself a "food and adventure junkie" and loves to capture fun and special moments with her camera.  You may find Alida at a local coffee shop enjoying a cup of coffee, enjoying live music at a local bar along with friends with a glass of wine in hand and a plate full of goodies, hiking one of Colorado's many trails or giving back to the community as a volunteer for a special cause.