Avourneen & Swallow Hill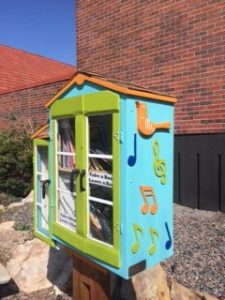 Serendipity strikes when you least expect it. I haven't talked much about my "muggle" job in these columns because it's far less interesting than my "unicorn" life. I do laboratory diagnostics for an acute care hospital. It's a critically important job, it's more complicated than you might think, and it has the potential to be astonishingly yucky. My feelings about it are mixed. However, it did once lead me, serendipitously, into a real treasure.
Some time ago, I was working with a doctor who was notorious both for being abrasive and aggressive. He was also quite short. "Doctor Q" was an excellent physician. I did more procedures with him than most of my coworkers because, while they found him off putting, I mostly thought his spit and swagger were amusing. On this particular day, as we casually carved up a patient, he mentioned that his on-call schedule would be unavailable the following weekend.
"Oh?" I asked, dropping a piece of patient into formaldehyde. "Leaving town?"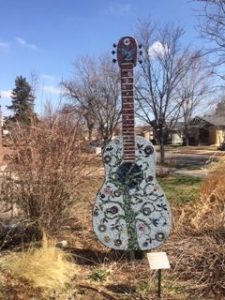 "No," Dr. Q replied. "I have a ukulele convention."
I paused mid-drop as my mind raced to formulate an image of this tiny man playing a tiny guitar amongst a herd of nerds in identical pursuit. It was shocking, even to someone who, at that very moment, was holding a chunk of someone else in their sterile-gloved hand.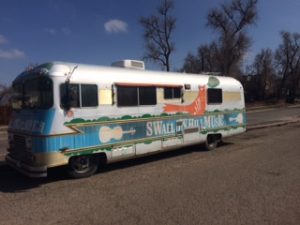 Curiosity, red wine, and Google helped me find the Denver Uke Fest. It's a three-day festival of all things ukulele and you can buy a weekend pass. It's fitting that it's a weekend. Short instrument, short festival. Buy your pass soon; they sell out. More importantly, my tipsy Googling led me to the host of the Uke Fest: the local treasure that is Swallow Hill Music. Located in an up cycled church building on South Broadway, Swallow Hill is a hub for all things folk music, music education, and music community. The old church has been transformed into multiple performance spaces as well as cozy lesson rooms and community areas. Classes and workshops on almost any type of instrument, jam sessions, old-fashioned sing-alongs, concerts, and storytelling events are all part of their offerings.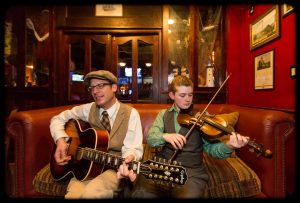 Serendipity wasn't done with me yet because Swallow Hill also hosts Avourneen, an Irish band known to me through a cabaret acquaintance. I'd heard Adam Goldstein open for shows I've performed in, but Swallow Hill was the first place I attended one of his band's full-length shows. I claim no music-appreciation qualifications, but I will unequivocally say that the show was a great time and a great listen. There are themes to Irish music that call out the universal human experiences. It's extremely satisfying music. We can't all experience being part of the 1%, but lost love and whiskey? Hell, yeah, I know what both of those taste like.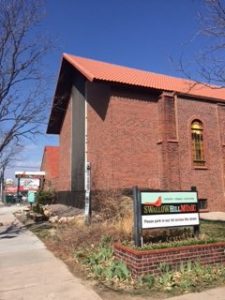 The band's primary members are Adam Goldstein ("Denver's Favorite Irish Jew," guitar and vocals), CL Morden (violin), and Kenny Martinez (bass). You might think that this is an unexpected conglomerate to be playing Celtic music, and you'd be right. But love strikes where it will. It struck me for green-chili-smothered breakfast burritos and it struck these folks for the rich sounds of Erin. The three of them evoke the spirit of Ireland and call back to other, equally wonderful, music traditions, too.
Avourneen's a busy bunch. They're spending a few days recuperating from the fracas that is St. Patrick's Day gigs for Irish bands, but you can catch them around town nearly every week. They're next big gig is at (where else?!) Swallow Hill on April 5. Irish bands being what they are, there will not be a ukulele. Don't tell Dr. Q or anybody who splurged on a Uke Fest weekend pass, but I consider this to be a major selling point. Irish whisky will be available at the bar, but your lost love will probably still be lost. Heal that hurt with another whiskey; it's the Irish way.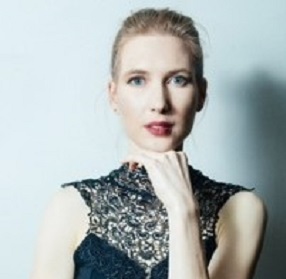 Jessie Hanson lives and works in Denver and couldn't be happier about it. Like the best-possible kind of Jekyl-and-Hyde scenario, she splits her life between science and storytelling. During the day, she performs clinical diagnostics and messes around with test tubes. At night, she performs behind the mic as a standup comedienne, in the air as a circus aerialist, and in rhinestones as burlesque dancer. She begrudges the hyper-inflated cost of a decent pair of false eyelashes. When she's not on stage, she sweating it out as an endurance athlete in triathlons and marathons across the West. She begrudges the hyper-inflated cost of a decent pair of running shoes. She's thrilled to be on board with OnDenver and writing about science, comedy, circus, athletics, and general fun on the Front Range!