Day Trip to Manitou Springs
Coming from Southern California, my daily commute was an hour twenty minutes. Even a short drive to the beach or at the wrong time of day or on a weekend could take over an hour. And let's not even get into traffic in the major cities. In other words, in California, you get used to being in your car. A lot. It still amazes me that in the few years I've lived in Denver, that idea that an hour or two (or even four- Vegas, anyone?) drive is really nothing, has totally faded and I'm now a spoiled girl in a little-big city and joined everyone in bitching if I had to drive more than 15-20 minutes anywhere (again, let's not talk about traffic). It's easy with that mindset to forget that within 1-2 hours from the center of town, you could be SO many amazing places and feeling far away from the city becomes a welcomed breather.
Manitou Springs is aneasy 90 minute drive south just past Colorado Springs on Highway 24, and this nostalgic heaven is the gateway to many natural wonders: the historic cave dwellings, Garden of the Gods Park, the infamous Incline Hike, and Cave of the Winds. It is also home to an outdoor vintage penny arcade, antique storefronts and more ice cream shops than you could ever visit in a weekend. But before you choose your own adventure, make sure to satiate your thirst at the one brewery in town.
Manitou Springs Brewing Company is right at the beginning of the curved main street you'll be sure to stroll on: perfect for either coming or going (or both!). There is a large dog-friendly patio, a large bar area with beautiful re-purposed barrel hoops barstools, and a separate seating area. Their menu looked great–most people visiting ordering lunch. Us? We were simply there to partake in our pre-hike tradition of good, local craft beer. And it was all good! From their Raspberry Outbreak slightly sour fruit beer, to their g-to High Ground IPA, each selection was mid-ABV and perfect for a warm adventure day. Their house draft selection is actually pretty small, but don't worry–their extensive guest draft selection includes anything you'd be craving, from Denver local breweries like The Crooked Stave, to San Celemente's Left Coast Brewery and even one from the big guys at New Belgium.
Manitou Springs is a hippie-dippie, warm-welcoming, cute little mountain town that explodes in the summer and there's no surprise as to why. Especially attractive of a destination for when family and friends come to town, release that in-car anxiety and enjoy a day trip down to Manitou. Stop for some beer and enjoy the day's awaiting adventure.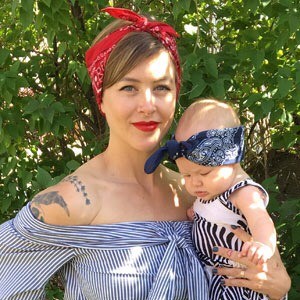 Erica Hoffmeister earned an MFA degree in creative writing and an MA in English from Chapman University of Orange. She has creative work published in the literary journals Shark Reef, Rat's Ass Review, Split Lip Magazine, and others. She has been teaching for over a decade (claiming 8th grade as her favorite grade level because she's an actual crazy person) and currently teaches composition and literature courses for Morgan Community College out of Fort Morgan. Always considering herself a bit of a beer nerd, she met her husband at Our Mutual Friend brewery while on vacation and fell in love with him, Denver, and its beer scene in one fatal swoop. While born and raised in Southern California, don't worry—she's earned her spurs as a transplant by creating her very own Colorado native. As a new mom, she is currently renegotiating her role as a world-traveling, bar-hopping, beer-loving free spirit by taking advantage of Denver's beer culture, where you can find as many babies in breweries on any given afternoon as beers on tap.