Wake and Wellness
For me, the morning is the most important part of my day. I like to wake up early, around 5:00 or 6:00, to enjoy the sunrise and peacefulness the morning has to offer. This time sets my mind and body for the rest of the day, so I try to make it as productive and beneficial to get it started on good vibes. However, I wake up daily to one of my cats crawling all over me and meowing in my face until I get out of bed. He really likes his snacks and to be let outside on the deck to watch the birds. I then start the coffee and consume cannabis. I suffer from idiopathic epilepsy with grand mal seizures, which is one of the reasons I start consuming in the morning. Infused coconut oil in coffee is how I often take my coffee, and I will consume flower from a glass piece.  A sativa strain compliments the coffee and helps me focus as I write my daily to do list and read something thought provoking or motivational. I also like to get my body moving in the mornings with some sort of physical activity. Recently, I've been practicing yoga and meditation more often before I go walking or jogging and it really helps loosen my muscles beforehand. I've also been able to practice alongside CannaFitness athletes and enthusiasts at Break the Stigma Fitness and at classes held by Huff n Puff Fitness. The owners and participants are strong, positive and empowering, and they utilize cannabis before and after physical activities like I do.
After yoga, you can find me on one of the trails near my home with the Boulder Flatirons in the background. The mountains are an ever changing landscape of beauty and truly inspire me daily with their energy which makes me feel more connected to nature and our planet. I usually run or walk between 2-6 miles. When I arrive back home, I make a protein drink that helps fuel me throughout the day and benefits my overall health and wellness. It consists of water and organic coconut milk, along with organic hemp protein, seeds, or oil. I also like to rotate adding other ingredients such as ginger, tumeric, spirulina, maca, and chlorella because of the superfood nutrients and antioxidants. To be honest, these don't make them taste any better, but I know the health benefits are worth it.
After exercising and fueling, I like to add infused topicals for my sore muscles to aid in joint inflammation and recovery. Exercising and running can cause joints to inflame and cause pain and irritation, and the topicals aid in recovery as well.  I've been enjoying Bluebird Botanicals tinctures and topicals, but I've recently had the opportunity to try Be Tru Organics Pain Relief Cream and Soul Oral Spray. The Pain relief cream has helped a ton with muscle aches from training and combines vitamins and essential oils that smell amazing and the oral spray delivers a delicious extract full of vitamins and powerful superfoods.
I then consume more flower after fueling and often get asked about my flower consumption and my lungs while running and training. There have been studies conducted showing cannabis as an effective bronchodilator, which opens airway passages, that has helped people with asthma and I feel helps me while I'm doing physical activities. I also have anxiety, especially when running at an event with hundreds of people surrounding me, so I feel like consuming helps me to even be able to participate in the events.
Overall, I enjoy filling my mornings with positive thoughts and activities. In doing so, I feel like promoting thoughtful action plans with to do lists and getting ones body activated with the right fuel and movement sets the tone for the day, and can be extremely beneficial for overall health and wellness.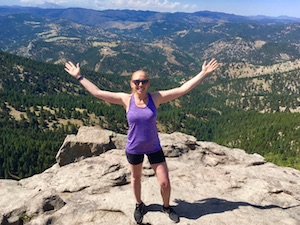 Heather is a sponsored cannabis athlete, content producer, and the Co-Owner of Marijuana Fitness Nutrition at mjfitnut.com. Before becoming an athlete, and advocate for cannabis, she graduated from the University of Missouri, while working full time, and earning her B.A. in Personal Financial Planning. She continued her successful career, rising in the finance industry, only to leave it all behind in search for a life more meaningful. It wasn't until she moved to Colorado, in 2015, when she discovered her true passions, marijuana, fitness, and nutrition. Heather now balances her time between managing her growing lifestyle brand, training for, and placing in athletic competitions, and producing some of the best CannaFitness content in the industry. This requires her to take on the titles of Photographer, Videographer, Director, Editor, Producer…, and the list goes on, but she still manages to enjoy time with her family. Although her adventurous spirit will always take her back out to run a trail, hike a mountain, or raft a river, she loves the peaceful moments at home, and cuddling with her husband, Antonio, and their two cats, Forest and Aspen.