Brighton Brewery Spotlight: Something Delicious at Something Brewery
After checking out the Brighton Chile Festival this past scorching hot weekend, a cold beer was more than necessary. There's definitely something special going on at Something Brewery in Brighton.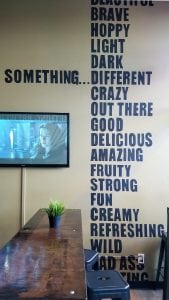 Some Brief History and Atmosphere:
The story behind the name can be found in their attempt to foster an inquisitive atmosphere for beer enthusiasts. They found that many of their guests would request, "something light, something dark, or something hoppy." Boy they sure take that adventurous way of thinking to heart. In fact, emblazoned on the walls is a large mural stating "Something…" followed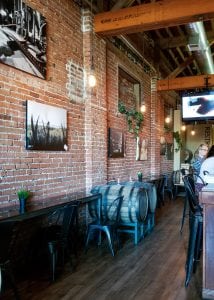 with various descriptors. All of which they totally nail. The brewery is tucked amongst some other shops and restaurants along Main Street. Out front they feature a small sidewalk style patio and offer a variety of food trucks serving up their wares curbside for their hungry patrons. Inside, in addition to their adventurous motto, there's ample exposed brick, natural wood floors, and local art adorns the walls. Their tap listing is cleverly displayed on pallets propped behind the taps.
The Brews: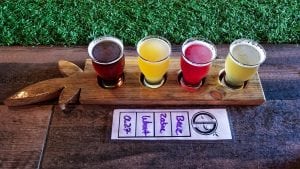 It's been a while since I went to a brewery and wanted to sample EVERYTHING on the tap list. However, that was just the case this past Saturday as I browsed the offerings Something Brewery was pouring up. My fear of missing out was peaking, so I opted to sample a flight of their entire menu served up 4 at a time. While IPAs tend to be my least favorite, I found myself really digging on the Haze and Juice. It is how I feel every IPA should be – juicy, hoppy, not too sweet, and not too bitter. Plus, it had such a fabulous light hazy color. They had a variety of "Slush" brews on tap that featured a very fruit forward and sour profile. The saison, Pineapple Express, was very refreshing. It had wonderful juicy pineapple taste upfront with more of the typical saison spice and herbal notes on the
back end. The real stars of the show were their collaborative brews with Wiley Roots Brewing Company – Two Headed Monsta. Two coffee imperial stouts: one with Oreo and the other with hazelnut. Holy delicious! Each is brewed up with Greely's own NoCo Coffee. The coffee was processed in such a way that it didn't have a bitter taste whatsoever. I believe I heard that it was cold-brewed to achieve this. The Oreo Stout was clearly a tad sweeter than the Hazelnut. They recommend mixing the two for an even more unique taste. One of the other patrons suggested getting
a pack of Oreos to eat with your brews to up the flavor profile. If you're a stout lover – these NEED to be on your wish list!
The Beertenders:
The beertenders literally made the visit. They were so incredibly personable! They made a great rapport with everyone. Even joining in on a fun counter top game I was playing with my guest and asking our input on songs to play. I can honestly say I don't think I have ever had such fun and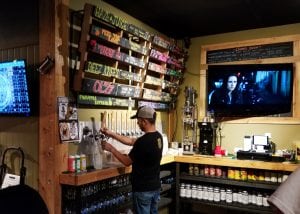 interactive beertenders during my various brewventures. They were incredibly attentive as well, our glasses were never empty. The patrons were almost as fun. From discussing the various brews, recommending additional offerings, and helping select our dinning plans – they had great things to say.
Something Brewery definitely has some fantastic going on. Not only can I not wait to return for future visits, but I plan on bringing back any and ALL of my beer loving friends!
Stay thirsty, Denver!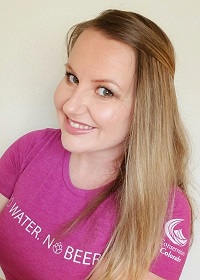 Carly is a Northern California native turned Coloradan. From night-life to the great outdoors, her twelve years in Colorful Colorado have been a whirlwind; soaking up every bit of its western glory and Yelping about her every adventure. Having held down her Elite status since 2013, Carly is known in the community for detailed and unique business reviews blended with gorgeous photography, her vast local brewery knowledge, and always being in-the-know about local happenings. When not in class at Community College of Aurora finishing her associate degree in business, Carly can be found roaming the Colorado craft beer scene after a morning hike with her Boston terrier, volunteering or indulging as a guest at local festivals, or devouring the latest street tacos. After her graduation in the spring of 2019, Carly intends to transfer to Metropolitan State University to pursue her bachelor's degree in marketing and ultimately her career and passion for beer at one of Colorado's many fantastic breweries.