Outdoor Responsibility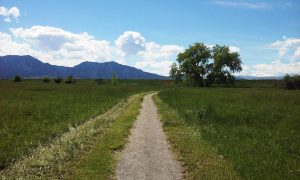 Hike Responsibly
It might be tempting to venture off the trail, but doing so not only risks injury or getting lost, you could be trampling protected habitats. Even if the trail is muddy or icy, don't veer off into the grass. It might seem harmless, but when hundreds of people start doing it…you get the idea. Oh, and those narrow, dirt paths that seem to be shortcuts? Those are most likely deer migration paths. Best to stay off of them.
For those hiking with friends – make sure you communicate and have an emergency plan. Earlier this year in Vail, a backcountry skier died when he and his friend were separated, and the latter assumed the former made it home safe. If you hike alone, always let someone know where you're going and when you'll be back. Even experienced hikers get lost or injured.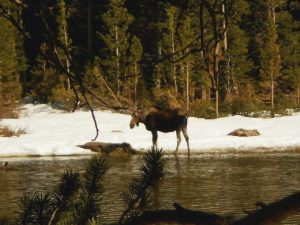 Respect Wildlife
If you come across anyone harassing wildlife, contact CPW immediately. This includes people getting dangerously close to animals. Even animals that don't seem threatening – like deer, foxes, or squirrels (go ahead and laugh) are best left alone. Definitely don't feed them. They might be adorable, but any animal that becomes too comfortable around humans will have to be put down.
Don't be afraid to call CPW if you see someone hunting or fishing and you're unsure if it's allowed. Just use caution – taken from the U.S. Forest Service's website: "If you believe you have witnessed a crime, do not approach the person and do not take a photo of them! Instead, observe what they are doing, record it on paper and report it to the authorities."
Check out our previous blogs for info on mountain lions, bears, coyotes, and rattlesnakes.
Report Illegal Activity
Several Colorado hot-spots have been vandalized in recent years, including Conundrum and Hanging Lake. If you stumble upon anything illegal or harmful such as graffiti, pollution, misuse of lands, or anyone who may be putting themselves in danger, contact your local CPW. Be sure to use caution and common sense, and call 911 if there's immediate danger.
And For Pet Owners…
We have to say it: it is never the ranger's job to pick up doggie bags. There is literally no one who is paid to go out and get these for you. We're all guilty of leaving them, saying "I'll get it on the way back," only to "forget." So, bring a cheap backpack to stash it in – for the sake of your rangers and fellow hikers.
While most people are respectful and simply enjoying the outdoors like you, everyone must act to protect them. So be safe and have fun this spring!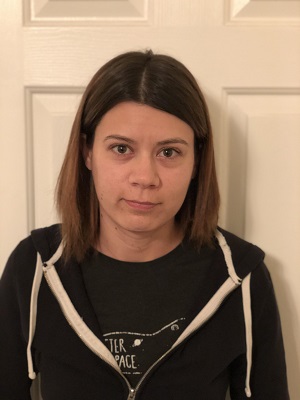 Evan is a writer, filmmaker and animator from Illinois. She moved to Boulder in 2011 to study film at the University of Colorado and fell in love with the Rocky Mountains. After graduation, she moved to Austin to pursue her film career. Despite the amazing tacos, music, and people, she found herself homesick and moved back to Denver, where there are far fewer cockroaches and seasons are an everyday occurrence. She is still writing screenplays and animating her own short films, and spends the rest of her time exploring new trails, towns, restaurants, and slopes all across the state.