Gallery 1261 – Local Denver Art Gallery
Just outside Larimer Square, sits Gallery 1261. Located at 1412 Wazee Street, it shares a space with K Contemporary and Abend Gallery, forming a colorful, cultural trifecta. Founder and artist Quang Ho envisioned a venue focused on creativity over marketability. Since 2004 they've been a place for artists to showcase their latest conceptions in a wide variety of mediums and styles.
The gallery is spacious, with hardwood floors, redbrick walls, and plenty of large windows providing natural lighting. The pieces displayed are mostly paintings and small sculptures. They feature landscapes, portraits, still lifes, abstracts, and nudes. Their artist list includes international names like Daud Akhriev and Quang Ho, as well as locals like Daniel Sprick and Robin Cole. Their latest exhibition is by the highly accomplished
Vincent Xeus.
Xeus grew up in China and came to America to pursue a career in architecture. Fortunately for the art world, it was not meant to be. Initially, he didn't know if he wanted to pursue art full-time, but he was naturally drawn to painting and loved the freedom of expression it provided. He started painting professionally in 2014 and his works have already become highly sought after. Xeus' pieces are like time capsules. He chooses scenes from history that bring back powerful memories of iconic moments and glamorized celebrities. He typically uses oil on
canvas, and emulates 17th century classical Italian and Dutch artists with a little bit of abstractionism sprinkled in. From L.A. To Paris, Xeus' work is coveted by galleries and private collections. He's been part of numerous exhibitions across the country and abroad.
This isn't Xeus' first time showing at Gallery 1261. He's become a regular there in group and solo shows. His 2015 series, Hue Is Full, featured portraits of John Wayne, Marilyn Monroe, and Winston Churchill alongside an abstract recreation of the Mona Lisa. While the moments captured on his canvas are historical themselves, Xeus sometimes focuses on shades of just one color, giving his portraits a black and white feel, but with with a blue or red tint. Amazingly, he doesn't sacrifice detail or vibrance in limiting the color pallet. His
latest exhibition continues the trip through history. Titled, One, it features mostly portraits done in his signature style. Highlighting the moon landing, Kennedy, Michael Jackson, and John Lennon among other luminaries, these paintings highlight the impact of celebrities, politicians and cultural revolution. It will be showing thru December 29th.
Gallery 1261 is about the artistic expression, plain and simple. They have a fantastic collection of works from some of the best creative minds Denver has to offer. It's located at 1412 Wazee Street in LoDo. Gallery hours are Tuesday-Saturday, 12-6. For more info and a preview of upcoming exhibitions, check out www.gallery1261.com.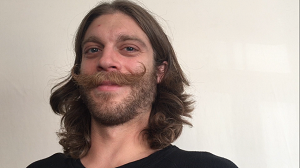 Jared is a local content contributor and aspiring author. He was fortunate enough to grow up in Golden, Colorado and graduated from MSU Denver. While an insatiable love of travel lures him all over the world, his roots remain firmly planted here. He enjoys writing short stories, poetry, children's books, societal observations, and everything else. A nature enthusiast and sunshine connoisseur, Jared is perfectly at home on any mountaintop or patio. He frequents art galleries and concerts, poetry readings and breweries, museums and bookstores. When he isn't making neighbors cringe at his musical attempts he can be found on a snowboard or sailboat, depending on the day. A perpetual adventurer and eternal patron of the road less traveled.