Denver Brewery Spotlight: Grab A Cask Ale At Hogshead Brewery
Having heard the buzz about how fantastic Hogshead Brewery was; I knew I had to check it out for myself. So after grabbing brunch nearby Sloan's Lake – a friend and I made our way to Hogshead Brewery for a couple brews and some girl talk. Wow!
The space is small, but awesome! There's a longer community table and a couple low tops made with rustic wood. There are even a couple Laws Whiskey House barrels turned high top! I'm not sure, but something
might be aging in them too. It's so cozy and inviting. They really made the most of the space! They have a huge patio space both out front and on the side of the building (complete with string lights and corn hole). Hogshead Brewery does have a small parking lot out front and plenty of street parking in the surrounding neighborhood.
They specialize in cask conditioned ale at Hogshead. Cask ale is unfiltered and unpasteurized beer that is conditioned and served straight from the cask with no additional pressurization. The resulting brew is smooth and
rich. So good! My fellow brewery goer and I opted for the Blacktop. It's basically two drinks served together. The main part of the drink is their London Porter – Gilpin Black Gold. It's super rich with cocoa powder, coffee, pepper-wood, and dark fruit notes. This is paired with their barley wine – Window Licker. This was a bit sweeter and strong! You only get a four ounce pour of this with your pint. They limit this drink pairing to three per person! Incredibly unique and VERY tasty! I've also sipped on the Finley's Farmhouse Blackberry saison. It was completely delicious –
with heavy blackberry notes and a gorgeous color. Cask ale was definitely a delicious new style of beer for me.
While Hogshead Brewery may not have a kitchen of its own – they do have a pretzel warmer serving up some delish Baker Street pretzels! So, if you're in need of a snack during your visit – you're not out of luck, but it's recommended to come thirsty versus hungry!
So friendly! You can def tell that they have a passion for both beer and their patrons! We chatted
with the beertender, brewers, and some other patrons during our visit. Sometimes a smaller space makes for a warmer, more inviting experience for everyone. The beertenders are more than willing to chat with you about cask ale and help you find the brew that's right for you.
For those who are curious a hogshead is a large cask; a measure of capacity for beer, equal to 64 gallons (245.5 liters). So, it would make sense that a brewery specializing in cask ale would choose to name themselves for this integral piece of brewing equipment. Hogshead Brewery is a true hidden gem in the Denver Beer scene! I can't wait to go back and check out more of their tasty cask ale!
Stay thirsty, Denver!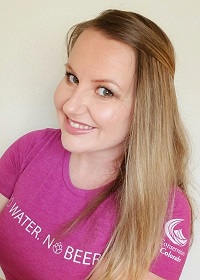 Carly is a Northern California native turned Coloradan. From night-life to the great outdoors, her twelve years in Colorful Colorado have been a whirlwind; soaking up every bit of its western glory and Yelping about her every adventure. Having held down her Elite status since 2013, Carly is known in the community for detailed and unique business reviews blended with gorgeous photography, her vast local brewery knowledge, and always being in-the-know about local happenings. When not in class at Community College of Aurora finishing her associate degree in business, Carly can be found roaming the Colorado craft beer scene after a morning hike with her Boston terrier, volunteering or indulging as a guest at local festivals, or devouring the latest street tacos. After her graduation in the spring of 2019, Carly intends to transfer to Metropolitan State University to pursue her bachelor's degree in marketing and ultimately her career and passion for beer at one of Colorado's many fantastic breweries.