Denver Brewery Spotlight: Getting Bookish With Fiction Beer Company
Fiction Beer Company is the product of owners Ryan and Christa Kilpatrick's love for both good beer and a good story. These self-proclaimed "book dorks" saw the need for a brewery in the area of Park Hill, Montclair, and Mayfair. In September of 2014 they opened the doors to Fiction Beer Company and the rest is history.
The space is large and varied. It features tables for those that need to get a little work done, couches for those looking to cozy up with a good book, and bar seating
for those looking for good conversation. There is a large patio that regularly features a nearby food truck to feed those hungry bellies. Fiction Beer Company of course offers up a book library to borrow a new title and leave another. There's also an assortment of games for use during your visit too. Don't forget to take a gander at the books that make up the bar you're sitting at!
In addition to having a wonderfully unique and cozy space, Fiction Beer Company also offers up a variety of wonderful events in their taproom. Naturally one of those events is a monthly book club. Other events include various beer releases, anniversary parties, trivia nights, and more! Give them a follow on Facebook to keep up with all their happenings.
Fiction Beer Company is constantly thinking "outside the cover"! Their brews definitely show just that. The tap list is categorized into 3 different types including Classics, Adventure, Fantasy, and the appropriately named Choose Your Own Adventure (their fun reference to flights). Just a handful of their most notable pours that I have sampled include:
Do Not Touch the Flamingos – a apricot saison.
Drink Me, Alice – a sour blonde ale with passionfruit, orange, and guava.
Feely Effects – a sweet coffee milk stout.
Madame Psychosis – a New England style IPA and bronze medal winner at Great American Beer Festival 2018!
Magic Wallet – a passionfruit milkshake IPA.
Shark Jumper – a prickly pear and pomegranate blonde ale with glitter.
Veritaserum – a Belgian sour with pumpkin and cranberry.

We Can't-elope – a cantaloupe gose.
With so many phenomenal offerings how can you possibly go wrong?!
It's no tall tale that Fiction Beer Company brings a breath of fresh air and a wonderful glass of beer to the Denver brewery scene. Don't believe me? Go ahead and check it out for yourself. You're bound to be smitten.
Stay thirsty, Denver!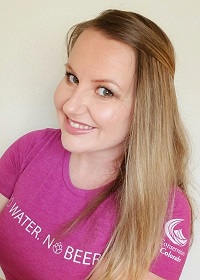 Carly is a Northern California native turned Coloradan. From night-life to the great outdoors, her twelve years in Colorful Colorado have been a whirlwind; soaking up every bit of its western glory and Yelping about her every adventure. Having held down her Elite status since 2013, Carly is known in the community for detailed and unique business reviews blended with gorgeous photography, her vast local brewery knowledge, and always being in-the-know about local happenings. When not in class at Community College of Aurora finishing her associate degree in business, Carly can be found roaming the Colorado craft beer scene after a morning hike with her Boston terrier, volunteering or indulging as a guest at local festivals, or devouring the latest street tacos. After her graduation in the spring of 2019, Carly intends to transfer to Metropolitan State University to pursue her bachelor's degree in marketing and ultimately her career and passion for beer at one of Colorado's many fantastic breweries.