ARISE: A Transformative Colorado Festival of Yoga and Music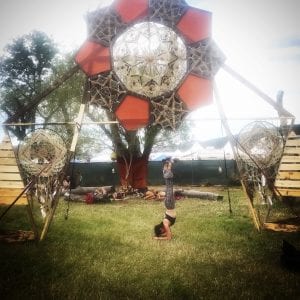 Community and healing: those are the words that come to mind when partaking in your first yoga-music festival. For anybody that's been to ARISE before, they'll likely know what I'm talking about.
Nestled between the rolling green foothills of Loveland, Colorado is Sunrise Ranch—an ideal location for an event such as this. Whether you come predominately for the yoga or the music alone, you'll get a wide variety in both realms. From folk, funk, and electronic to vinyasa flow and AcroYoga, there's a plethora of activities to choose from over the course of three days.
What's unique about ARISE as a festival is its focus on community and activism incorporated into the whole. People engage in conversation on deeper levels. No matter which aspect of the temporary village you explore, almost everybody addresses each other as brother or sister, and just like that, you automatically feel at home with yourself amongst individuals you've never met before. Yoga roughly translates to mean union of body and mind, but this can easily be applied to human connection as well; no place for judgment here—everybody has a story to tell and gift to share.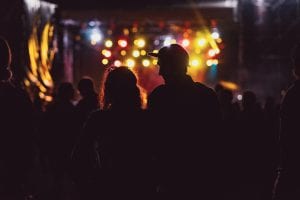 The festival boasts access to a main stage for well-established bands and DJs plus four additional smaller stages for quick-rising stars. This year, concertgoers were treated to a cornucopia of music artists: Beats Antique, Clozee, Tipper, Sunsquabi, and Rising Appalachia, to name a few. Most of the big music events happened in the afternoon into the evening, which left plenty of time for yoga and everything else in-between, including:
·         Meditation and breathwork groups
·         Inspirational lectures
·         Sound healing workshops
·         Drum circles
·         Pop-up art galleries
·         Massage and light therapy sessions
·         Flying trapeze performances
·         Children's activities
·         Tea and cacao ceremonies
·         Dancing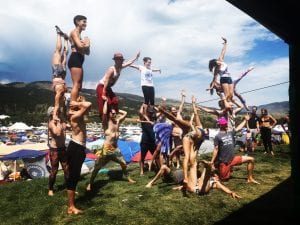 These events were only the beginning. Yoga classes had their own designated sanctuary at a big tent perched on top a hillside, overlooking the entire festival and valley beyond. Sessions began as early as 7:30 a.m. and were often accompanied by live music. I had two personal favorites, the first being an all-levels AcroYoga 101 class taught by the incredible Denver-based Circus Collective troupe. For me, nothing spells community and trust-building like being lifted into the air and balancing your torso on the feet of a complete stranger, close friend, or both. The second session was a blended concoction of yoga, chanting, and dancing, lead by vocalist Marti Nikko with music by DJ Drez.  
At ARISE, you can participate in as many yoga classes as you like as well as any other activity. That's the best part about this festival; the majority of events are already incorporated into the price of one General Admission ticket…including free walk-in camping! Imagine starting your morning with an early yoga session followed by a meditation and gong bath before breakfast—you are the creator of your own schedule.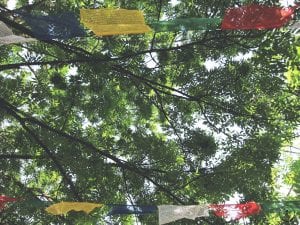 For anybody that hasn't quite yet experienced an authentic Colorado-based yoga and music festival, this one should definitely be on the top of your list. I know…I know…there are several to choose from (Colorado is amazing that way, after all), and I am slightly biased. This is my first official festival in regard to jam music alone (I've been to other yoga festivals). Yet when it comes to yoga, there is one key ingredient about ARISE that makes it truly exceptional: Interwoven connectedness.
The people here gathered not only to learn from renowned instructors, but from one another as students and colleagues. They were here to actively play and listen. It's as if  an underlying layer of collective consciousness spanned across the entire population of festivalgoers. Everybody came to heal and to bond in one way or another. I must say, it left a long-lasting impression, and for me personally, this is what yoga is all about: connection.
At the end of those three days, I left the festival grounds feeling thoroughly satisfied and in a state of bliss. If you are looking for meaningful interaction or just a new experience, I highly recommend attending ARISE. There's a little something for everybody, and I can guarantee that you won't be left feeling disappointed. 
Just definitely be sure to pack an extra bottle of sunscreen.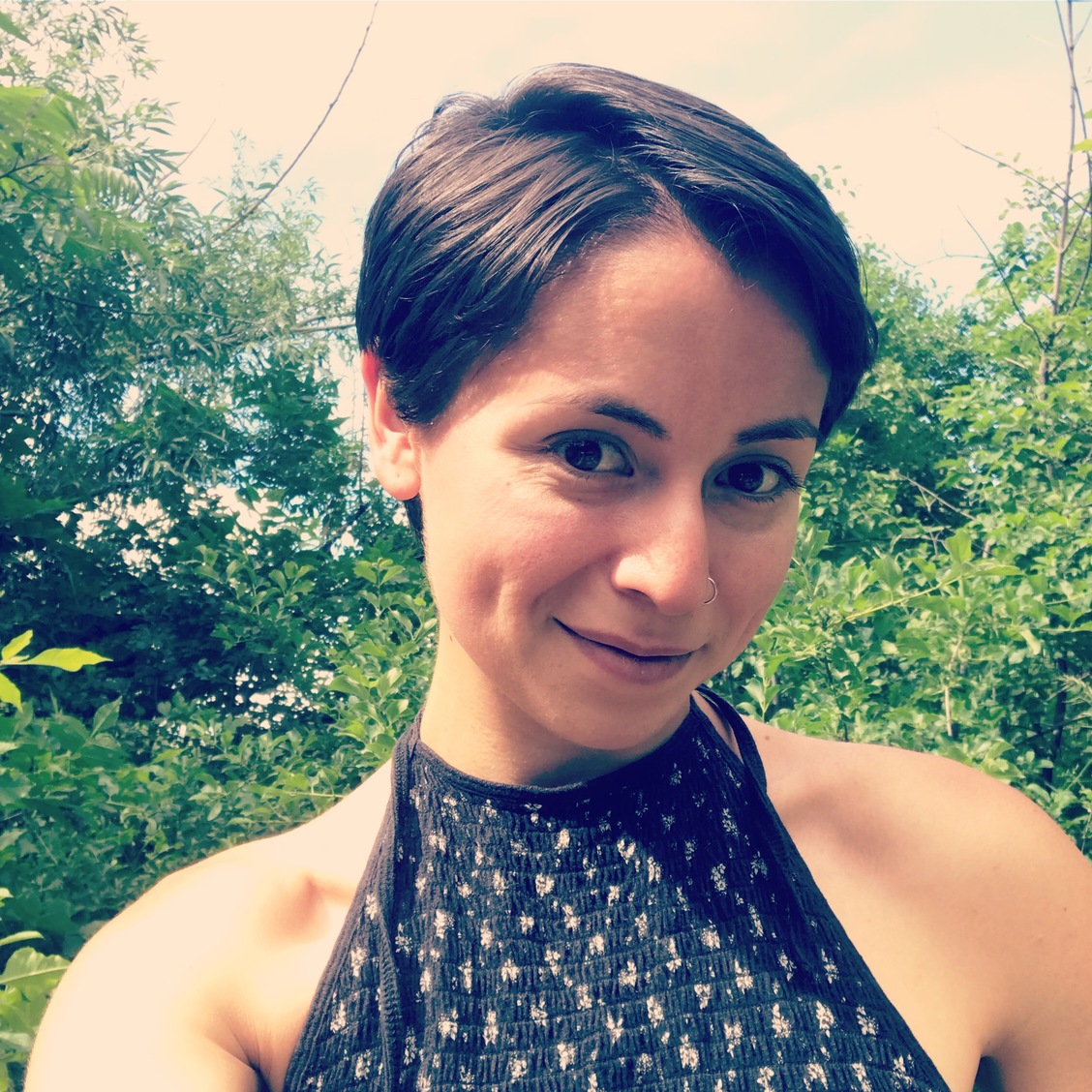 Amanda Cruz is a freelance writer, editor and certified yoga teacher. Holding a B.A. in Political Science from the University of Colorado at Boulder, her passion for the written word runs deep. Starting out as a prelaw student, her direction eventually unfolded into the realms of health and wellness, through the art of storytelling. An avid lover of adventure, Amanda makes nature her playground, and movement her medicine. Now, as a fulltime freelancer, you'll find her behind a keyboard crafting content in topics ranging from meditation to circadian rhythm–inquiring and pondering along the way. As an editor, she enjoys adapting to multiple projects and mediums. Need literary guidance on a novel, or thesis development for an academic article?
Challenge accepted!
When not glued to her desk or locked to a book, Amanda will be cutting through slopes on her snowboard or traversing up mountains. To view her latest written pieces, visit her at
https://www.tuneus.com
, where she is a contributing writer and editor for an up-and-coming holistic health organization.