Wasteland Hop, The Dollhouse Thieves, and Solsatellite at Lost Lake Lounge
Lost Lake Lounge is a laid back, no frills bar on the beautiful and historic East Colfax Avenue. It's a local favorite for good reason, and an awesome place to get a drink or see some live music. They host a variety of local and touring acts from pretty much every genre except karaoke. Next Friday, the 22nd, Lost Lake welcomes Wasteland Hop, The Dollhouse Thieves, and Solsatellite. All of these bands are made up of genre bending pioneers, bearded poets turned rappers, and musical magicians that play all of the instruments in Rockley's and some of the ones they have to special order as well. Cancel your plans for next Friday and get tickets for this show before they sell out.
Wasteland Hop is a folk/rock/hip hop group based in Fort Collins. The band is an interesting collaboration between six musical minds from a variety of backgrounds. They have an oddly complementary pair of vocalists: slam poet turned MC, Mickey Kenny, and Steph Jay, a former folk artist. They're backed up by Nick on guitar, Brian on bass, Adam on percussion, and Liz, a classically trained violinist. Their music is energetic, combining the band's rock roots with Mickey's poetic style and Steph's soulful voice. They've shared stages with huge names like Talib Kweli, Jurassic 5, Flobots, Sage Francis, and Zion I. Wasteland Hop is fresh off their Alaskan tour and Friday they'll be celebrating the release of their latest album, Erosion Osmosis, which you can find here.
The Dollhouse Thieves is a five-member multi-instrumental experiment based in Denver. They blend components of jazz, neo-rock and indie-folk, incorporating a symphonic array of instruments. A single show may include a piano, an accordion, a melodica, a trombone, a trumpet, some guitars, a saxophone, a clarinet, a flute, a harmonica, drums, and a bass. In addition to their vast experience as multidisciplinary instrumentalists, the members have been writing and performing together for more than a decade. Their music is intimate and complex, with a fair amount of improvisation. They released their debut album last year, and it can be found on vinyl, or digitally here. The Dollhouse Thieves are committed to community building and hope their music brings people together and sparks curiosity and imagination in audiences.
Solsatellite is a nu-soul/funk band breaking out of the Denver music scene. Founded in 2016, they've been steadily gaining popularity, playing shows at the Larimer Lounge, Mercury Cafe, and tons of other local spots. The band is made up of an eclectic group of musicians, perfectly concocted like a five-course meal for the ears. Their music is smooth and melodic, with powerful vocals and blistering guitar licks. They released their self-titled album in January of this year. You can check it out here.
This is your first chance to see Wasteland Hop perform songs off their newest album, Erosion Osmosis. The Dollhouse Thieves brings a bevy of talent and a truckload of instruments, and Solsatellite always puts on a phenomenal show. Come out and show some love for these incredibly talented local bands. They do it all for you. Friday, November 22nd, head down to Lost Lake Lounge at 3602 East Colfax Avenue. Doors are at 8 and tickets are on sale now at https://www.lost-lake.com/.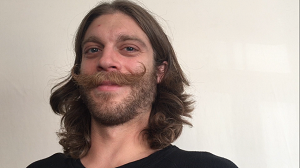 Jared is a local content contributor and aspiring author. He was fortunate enough to grow up in Golden, Colorado and graduated from MSU Denver. While an insatiable love of travel lures him all over the world, his roots remain firmly planted here. He enjoys writing short stories, poetry, children's books, societal observations, and everything else. A nature enthusiast and sunshine connoisseur, Jared is perfectly at home on any mountaintop or patio. He frequents art galleries and concerts, poetry readings and breweries, museums and bookstores. When he isn't making neighbors cringe at his musical attempts he can be found on a snowboard or sailboat, depending on the day. A perpetual adventurer and eternal patron of the road less traveled.