Tonia Bonnell
Tonia was born and raised in Illinois, and now lives in Denver with her husband and two young sons. She received her BFA from Illinois State University in 2001, and earned her MFA in Printmaking from University of Alberta in Canada in 2005, where she began creating images through the repetition of a simple mark. She exhibits her work nationally and internationally. She has been an artist in residence at Anderson Ranch in Snowmass Village, Colorado, and Women's Studio Workshop in upstate New York. In 2010, she spoke on the panel Printmaking and the Mundane at the College Art Association conference in Chicago and has been a visiting artist at the University of Denver and Fort Hays State University, Kansas. In 2014, Tonia was a resident artist in the Drawing Studio – an interactive studio exhibition – at the Denver Art Museum. She was invited to participate in the 2016 exhibition Colorado Women in Abstraction as well as the 2019 exhibition Colorado Abstract +10. Walker Fine Art in Denver represents her work. Tonia primarily works in her home studio where she continues to explore the dynamic effects of small, simple marks massing together to form a complex whole.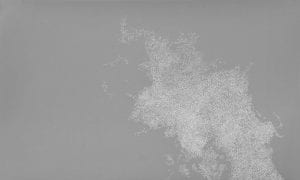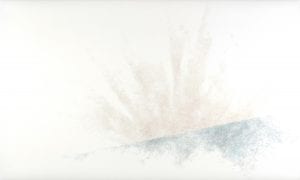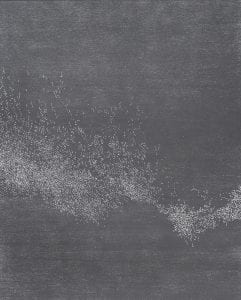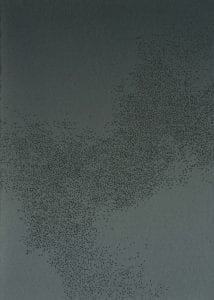 "Using repetitive marks to develop my images, I explore the effects of simple components massing together to create intricate formations. My inspiration comes from examples such as animals migrating, water droplets and dust particles forming clouds, or notes of music coalescing into a song. An illusion of a whole form emerges as the tiny marks maintain their independent nature. The subtle, contemplative imagery invites the viewer to slow down to experience it from different perspectives: from afar to observe the primarily organic whole and drawn in closely to perceive the staccato parts that contrast the overall form."
Tonia's work can be viewed at the following:
Walker Fine Art: 300 W 11th Avenue #A, Denver, CO 80204, www.walkerfineart.com
Upcoming event: Thirsty Thursday on October 17 from 6-8 pm, 6901 Wadsworth Blvd Arvada, CO 80003, www.arvadacenter.org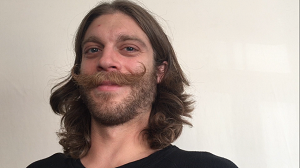 Jared is a local content contributor and aspiring author. He was fortunate enough to grow up in Golden, Colorado and graduated from MSU Denver. While an insatiable love of travel lures him all over the world, his roots remain firmly planted here. He enjoys writing short stories, poetry, children's books, societal observations, and everything else. A nature enthusiast and sunshine connoisseur, Jared is perfectly at home on any mountaintop or patio. He frequents art galleries and concerts, poetry readings and breweries, museums and bookstores. When he isn't making neighbors cringe at his musical attempts he can be found on a snowboard or sailboat, depending on the day. A perpetual adventurer and eternal patron of the road less traveled.