The Underground Music Showcase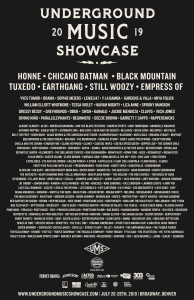 The Underground Music Showcase has announced its 2019 lineup! This gargantuan festival takes over South Broadway with hundreds of bands, dozens of venues, and three days of madness. It's problematic to call any one festival the best, but if you said UMS was the greatest thing to hit Denver each year, I wouldn't argue too much. It has the biggest lineup by far and showcases as many local indie bands as humanly possible. You know when you ask someone what kinds of music they're into and they say "everything," and you're a little skeptical of the way they casually throw out such a bold statement? This is the concert equivalent of their answer. The music spans every obscure experimental sub-genre you can think of.
The lineup includes more than 200 artists. We'll see performances from national headliners like Honne, Chicano Batman, Black Mountain, Tuxedo, Earthgang, and Still Woozy. Supporting artists include Empress Of, DBUK, Yves Tumor, Sophie Meiers, Y La Bamba, Gardens & Villa, William Elliott Whitmore, Miya Folick, Tessa Violet, Haviah Mighty, Greyhounds, Dressy Bessy, Jackie Mendoza, Clavvs, Rapperchicks, Rich Jones, Divino Niño, Parallelephants, Deezie Brown, Garrett T. Capps, SWSH, DRAMA, Spooky Mansion, and many, many more. There will be three enormous outdoor stages and 16 indoor stages. Participating venues include Moe's Original Bar B Que, Banded Oak Brewing, Denver Drumz & Music, Baere Brewing Company, The Hornet, Blue Ice Lounge, South Broadway Christian Church, Metropolis Coffee, Mutiny Information Cafe, Sputnik, Hi-Dive, The Irish Rover, 3 Kings, Ross-Broadway Branch Library, Skylark Lounge, and The Denver Distillery.
In 2018, the festival was taken over by Two Parts. They've kept all of the great things about UMS and added more focus on community involvement, expansion, and immersive aspects of the festival. For starters, they added more outdoor stages, maximizing space and providing more capacity for bigger bands. They also feature more mini events like immersive art installations, secret shows, and surprise pop-ups. Recognizing the enormity of an event this size, organizers put lots of effort into including the surrounding residents and business owners in the planning. UMS inevitably inconveniences people's daily routines, but together they were able to develop a comprehensive community harm reduction strategy that was fairly successful last year.
Denver's notoriety in the national music scene has been steadily gaining momentum, and UMS shows us why. It takes three days and every bar on South Broadway to showcase the talent coming out of Colorado. July 26th -28th, the entire Baker neighborhood welcomes UMS for the 19th time. Tickets are on sale now, and 3-day passes are only $50. It's going to be a long, legendary weekend. Drink water and wear comfy shoes. For tickets, venue lists, maps, or any other info, go to www.undergroundmusicshowcase.com.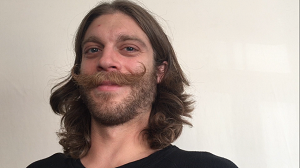 Jared is a local content contributor and aspiring author. He was fortunate enough to grow up in Golden, Colorado and graduated from MSU Denver. While an insatiable love of travel lures him all over the world, his roots remain firmly planted here. He enjoys writing short stories, poetry, children's books, societal observations, and everything else. A nature enthusiast and sunshine connoisseur, Jared is perfectly at home on any mountaintop or patio. He frequents art galleries and concerts, poetry readings and breweries, museums and bookstores. When he isn't making neighbors cringe at his musical attempts he can be found on a snowboard or sailboat, depending on the day. A perpetual adventurer and eternal patron of the road less traveled.