The First Commandment of Dating:  Do Unto Others…
I read an article this week about a woman who ghosted a man after their first date. His response was to send her a bill for her half of the meal he paid for on their date. No matter what your opinion of either party's actions, let me say that you should always treat other people as you would like to be treated. Responding to bad behavior with more bad behavior is immature, tacky and, unfortunately, the inappropriate privilege we've given ourselves in the age of social media.
Don't misunderstand! I'm not saying you have to respond to all who message you on a dating site.  'm not saying that you have to continue a conversation if you find it uncomfortable or weird.  I am saying that, once you are texting, talking or meeting, it is appropriate to discontinue a conversation with someone in an appropriate way. That may mean you say 'no thanks' to another meeting. Or you may have to block the person on the dating site or on your phone. The point is, the response should be proportional to the offense.
Here are some questions that you should ask yourself about your response to others.
If the tables were turned, would I want someone to do this to me?  Recently, I read another blog where a serial ghoster "James" reported that ghosting was part of the casual online dating scene like that of Tinder. The point of Tinder, he proclaimed, was that everything on the site was casual and you don't owe anyone anything. If you believe in karma, then you know that how you treat others will come back to you. Even if you don't believe in karma, why would you want to treat someone so disrespectfully?  If you were better acquainted with that person you would not be so unkind, so think of them as a person that somebody cares about and send a simple response to let them know you don't want to continue interacting.
What would your mother say if she knew you had behaved that way?  Yes, I'm playing the mom card. You know your mother would probably not approve of this rude behavior, so just don't do it.
What do you have to gain from being unkind, rude, uncouth and immature?  Honestly, this is a question I've asked myself any time I find myself in a dating situation where the behavior of the other person involved is questionable. There is no good reason to be unkind to another person. Enough said.
Ask for feedback from your date.  If you went on a date with someone and really enjoyed it, instead of asking for another date, let them know you liked them and would be interested in another date if they were. Asking for feedback takes the pressure off, by saying the next date is up for discussion.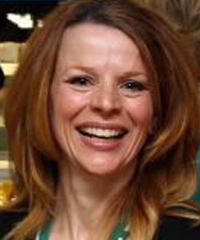 Andrea wants to live in a world where the neighborhoods are walkable, bike lanes are plentiful, and the food is fresh, delicious and readily available. A 20-year veteran of the health and wellness industry, she started her career in the fitness industry while earning a master's degree in Exercise Science and Health Promotion, and then on to the burgeoning field of worksite wellness. Andrea has competed in collegiate level soccer, worked as a personal trainer, fitness instructor, wellness coach, and master trainer, climbed 14ers, and completed cycling centuries and metric centuries. All of these experiences give her the opportunity to view well-being from many different perspectives. When she's not helping others to be their healthiest self, you can find her at a farm to table restaurant, down dogging at the yoga studio, or experiencing the Colorado landscape on a bicycle, snowshoes, cross country skis or on foot.