SYNC Gallery – Local Denver Art Gallery
The Santa Fe Art District is always buzzing with excitement. The galleries open their doors and release  a cascade of color, culture, and expression into the streets of Denver. It's the perfect atmosphere for local artists to experiment with new ideas and collaborate with one another. Sync Gallery, at 931 Santa Fe Drive, is a prime example of this. It began as an artist collective nearly a decade ago. Its members sought to create a space where they could be represented while maintaining their freedom of expression. The gallery is divided into two sections. Samples of work from all 20 of the artists are displayed in the back, while the front is dedicated to monthly rotating exhibitions. They show a wide range of art from contemporary to abstract and conceptual works. Their latest exhibition, New Beginnings, premiers November 15th. It features two local artists with very different styles, Jean Herman and Helene Strebel.
Jean Herman is a Denver-based artist with a unique skill set. Formally a scientist and CEO, she applies her professional expertise to the business of art. Herman aims to create a narrative and alternate perspective on the subjects of her works, as well as invoke a deep emotional reaction from the audience. She uses sewing and quilting techniques to create patchwork landscapes, abstracts, cityscapes, and figuratives. She's been featured in dozens of exhibitions all over the country including the Sweinfurth Museum in Auburn, New York, the Michigan State University Museum, and the Butler Institute of American Art in Youngstown, Ohio. Her series, Origins, seeks to give a new perspective on old ideas and questions about our beginnings. Through nine pieces, she explores creation myths from ancient cultures, paired with more recent agnostic and atheistic interpretations.
Helene Strebel is a local artist and active member of several artist guilds. Born in Sweden, she eventually settled in Castle Rock. Strebel specializes in abstract acrylic paintings on a variety of mediums including canvas, paper, glass and wood. Strebel's work is inspired by her frequent travels, near and far. Her work has been shown in numerous galleries worldwide including the Florence Biennale, and locally at the Artma Morgan Adams Foundation, the Koebel Library, and L'Auberge in Vail. Her latest series features her signature abstracts and aims to encourage audiences to become more aware of the beauty in their own lives.
The Sync Gallery brings the work of an entire artist collective under one roof for your viewing pleasure. It's designed to facilitate an atmosphere of freedom for the artists to focus on what they do best, create. Their rotating exhibits change monthly and special events are held regularly for First Fridays. Sync is located at 931 Santa Fe Drive in Denver. Hours are 1-4 pm Thursdays and Fridays, and 12-4 pm on Saturdays with extended hours for the First Friday Art Walk each month. They also have an annual group show coming up in December that you won't want to miss. For more information check out www.syncgallery.com.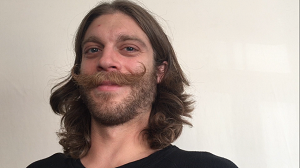 Jared is a local content contributor and aspiring author. He was fortunate enough to grow up in Golden, Colorado and graduated from MSU Denver. While an insatiable love of travel lures him all over the world, his roots remain firmly planted here. He enjoys writing short stories, poetry, children's books, societal observations, and everything else. A nature enthusiast and sunshine connoisseur, Jared is perfectly at home on any mountaintop or patio. He frequents art galleries and concerts, poetry readings and breweries, museums and bookstores. When he isn't making neighbors cringe at his musical attempts he can be found on a snowboard or sailboat, depending on the day. A perpetual adventurer and eternal patron of the road less traveled.