Strip Clothes, Not Rights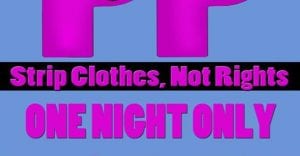 I've written about boylesque before, the male iteration of the classic art of the striptease. It's a lot of fun, even if the performers don't have boobies—boobies being the currency of fun, of course. I want to talk about another specific boylesque event because it's happening not only for the sheer joy of ogling males with the female gaze, but also for the protection and promotion of all booby-having people in the Denver area. The Front Range's male improvisers and stand-up comics are moonlighting as Chippendale dancers and taking (most) of their clothes off to raise money for women's health services. How cool is that?!
To give a little background, burlesque was the classic art of sexual provocation. Before strip clubs and internet porn, the best way to see a naked lady was to go to a girly show where you could watch pretty ladies in lovely costumes dance around on stage for their enjoyment and profit, and your viewing pleasure. Burlesque took a hit during the 70s and 80s, the heyday of Boogie Nights-style movies, but returned in the 90s as neo-burlesque, in which ladies still strip out of their clothes, but the performances are often themed beyond "sexy." They can be silly and comedic, or feminist and political, or circus-and-variety-style entertaining, as well as classically pretty. Women started having so much fun with this that men wanted in on it. They started donning and doffing their own costumes and dubbed it "boylesque." And here we are today, watching Denver comics display their athletic support for the women in their lives and the area.
I've seen a lot of both burlesque and boylesque—from the audience, the stage wings, and the green room. I have a couple of rules for what makes a good show, because it's easy to miss the mark with this sort of thing.
 

The performers must be having fun. If they're having fun on-stage, the audience is having fun off-stage.

The show must leave you wanting more. This is a combination of high-quality performances, a well-produced lineup, and a limited running time.

The production value must be worthwhile. We all have budget limitations, but if I'm paying for a ticket, I do expect to see something that looks intentional and specific.
I'm happy to say that the dress rehearsal that I sat in on this weekend promises that all of these points are in place.
First off, these guys know how to have fun. Live theater is work, just like any other job, but comedians do what they do because fun is a priority for them. This was fun in the same way that Dancing with the Stars or Wait Wait Don't Tell Me's "Not My Job" game is fun—you get to see people who are good at one thing try really hard to be good at another thing. And, for the most part, they get the job done. They don't have the dancing skills of the Magic Mike crew, but they're a lot more enjoyable to watch.
Second, they *do* leave you wanting more. The quality of the performances are surprisingly high. The technical dancing, we've already mentioned, might not be polished, but these dudes are all seasoned performers. While they're a bit out of their wheelhouse with handling large quantities of rhinestones, they know how to work the stage and the audience. Being comedians, several of them incorporated comedic aspects into their acts. One of the rules of comedy is "Don't tell me; Show me." These guys have physical comedy nailed down and they use it in their stripping routines. They *show* comedy in a way that most technical dancers don't have the skills to do.
The lineup is a fun mix of styles and looks from the guys. And they seem to have been coached well; the group numbers ran smoothly and looked sharp. At the close of the dress rehearsal, I would have gladly watched more, which is my standard for theater quality and event length. (Event length is a bit of a pet peeve for me—I've sat through a Medieval-lifetime's equivalent of lengthy theater productions.)
Third, the production value was notable. Of course, this is a debutante event–the guys haven't done this before and don't have a trunk full of Moulin Rouge-level costumes to pull from. What I saw from them seemed thoughtful and planned. I saw a few props that had obviously involved forethought and work and some that were definitely surprising. Lights and music provided atmosphere appropriate for the event, and everyone seemed to be on the same production page, which is a lot more than I can say for a lot of shows that I've watched over the years.
Having fulfilled the requirements of "good theater," here's a few more thoughts on this specific event.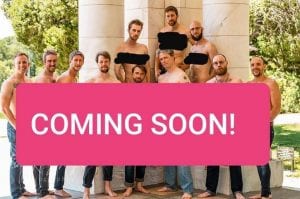 I found it quite charming how much these guys were obviously mustering their courage to be this scantily-clad in public. You gotta admire them doing something out of their comfort zone for a purpose they support. One of the guys in the group number kept involuntarily gesturing to cover himself with his hands when his breakaway pants revealed his undies, which made the entire group, him included, laugh uproariously. Another performed his entire routine, but then rushed backstage to get his pants back on before he could listen to the coach's feedback. Having done a lot of burlesque, I can say that most burlesque dancers would have stayed on stage stark naked to hear feedback and thought nothing of it. But that's what you get used to after years of exposure to public exposure. 
It's fun to see lots of different kinds of people on stage. Burlesque and boylesque are all about body positivity and inclusiveness. All shapes and sizes and colors of bodies can be, and definitely are, sexy. I have a few things that I like in bodies that would never be shown on the cover of Men's Health. That being said, I was genuinely surprised by how many of these sometimes-schlubby comics looked damn good in their small clothes. People surprise you with the results of gym routines that they *don't* post on social media. I secretly suspect that most of these guys (shyness aside) were quite game to show off their goods.
I have to include two quotes that I overheard during the dress rehearsal. The first was from a comic who seemed concerned about the logic of his act. "I'm trying to show the audience the motivation behind why my character is taking his pants off." Oh, my friend. You are waaaay overthinking this. The other came from a dancer who reminded me of Barack Obama, if Obama were a super-pale white guy. After finishing the clothing removal, he turned to the audience and said, "The rest is just me dancing in my underwear." Yes! That beautifully summarizes the whole experience. We're here to see you dancing in your underwear.
If this sounds like fun to you, there's a couple of ways that you can get involved.
You can

sponsor a specific dancer

, which also gets you a bunch of fun extras, up to and including a lap dance that you can keep for yourself or donate to another party. There are several different levels of sponsorship—pick the one that suits you best! It all goes to a good cause!
You can buy a

regular ticket

and make a lot of noise for the daring dudes who are baring their nudes! The producer told me that they expect the event to sell out in advance. I'd recommend getting tickets asap.
You can

donate directly

to their fundraiser. The producer informed me that all the dancers and contributors are working pro-bono and that 100% of donations go directly to the beneficiary. (Donations are also tax-deductible.)
I'll be there this weekend, Saturday the 14th, at the Voodoo Comedy Playhouse, with my G&T and a noisemaker, cheering on the dudes who are supporting services for women—including me!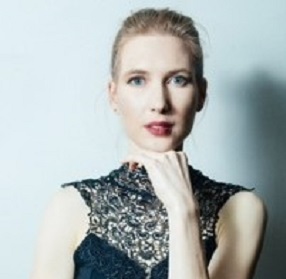 Jessie Hanson lives and works in Denver and couldn't be happier about it. Like the best-possible kind of Jekyl-and-Hyde scenario, she splits her life between science and storytelling. During the day, she performs clinical diagnostics and messes around with test tubes. At night, she performs behind the mic as a standup comedienne, in the air as a circus aerialist, and in rhinestones as burlesque dancer. She begrudges the hyper-inflated cost of a decent pair of false eyelashes. When she's not on stage, she sweating it out as an endurance athlete in triathlons and marathons across the West. She begrudges the hyper-inflated cost of a decent pair of running shoes. She's thrilled to be on board with OnDenver and writing about science, comedy, circus, athletics, and general fun on the Front Range!