Colorado Burlesque Festival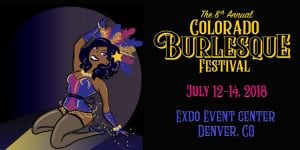 If you're a member of the human species, then you like looking at naked ladies. Even those of us who consider a peep to be a sin would still generally admit that it's a damn fun sin. The art motif in my apartment consists of naked ladies. (Mostly, naked ladies on bicycles…it's a niche genre.) People used to go to great lengths to acquire an eyeful now and then, but then the internet happened and now we can see amateurs and professionals being naked for free all the time. You get what you pay for, though, and so I suggest unplugging your laptop for a few hours and getting yourself something of value this summer. Lucky for us, the Colorado Burlesque Festival makes that both totally easy and fabulously appealing.
The Colorado Burlesque Festival, now in its 8th year, shines at the Exdo Event Center on July 12, 13, and 14. There's a
deeply-hungover brunch for glittered-out performers on the 15th, but neither you nor I are lucky enough to be invited
to that. Yours truly will not be participating in the festival this year because the producers filled the lineup with a ton of super-amazing, national and international stars of burlesque and then couldn't quite find room for me in the cast list. But I did participate a couple years ago. The swag-bag given to us included a) huge artificial flowers for hair ornaments, b) ketchup-packet packaged nips of lube (not like WD-40…like actual sex lube), c) a boob-shaped stress-squeezey ball, and d) an actual, functioning bullet vibrator. I used the vibrator until last month, when it gave up the ghost and vibed its last ration. I don't know the purpose of this catalogued disclosure, except to say that the organizers of this festival expect people to be having a lot of fun and to enjoy hair ornaments, both of which assumptions seem to hold true.
Full disclosure (pun intended): There will not be actual, literal, legally-defined naked ladies at the festival. There will just be reasonable facsimiles of them. Burlesque shows typically do not include full nudity. We hide the bulk of our genitalia in costume bottoms and our nipples behind pasties. Tastefully-rendered, bicycle-themed art nudes are lovely things, but ,honestly, do you want to see someone else's genitals in public? They call sex "bumpin' uglies" for a reason. No matter what your gender or caliber, pack that stuff up in a set of rhinestoned knickers and keep your secrets. Burlesque is about entertainment, glamour, satire, comedy, and sexy
fantasy; it's not about showing the world your breakfast. The costumes used to elude the nude, though, will be absolutely eff-ing amazing. Those tiny panties and tasseled pasties hide just enough to highlight the mouthwatering remainder. The costumes themselves are reason enough to attend. Fashion is an art form and costuming is its ebullient favorite child. Burlesque costumes are indulgent whimsies, a visual candy store of feathers, fringes, rhinestones, corsets and fishnets, headpieces and bustles, panel skirts, glittery gloves and silk stockings. Nothing starts as too much or reduces to too little.
I encourage you to attend any or all of the nightly events to see amazing costumes on beautiful people. The CBF is bringing in headliners from across the country including Foxy Tann (emceeing the opening night!), Jeez Loueez, and Sweetpea and Redbone, all of whom are sheer delights in sheer clothing. If you worry that you'll get overloaded with beautiful women, rest assured: the CBF also includes a garnish of manflesh for your viewing pleasure. You'll be able to get a glimpse of Dr. Bones, Mr.
Valdez, Mr. Fix-It, (male burleskers don't go for first names a whole lot?), and more! Group acts featured will be the beautiful boys of Burning Loins and the gorgeous gals of the Wam Bam Thank You Ma'am's.    
The CBF events feature a huge variety of entertainment. Sure, most of it involves stunning costumes and lots of skin, but there's so much more! Naughty Pierre emcees with
a huge stack of comedy to get you laughing and a number of the performers are acrobats and circus folk who will be entertaining you with feats of flexibility and marvels of strength. And did I mention the glorious costumes? The CBF also hosts classes and workshops in the art of burlesque, with the headliners teaching their specialties to us aspiring practitioners. I never imagined in my undergraduate microbiology research lab that I'd one day pick a stage name based on a laboratory instrument and sign up for a class called "Stage Slayage 101," but it's 2018 and here we are. I'll be there, bumping and grinding through the weekend, and I hope you will be, too! Grab tickets online, dab on some lip glitter, and take in the spectacle of the summer!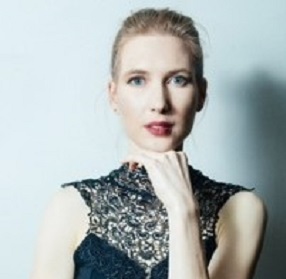 Jessie Hanson lives and works in Denver and couldn't be happier about it. Like the best-possible kind of Jekyl-and-Hyde scenario, she splits her life between science and storytelling. During the day, she performs clinical diagnostics and messes around with test tubes. At night, she performs behind the mic as a standup comedienne, in the air as a circus aerialist, and in rhinestones as burlesque dancer. She begrudges the hyper-inflated cost of a decent pair of false eyelashes. When she's not on stage, she sweating it out as an endurance athlete in triathlons and marathons across the West. She begrudges the hyper-inflated cost of a decent pair of running shoes. She's thrilled to be on board with OnDenver and writing about science, comedy, circus, athletics, and general fun on the Front Range!