Boylesque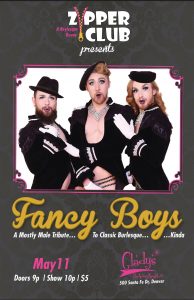 Burlesque gloriously celebrates the art, the performance, and the subversion in the embrace of sexuality. It's an opportunity for women to kick off some of the social expectations and oppressions that society at large has about female power, expression, and sex. It's also huge fun. It's exhilarating to create exactly the appearance and presentation that you want and have an audience raucously endorse you for it. I understand the urge for gentlemen to join in the fun, but burlesque is a female art form. When men dress up and strip down, it's not called burlesque, but rather "boylesque."
A quick burlesque primer: Burlesque is the art of the striptease. A performer selects music and costume (extra points for creating or embellishing your own costume) and performs an act on stage with the primary function of removing the costume in a creative and engaging way. In burlesque, the dancer is never "full nude" and does not remove her panties, and so the finale of the act is usually the reveal of the dancer's pasties, those bits of costume loveliness glued over her nipples. Everybody loves to see boobies!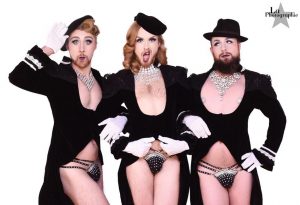 Boylesque faces a bit of a challenge in that men don't have enticing boobies. I enjoy the view of the male torso as much as anyone else, but the fact that it's government-sanctioned-acceptable viewing for all ages at all times takes some of the kick out of seeing it. Some boylesque performers wear pasties in solidarity with their sister performers or simply because they're pretty and fun and add to the total effect of the costume. Others forgo them and let their nipples breathe free. Either way, the finale usually migrates south. Ornamental codpieces show up more often than hipsters at a vegan food truck. Fringes are common. A solitary and stupendous tassel frequently graces the boys' delicates. If you're familiar with the move "The Helicopter," know that it can be recreated on stage with a tassel. Nipple tassels are often present, but probably not as often "assels," tassels attached to the butt cheeks and made to dance and spin like principal dancers in the New York City Ballet. I confess to a particular delight in assels.
I adore boylesque because I admire and appreciate live theater performance and because I admire and appreciate men's bodies. I also really like seeing men be naked in a way that's both sexy AND fun. Most commercial view of the male physique are one or the other. The male body is displayed for comedic effect (think any bro comedy movie) or as a display of sexual prowess and conquest (see any action/porn movie). A Chippendale male revue is a step in the right direction, but it usually lacks any lightheartedness. Boylesque, by contrast, is just plain fun.
I'm sure you must be asking by now, "Where can I see some of this manly amazingness?" You're in luck because there is a rich vein of male glitter to be mined right here in Denver!
Raphael DeLaGetto, a pro wrestler who uses the tagline "The Burlesque Thug That Puts the G in Glitter," has a starring role in the upcoming Dick Racy: A Musical and Burlesque Parody at the Oriental Theater in May.  He got into boylesque when some of the ring girls at a wrestling match were also burlesque performers who hooked him up into the Burlesque Booty School. The rest is history and you can see (almost) all of him all over town, from the Ooh La La show on Mondays to the Clocktower Cabaret on Saturdays.
The Brotherhood of Burlesque is a bunch of beautiful boys from Colorado Springs. They feature regularly in the Peaks and Pasties troupe and are often seen at the Zodiac Venue, Club Q, and the Champagne Cabaret at the Gold Room. Mr. Valdez is the cutie pie, Mustang Monroe is the elegance, and Damien Wanderluv has the chocolate eyes. I recommend extended viewing of all three, particularly in their anniversary show on April 28.
Dr. Bones, The Crimson King, is a sexy pile of man who can dance a Brazilian Samba No Pe like you've never seen. He's got a repertoire of horror-themed "gorelesque" acts that might seem a diametric contrast to the exuberant joy of samba, but when you're a tall drink of water with a sexy-ass beard, it just works. You can see some of this sexiness happening all over the stage at the Dick Racy show at the Oriental Theater on May 19. You can also find him regularly tearing up the stage at the Clocktower Cabaret.
Burning Loins has been taking over the world lately, but you can catch them here in Denver. I'd suggest seeing them now, while you can still afford to. These three fabulous men are, in alphabetical order, Bender Flames, Indy Fire, and Charlie Valentine. If you attended BurlyPicks (an enormous burlesque competition), you already know that Indy Fire is the reigning World Champion of Burlesque. (I'm using "burlesque" here as a larger category that would include boylesque.) You'd also know that Bender Flames is the 2017 World Master of Assels. Like I said, get your tickets to see these boys while you still can. You can see them at Blush at the Clocktower every Saturday in May, and at the Sunday Peepshow on May 13, as well as at the Zipper Club on May 11 at Gladys the Nosey Neighbor on Santa Fe.
Photo credits: La Photographie, Garrett Spradling, and Sound Snap Photography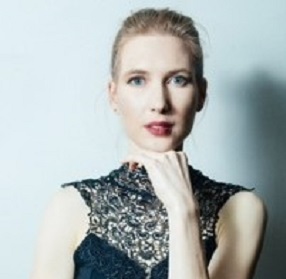 Jessie Hanson lives and works in Denver and couldn't be happier about it. Like the best-possible kind of Jekyl-and-Hyde scenario, she splits her life between science and storytelling. During the day, she performs clinical diagnostics and messes around with test tubes. At night, she performs behind the mic as a standup comedienne, in the air as a circus aerialist, and in rhinestones as burlesque dancer. She begrudges the hyper-inflated cost of a decent pair of false eyelashes. When she's not on stage, she sweating it out as an endurance athlete in triathlons and marathons across the West. She begrudges the hyper-inflated cost of a decent pair of running shoes. She's thrilled to be on board with OnDenver and writing about science, comedy, circus, athletics, and general fun on the Front Range!