Signs It's Time To Go On A Dating Diet
After looking for the person of your dreams for what seems like an eternity, dating starts to wear thin. If dates cease to be fun, and meeting new people has turned into a grueling slog up the path of small talk and apathetic text exchanges, you are experiencing dating exhaustion.
It is normal to be discouraged, but your dating energy should be mostly optimistic, and you should be somewhat excited about the prospect of new people.  If that's not you, it might be time to take a dating break.  Here are some other signs of dating exhaustion.
It feels like work.  As a person who does not enjoy dating, I can say I have honestly learned to appreciate the pleasure of a good date, even if I'm not interested in taking things further with that person.  If you aren't enjoying any aspect of dating, it may be time to take a break.
You connect with people you're not actually interested in.  If you go on dates just for the sake of going on dates, you are not really participating in the process of meeting your match. If anyone used a phone anymore, this would be known as phoning it in.
Even when you change apps, it feels like you are matching with the same people.  For those who are burned out, every match, every swipe feels like déjà vu. If you can't seem to meet people who don't seem fresh or interesting enough, it might be YOU.
So, what should you do if you are feeling dating burnout?  It's time for a dating diet.
Give up!  When I say give up, I don't mean your life is over, just stop seeking affection and companionship. I mean "temporarily give up the immense expenditure of romantic mental energy that has lead to your dating burn-out," to quote the dating site HowAboutWe.
Stop doing the things you do to look good while dating.  Venture out in public without eye make up. Embrace your neckbeard. Grow those eyebrows together, and let your inner schlumpadinka loose on the city. Relaxing a bit on the outward appearance is a great way to reset your brain after a long stretch of dating.
Don't think about dating for the rest of the week/ month/whatever amount of time feels good to you. Take some time to get your mind right, for it is only by getting your mind right that you will be able to be excited about dating again! Choose a date on your calendar to get back on the horse.  Just like quitting smoking or starting an exercise program, if you don't set a date for review or a deadline for starting, the goal may never be achieved.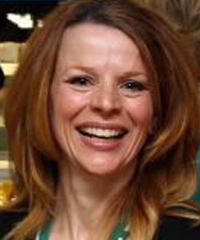 Andrea wants to live in a world where the neighborhoods are walkable, bike lanes are plentiful, and the food is fresh, delicious and readily available. A 20-year veteran of the health and wellness industry, she started her career in the fitness industry while earning a master's degree in Exercise Science and Health Promotion, and then on to the burgeoning field of worksite wellness. Andrea has competed in collegiate level soccer, worked as a personal trainer, fitness instructor, wellness coach, and master trainer, climbed 14ers, and completed cycling centuries and metric centuries. All of these experiences give her the opportunity to view well-being from many different perspectives. When she's not helping others to be their healthiest self, you can find her at a farm to table restaurant, down dogging at the yoga studio, or experiencing the Colorado landscape on a bicycle, snowshoes, cross country skis or on foot.