Science Riot
This is my seventh year in Denver. In the Biblical tale of Creation, God took six days to build the world and then, seeing that it was good, on the seventh day He rested. Fitting, then, that this is my seventh year in Denver and I see that it is good, indeed. Yes, I may have just compared myself to the Almighty. Contemplating the Rockies makes one feel a bit divine, especially if one is currently at altitude and may or may not have taken a hit off one's buddy's recreational spliff, which is itself a Denver religious experience. After seven years, what would I say gives this rowdy, ethereal, rustic-modern, established boomtown its essence? I could start with the obvious "There's some real big hills" and end with the nouveau "the mixologists in RiNo are killer." Or I could just say "Red Rocks" and be done with it.  I'd say that the thing that most endears Denver to me is its juxtaposition and integration of the elemental and the advanced. We live here because we love beef jerky and vegan food trucks and endurance sports and recreational weed. We do real good at odd couples.
Which brings me to what we're going to actually talk about today: an odd couple that's a Denver specialty. I'm talking about creative science communication; in particular, science via comedy. I got into this niche a couple years ago and I'm thrilled that it's growing up and finding its feet in Denver. Denver does so well with this genre because, like the City herself, it's kind of an odd combination. Science is inherently repetitive, quantifiable, numeric, and over-analyzed. Humans enjoy these features just about as much as they enjoy sand in their teeth. What we don't enjoy, we promptly purge from our overloaded brains. Unfortunately, science often gets purged. Scientists don't get no love. Scientist and technology surround us and yet most Americans can't a) name a single non-dead scientist or b) explain how the scientist's work impacts our lives. If they *can* do part a, it's always Neil DeGrasse Tyson. No living American has ever achieved part b. Now, Dr. Tyson is a terrific scientist and communicator, but he alone is not able to shoulder the entire burden of telling the world that evidence is real and science matters. Rest assured, Dr. Tyson, Denver is stepping up to the plate! We have a growing scene here where professionals in Science, Technology, Engineering, and Mathematics (STEM) can speak to the world about what it is they do and how it impacts the rest of us. Yeah, Denver! You rock so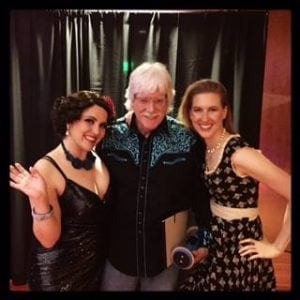 hard!
How do we get science to be not just heard, but enjoyed, remembered and respected? There are several projects in Denver working on it, using creativity and, yes, fun. The newest nova in this firmament is Science Riot. It burst onto the scene just three years ago when an engineer and a microbiologist wondered what would happen if they trained scientists to use stand-up comedy as a tool to tell people about their work. Turns out that people listen. And then laugh. And then remember. In the last three years, the training program and resulting comedy shows have sold out venues across the Front Range and have even expanded into branches in Chicago and Arkansas. If you see one of these shows coming up, get tickets fast. For the first event I attended, I assumed tickets would be available at the door. I was so, so wrong. They were sold-out and I had to wait until another show happened before I got to see the phenomenon, an experience echoed to me by several friends and acquaintances.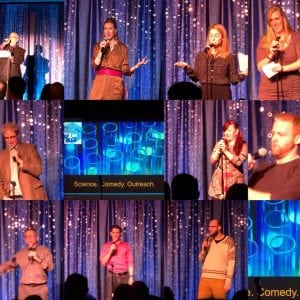 What are the events themselves like? They're freakin' awesome! When I finally did get my hands on some tickets, I was pleasantly shocked by how good the show itself was. The newly-minted comics were, of course, not polished professionals behind the mic, but that's the fun of it. You get to see people being real about their jobs and their secret thoughts about their work. Since many science jobs are under the radar, this comedic confessionals can be eye-opening. Before Science Riot, I had no idea that penguins poop pink. Or that Dire wolves had heads so big that paleontologists refer to them as "bobble-head wolves." Or that there's serious concern at NASA about contaminating this planet with space germs. Whoda thunk it? Also, Dr. Kevin Fitzgerald, veterinarian, comedian, television star, bon vivant and generally awesome guy, is a Science Riot board member and frequently headlines the events. It's always a treat to see this hometown guy live on stage.
The Science Riot project is unique in that it's not just nerds talking to other nerds. We as a society have plenty of that on the Internet and in Silicon Valley. Also, we have the Colorado School of Mines. Science Riot pries STEM-bots out of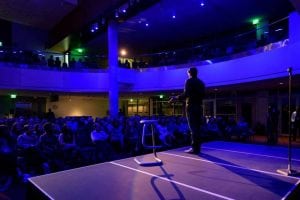 their labs and away from their computers and teaches them to talk to non-scientists and, like, be funny. I see a lot of comedy in Denver; I can go to a comedy club and see the same basic genre of jokes and topics any night of the year. Science Riot is a paradigm shift, taking comedy from (mostly) icing to cake AND icing.  You might think a bunch of introverted scientist newbies would be nervous on stage and you'd be right. They are exactly the same amount of nervous as every non-scientist comic who's ever stepped up to the mic.
Denver is killing it in this field of creative nerd-speak. I'll be talking in the next few columns about other formats and opportunities to get in on the fun. But for today, I encourage you to get tickets to the upcoming Science Riot shows while you still can! The next show is coming up on June 10 at the Clocktower Cabaret (always a wonderful venue) and it's going to be a blast!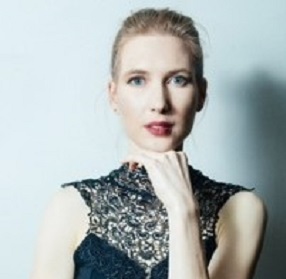 Jessie Hanson lives and works in Denver and couldn't be happier about it. Like the best-possible kind of Jekyl-and-Hyde scenario, she splits her life between science and storytelling. During the day, she performs clinical diagnostics and messes around with test tubes. At night, she performs behind the mic as a standup comedienne, in the air as a circus aerialist, and in rhinestones as burlesque dancer. She begrudges the hyper-inflated cost of a decent pair of false eyelashes. When she's not on stage, she sweating it out as an endurance athlete in triathlons and marathons across the West. She begrudges the hyper-inflated cost of a decent pair of running shoes. She's thrilled to be on board with OnDenver and writing about science, comedy, circus, athletics, and general fun on the Front Range!