Rockin Red Rocks
Concert season in Colorado has officially kicked off. We all know one of the best places to see a concert is Red Rocks Amphitheater. Or if you don't know because you haven't seen a concert there yet, DO IT! Do it now! But for those of you that have, I am sure you can relate to the majestic feeling you get at Red Rocks. What some of you don't know is Red Rocks has a lot to offer during the day too. Red Rocks is close to Denver, making it easy to get to any day of the week. It offers high intensity workouts (running the amphitheater stairs), easy hikes, even Yoga on The Rocks, all surrounded by Red Rocks' surreal beauty.
Let's start with the high intensity workout. People come from all over to run up and down the stairs of Red Rocks.  If you don't feel like running up and down the stairs, you can cut across the Amphitheatre seats back and forth for a 3-mile run! It is both challenging and rewarding. If you are looking for a fun way to get those glutes, hamstrings, quadriceps, abs and calves in shape while enjoying the outdoors, this is the perfect place. Plus, you will not be alone! Meet new people, set new goals, and get your body in shape!
Maybe you aren't looking for something so intense. You are just looking to spend some time outside and take in the views. Red Rocks is your place. It offers a few easy hikes for people looking to do just that. These hikes are great for the whole family, including the dog! During the summer, it will be very hot because there is minimal shade. Make sure to take plenty of water to stay hydrated and wear a hat to protect yourself from the sun. Don't forget your map and your sunscreen.
For those of you who don't care to run or hike, or are just looking for something new to try, Red Rocks offers Yoga on the Rocks every Saturday during the summer.  Tickets must be purchased ahead of time so get them before they're gone!
Finally, maybe you are just looking to get some fresh air and some great views. Red Rocks is a great place to relax and rewind on the weekends. Take a tour, catch up on history at the Colorado Music Hall of Fame, have a nice meal at Ship Rock Grill, and grab a souvenir at The Trading Post on your way out. If you want to spend a little more time outside, prepare a picnic and enjoy some drive through sightseeing.
So relax, rewind, and enjoy all of the 738 acres Red Rocks has to offer.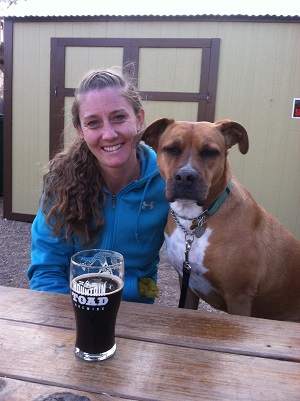 Christie is an outdoor enthusiast from Golden, Co that LOVES doing everything outside. She has an MBA with an emphasis in Sustainability from Brandeis University and a passion for helping others, which she turned into a consulting career. Whether you are looking for social media, marketing, or business strategy, Christie will help grow your business. In her spare time, she enjoys the outdoors and sharing her stories with others through blogs. Christie loves Colorado and hopes her stories help others see Colorado in a way they have never experienced before.