Ragin' Like a Cajun at BURLY Brewing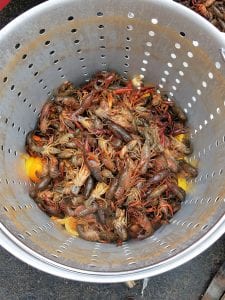 Twist.
Pull.
Peel.
Suck.
No, this isn't lyrics to the new Cardi B song or the opening lines of a romance novel. This is, however, how you go about eating a crawfish. Originating in Louisiana, crawfish are a natural southern staple, boiled to perfection and enjoyed on various types of occasions. Having lived in the south, I was a bit embarrassed to admit that I had yet to take part in a true crawfish boil experience. Living in Denver has made me realize that most westerners aren't familiar with this New Orleans based tradition of boiled "mudbugs". Each year, as the summer months approach everyone starts getting in the spirit and will find any excuse for a celebration. This past weekend, over 20 different restaurants, food trucks and breweries jumped at the opportunity to feed the masses in true New Orleans fashion, in honor of Mardi Gras.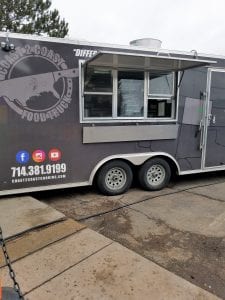 BURLY Brewing Company was no exception.
With butcher paper lining the tables, Cajun music blasting from the speakers, a colorful flag out front and complimentary beads upon entry – BURLY brought the party life of Bourbon Street straight to the suburbs for its First Annual Crawfish Boil.
Just nine months into its residency in Castle Rock, BURLY has already made a positive impression on the growing community. Located in an unassuming strip mall in the industrial part of the city, BURLY still has a way of standing out. Large flags featuring their logo – a bearded man in sunglasses –greets guests before walking into the spacious taproom. The space is splashed with mountain chic decor, staff is friendly and eager to help customers, all 24 beers on tap are creative – ranging in body and flavor – and food trucks frequently park outside its doors. BURLY also hosts a variety of events, including keg releases (I recommend the Juice box ales – a creative fruit infused beer), trivia night, live music and is all about introducing guests to a new experience.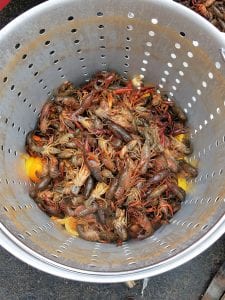 Arriving before the festivities I was able to chat with the master crawfish boiler, Beau Wimberly. He was tasked with creating the delicious meal for the hundreds of guests that had prepaid online for heaping pounds of all-you-can-eat crawfish. Caught in the bayous of Louisiana just two days before, the fresh crawfish were then carefully transported in coolers and driven to Colorado in record time. Using the traditional recipe, half ears of corn, large potatoes and crawfish were all thrown into the same pot of boiling water and filled with spicy Cajun seasoning.
As we waited for the crawfish to finish boiling, we were lucky to find a seat in the taproom. Being the first major event of the year, BURLY produced a large and hungry crowd, anxious to celebrate. Within just 30 minutes, every seat in the house was taken and the line for crawfish had rounded throughout the entire space. As the heaping portions of crawfish, potatoes and corn arrived for consumption, I got the low down on how to eat a crawfish like a true Cajun.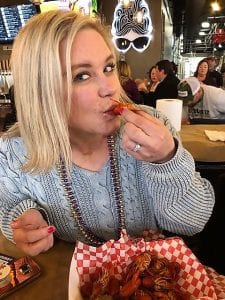 Hold the crawfish on both sides, TWIST and snap the head off, PEEL the shell away from the tail (as you would a shrimp), hold the tip of the tail and PULL out the tender meat. Then eat juicy meat and SUCK juices out of the head! I will admit, the level of effort to meat ratio is quite dramatic, but totally worth the experience!
While not everyone is as adventurous as I am when it comes to food (just ask my husband), a variety of other southern inspired eats were served out front. Coast2Coast – a food truck and YouTube cooking channel that takes you on a culinary journey around the country exploring dishes from different regions – served up southern dishes. Red beans and rice, andouille sausage gumbo, Cajun shrimp tacos and bread pudding were only a few items on the menu, all of which looked delicious.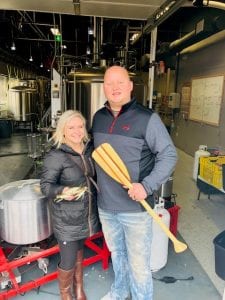 While the craft beer was flowing, music was playing and people talking, laughing and eating, I couldn't help but marvel at the sense of community BURLY has created. Sure, people come near and far to sample the beers, but its owner, George Goodman, that patrons return for. A longtime home brewer and the face of BURLY's logo, George is easy to spot in this hipster joint and easily fits in with a crowd of happy patrons.  He frequently tends the bar, has made countless friends with locals and is clearly doing something right. I had the pleasure of talking with him amidst the chaos, and was impressed with his outgoing nature, love for his family and passion for bringing people together.
Whether it's over one of his creative brews, or a crowded successful event, BURLY has certainly captured the heart of locals, and for good reason. Although their slogan states, "It's all about the beer'd", BURLY clearly offers more than just a good beer.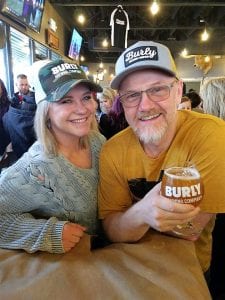 Now, head on over and tell em' Blondie sent you!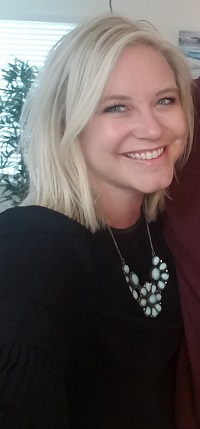 Katie traded in her flip flops for hiking boots at age three when her family moved from sunny Florida to even sunnier Colorado.  Katie's passion for food began at an early age when she would retrieve a strip of bacon from the counter each morning - a daily treat from her nanny.  That was only the beginning for her love of food.  After graduating with a degree in Communications (with an emphasis in Public Relations), she got her foodie start as Yelp Denver's first intern and has been scouting places to nosh all over Denver since.  For the past 9 years, Katie has maintained Yelp Elite status and made lasting relationships with local business owners, while continuing to be an avid food consumer and writer.  Her latest cravings and discoveries are frequently documented on her Yelp page.  Katie is known for her unique and witty writing style, obsession with avocados, and is considered the go-to girl when it comes to finding a place to dine.  When she's not finding a way to quit her day job to be the next Guy Fieri, she can be found slinging balls on the golf course, binging on true crime podcasts or indulging at a local brewery in the burbs.  Look for her work each 
Friday
 under Bites with Blondie.