Performing Arts in a Time of Plague: Part I
As you may have heard, there's something going around these days. Cough, fever, general malaise. You know the drill by now. As a person who makes a living at the edge of the performing arts community, these past few weeks have been…unusual. I'm happy to report that Colorado artists have continued on, creating beautiful things for all of us to enjoy, from a safe social distance. Here's a few that may interest you.
Denver circus artist and aerialist Amber Blais (one of the masterminds behind Zabiti Circus and the Rainbow Militia) has stepped into a new role: Tarot Reader. She's been working in the art of tarot cards for years, but, in the current climate of social distancing, the art has taken a new prominence in her life. You can join her for daily readings for the cities of Denver, CO; Springfield, MA; and Chicago, IL. Of course, she takes specific requests to do readings for other folks and cities, too. So, if you're super-curious about the forecast for, say, Fruita or Carbondale or Dresden, Amber's got ya covered. And here's the best part: her cats help her select the cards for the readings! I can personally report that, sometimes, those cats wear hats. Check it out yourselves, folks: it's the ancient art of tarot…combined with the post-modern medium of cat videos.
Here's a quick shout-out to a couple of other projects that Amber, being an all-around awesome and talented person, has going on. She's at the helm of the Colorado Artists Talents & Skills project, an online listing of the non-performing-arts talents that the currently-not-working folks of the performing-arts community have. If you need marketing, coaching, childcare, writing, video editing, and any number of other cool skills, check out this database and see if you can support the folks that have spent years bringing you the magic on stage. (If you're an artist who wants to be listed, follow this link.) Another way to get some help to those who are suddenly unemployed is through the Colorado Artist Relief Fund. If you're fortunate enough to be weathering COVID-19 with some financial security, please consider lending a hand for those whose incomes are less secure.
Another terrific way to stay connected to the performing arts is with Wide Right, a bar-cum-comedy-club in LoDo. The proprietor, Meghan DePonceau, is a well-known Denver comedienne who also runs a twice-weekly podcast called Hot Buns, wherein she and her co-host try to motivate people to cast their fears aside and achieve their dreams. Which is great, but what's even greater is their new meal delivery service. With public gatherings a thing of the past and future, the Wide Right crew has begun delivering meals.
With their professional kitchen and available supply chain, Wide Right offers meal-kit delivery services for a small fee (for those who can afford it) and for free (for those whose budgets are tighter at the moment). For single-meals or groups of 30+, this is a great way to keep supporting the Denver comedy scene AND eat some butternut squash ravioli! You can also donate funds to cover the costs of the no-charge meals for other folks, too. You can contact them for large orders at widerightdenver@gmail.com Since DePonceau is also a polymath, she's set up a fundraiser for the Denver comedy scene, which goes to help the people that makes us laugh during a time when we all desperately need some laughter.
That's what I got for this week, folks! Stay tuned for more cool and unique ways to stay connected (from a safe social distance) until this crisis has passed. And it will pass.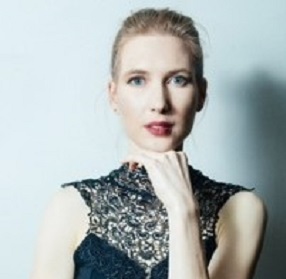 Jessie Hanson lives and works in Denver and couldn't be happier about it. Like the best-possible kind of Jekyl-and-Hyde scenario, she splits her life between science and storytelling. During the day, she performs clinical diagnostics and messes around with test tubes. At night, she performs behind the mic as a standup comedienne, in the air as a circus aerialist, and in rhinestones as burlesque dancer. She begrudges the hyper-inflated cost of a decent pair of false eyelashes. When she's not on stage, she sweating it out as an endurance athlete in triathlons and marathons across the West. She begrudges the hyper-inflated cost of a decent pair of running shoes. She's thrilled to be on board with OnDenver and writing about science, comedy, circus, athletics, and general fun on the Front Range!