Next Weekend at Globe Hall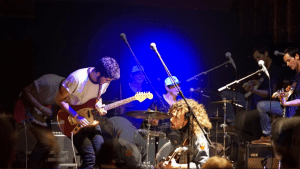 Next weekend is going to be huge for the Denver music scene in general. UMS is going to be insane, but that's not all that's going down. Maybe huge festivals aren't really your jam. Maybe winding your way through ten thousand other concertgoers cramps your style. Totally understandable. If you're looking to see some live music but avoid the South Broadway mayhem next weekend, Globe Hall has you covered.
On Saturday, July 26th, Channel 93.3 presents The Mowgli's, Petal, and Arms Akimbo on their Summer Vacation Tour. The Mowgli's began in 2010 in L.A. They hit the road and built an energetic fan base, playing more than 400 shows between 2012 and 2015. Now an independent band, they've released back to back EPs in the last year. Their feel-good music ranges from pop rock to folk/country and makes them friends wherever they go.
Petal broke into the Scranton rock scene in 2013 with the self-released EP, Scout. The only permanent member is guitarist and vocalist Kiley Lotz. She's supported by a rotating group of musicians, and they've released two full length albums and two EPs to date. Their latest album, Magic Gone, dropped last year. It's very introspective, with lyrics that address issues like mental health, sexuality, and accountability. It's a two-part album, with Side A revolving around Lotz's experiences before entering treatment and Side B focused on her recovery.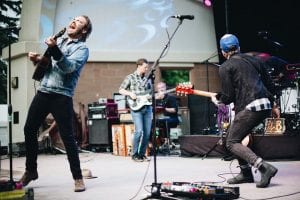 Arms Akimbo is a four-piece rock outfit from L.A. They've been rapidly gaining recognition and popularity playing shows and festivals across the country. So far, they've released three albums and three EPs. Their latest EP, Seven Dollar Paycheck, just dropped in April. It's been called vulnerable, passionate, and restless. The title track, "Paycheck," centers around the somewhat outcast feeling of pursuing music professionally while watching friends take more traditional career paths. It comes off a little angsty, but also defiant and determined.
On Sunday the 27th, Globe Hall welcomes Red Wanting Blue and Matt Rouch and the Noise Upstairs. Red Wanting Blue formed more than 20 years ago in Columbus, Ohio. The self-described Heartland rock and roll band has found a home on the road. Their nearly non-stop tours have landed them appearances on Letterman, NPR, and countless stages across the country. Red Wanting Blue has put out an incredible amount of music, including ten studio albums. Their latest, The Wanting, dropped in April of last year. The album is a triumphant look back at how the band has progressed over the last twenty years, and reconfirms that after all this time, the passion is still there.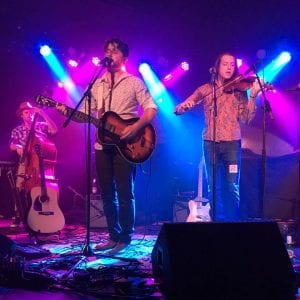 Matt Rouch and The Noise Upstairs is an up-and-coming Americana band based in Denver. Drawing influence from bands like The Avett Brothers, Elephant Revival, and The Decemberists, they're bringing the mile high city a little bit of Virginia country feel, with a little less twang. Their music ranges from upbeat to teary-eyed, with extra emphasis placed on Rouch's songwriting. Among their many accomplishments, they were named the best country band in Denver last year by 303 Magazine.
Globe Hall is an awesome venue that books a mix of local and touring acts. They also have the advantage of having a real kitchen with more than just bar food—always a plus. Don't miss out on the Summer Vacation Tour, or your chance to see Denver's best country band. You can find tickets and any other info on their website, globehall.com.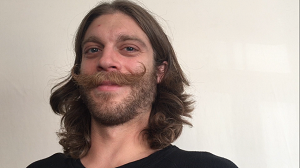 Jared is a local content contributor and aspiring author. He was fortunate enough to grow up in Golden, Colorado and graduated from MSU Denver. While an insatiable love of travel lures him all over the world, his roots remain firmly planted here. He enjoys writing short stories, poetry, children's books, societal observations, and everything else. A nature enthusiast and sunshine connoisseur, Jared is perfectly at home on any mountaintop or patio. He frequents art galleries and concerts, poetry readings and breweries, museums and bookstores. When he isn't making neighbors cringe at his musical attempts he can be found on a snowboard or sailboat, depending on the day. A perpetual adventurer and eternal patron of the road less traveled.