K Contemporary – Local Denver Art Gallery
K Contemporary is one of the newest and most active additions to the LoDo art community. Joining Abend and Gallery 1261 to form the 1412 Collective, K Contemporary offers its audiences ground breaking trends from both emerging and established artists. Their artist pool is vast and draws on local and international names to present exciting exhibits on a rotating basis. They also collaborate with many other galleries and organizations to promote local artists.
K Contemporary has partnered with the Denver Place exhibition space to engage the people of Denver with the work of local and international artists. The newest exhibition presented through this collaboration was done by artist Sarah Winkler. Winkler takes a geological approach to her series of Colorado landscape paintings titled, Exploration, A Survey of Recent Works. She draws inspiration from climate and geological evidence to envision what lies beneath the natural beauty. She pays special attention to the textures of her paintings. Using a variety of layering and abrasion techniques, Winkler expertly depicts the actual textures of the scenes. She even mixes different types of minerals like mica and pink granite into the paint for more realistic hues. The colors used are drawn from nature and follow the seasonal changes of the area to incorporate a kind of progression in each painting. Exploration is showing at the Denver Place, 999 18th Street, from October 10th thru December 1st.
Artist Nina Tichava draws on three of her previous collections in assembling this series titled, Same As It Ever Was. Her paintings have reoccurring themes of duality and symmetry. Chaos and order, abstract and defined, natural and constructed. Some pieces incorporate geometric and linear shapes to create intricate, almost floral designs. Others are done using a technique Tichava calls "pattern-based abstraction". Large shapes are formed by many small dots to incorporate a "micro vs macro" effect. Though this is her first series at K Contemporary, Tichava is no stranger to the art community. Over the last decade she has been featured in numerous galleries and private collections in Miami, Los Angeles, Palm Springs, Dallas, New York, Aspen, Seattle and San Francisco. Same As It Ever Was runs from November 3rd thru December 1st.
Karen Roehl is a local artist with an extensive background in Fine Art. Her work has been featured in many private and public collections nationwide. Her latest series, Cobbled Landscapes, ventures into the world of landscape deconstruction. This itself is a complicated process, but Roehl goes a step further by rearranging portions of the scene as well. Parts of the landscapes are repositioned in a random, multilayered fashion on the canvas. By the end, the entire piece has been painted over multiple times, each layer altering the relationship between the many parts. The final images are complex and chaotic, but still contain elements of the original. Cobbled Landscapes will be on display from November 3rd thru December 1st.
K Contemporary is located at 1412 Wazee Street in LoDo. Though it's fairly new in town, it's quickly become a go-to for modern art lovers. Their hours are Tuesday-Saturday, 12-6 pm, or by appointment. In addition to providing a unique viewing experience they offer collection advisory and brokerage services. K Contemporary is a wonderful place to spend an hour or an afternoon. You can find more information at kcontemporaryart.com.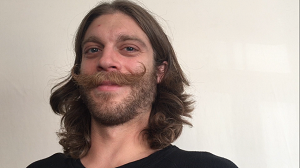 Jared is a local content contributor and aspiring author. He was fortunate enough to grow up in Golden, Colorado and graduated from MSU Denver. While an insatiable love of travel lures him all over the world, his roots remain firmly planted here. He enjoys writing short stories, poetry, children's books, societal observations, and everything else. A nature enthusiast and sunshine connoisseur, Jared is perfectly at home on any mountaintop or patio. He frequents art galleries and concerts, poetry readings and breweries, museums and bookstores. When he isn't making neighbors cringe at his musical attempts he can be found on a snowboard or sailboat, depending on the day. A perpetual adventurer and eternal patron of the road less traveled.