Joyride Brewing and a Little Sip of History
On a busy corner of Sheridan Blvd with views of Sloan's Lake lives a neat little brewery rooted in some interesting history. This side of Sheridan is technically the city of Edgewater; a bright-lighted arch welcomes you to this quaint sandwiched suburb, a literal stone's throw from Denver proper across the street. In recent months, developers have sought to build up the Sloan's Lake area into another hot Denver neighborhood, with the ever-popular Highlands and Lo-Hi areas bordering all the other sides of the lake. The businesses of Edgewater only serve to benefit from this potential growth on their border as well, and Joyride will no doubt continue to be the neighborhood go-to spot.
Joyride's excellent location has always depended on Sloan's Lake. The brewery's logo—a circus elephant doing a handstand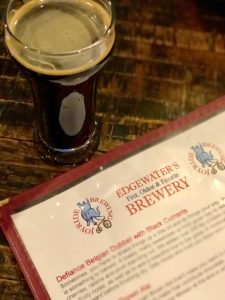 while riding a tricycle—is an intentional nod to the location's history. Roger the elephant is the legendary circus animal who is famous for his tenure at the Sloan's Lake amusement park of the late 1800s. His fame, however, is that of a bleak moment—after an accident that resulted in a child's death, Roger was put to death by his owners and his bones buried in the area across from the lake: present day Edgewater. I've heard this story before, only the way I remembered it, the buildings on the corner of 24th and Sheridan where Joyride Brewery now sits, were actually built over the elephant's bones. When looking further into it, Roger is said to be buried a few blocks over at 20th and Depew, however, previous excavations have not turned up his bones there either. Could it be so that Joyride is actually built on the bones of an unlucky circus elephant? If the ghost of Roger the elephant really is tri-cycling around the taproom, I would be willing to make the assumption that he's happy with how his memory is living on.
Perhaps Joyride's most attractive asset is the building-length set of garage doors that open up to Edgewater's "downtown" city center—not that it's the right time of year for that now (although, these sunny 60 degrees are confusing that notion lately!), but any time I've ever driven by on a hot day, the taproom appears to be absolutely packed. Inside, there is room for about 100 people to get cozy, enjoy the table service, and a few delicious brews. A traditionally small 10 barrel taproom, Joyride provides a pretty extensive list of varying styles and strengths of beer. From the light and crisp Ice Cutter Kolsch, to the Joyride Double IPA, there are quite a few non-traditional beers in between as well. I had the Camp Crystal Lake Autumn Porter, which was (obviously) brewed specially for Halloween—even in December, it tasted both balanced and seasonal, allowing it to be enjoyed far past October. I also tasted the basic Edgewater IPA, Defiance Belgian Dubbel with Black Currants, and So Fresh and So Cream Ale with Blueberries. Of the bunch, the So Fresh and So Cream was certainly the most surprising—our server said it had a small kick not dissimilar to a kombucha, and while that may sound strange for a cream ale, it was pretty accurate and unexpectedly very satisfying. Overall, Joyride is a super easy, warm and accommodating taproom with a long tap list guaranteed to please anyone in your group. They are also dog friendly and have a food truck parked outside every day.
Dubbed as Edgewater's first, oldest, and favorite brewery, Joyride is all of those things and more. After a few DIPAs, maybe you'll even see an elephant on a tricycle.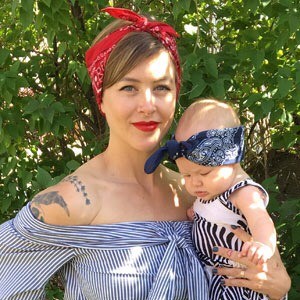 Erica Hoffmeister earned an MFA degree in creative writing and an MA in English from Chapman University of Orange. She has creative work published in the literary journals Shark Reef, Rat's Ass Review, Split Lip Magazine, and others. She has been teaching for over a decade (claiming 8th grade as her favorite grade level because she's an actual crazy person) and currently teaches composition and literature courses for Morgan Community College out of Fort Morgan. Always considering herself a bit of a beer nerd, she met her husband at Our Mutual Friend brewery while on vacation and fell in love with him, Denver, and its beer scene in one fatal swoop. While born and raised in Southern California, don't worry—she's earned her spurs as a transplant by creating her very own Colorado native. As a new mom, she is currently renegotiating her role as a world-traveling, bar-hopping, beer-loving free spirit by taking advantage of Denver's beer culture, where you can find as many babies in breweries on any given afternoon as beers on tap.