Hops for Humanity at Call To Arms Brewing Co.
In step with Denver's give-back personality, our breweries do not fall short in carrying a tradition to contribute. Call To Arms brewing is no exception to this rule, and this month, they are doing their part in their event: Hops for Humanity.
Over the month of June, Call To Arms is tapping 17 special brews—all, as you guessed it, featuring all things hoppy. Habitat for Humanity receives a portion of the entire month's proceeds, and we all get some specially crafted beer: everyone wins.
I love Call To Arms because although it is a big space that is often crowded, it feels as if you are walking into a house party every time. A true pub and the-bartenders-know-you-by-name-by-your-second-visit kind of place. Where the beer names are clever and the merch kitschy. Remaining consistent with their family-oriented coat of arms branding, the taproom is also extremely family friendly. So, don't be shy about grabbing a table with your whole lot, and propping your little ones up with a provided board game—Tennyson street is known for its high margin of strollers on the sidewalk, and Call To Arms' regular clientele has certainly embraced it. They also sit adjacent to Mas Kaos, where pizza and tacos are designed with your beer cravings in mind. While there is no patio as of now, there are floor to ceiling retractable garage doors that open up the entire space, giving you a much needed al fresco vibe during our brilliant Colorado summer evenings.
The special tapping list started on June 1st with the CTA IPA; the Clintonian Pale Ale; a deliciously citrusy n.I.P.L; as well as a hopped version of their classic Ballroom Beer, Spaceballs. Also tapped as of today is their collab beer with neighbor brewery, Hogshead: a dry-hopped English IPA; Bellodrama, dubbed as "the world's first India Pale Kolsch;" and a hop oil infusion based experimental project brew that you will want to save room on your table for. Check in next Thursday, June 12th, and every Thursday to follow for even more specially hopped beers on the list. They will be pouring them for as long as we'll be drinking.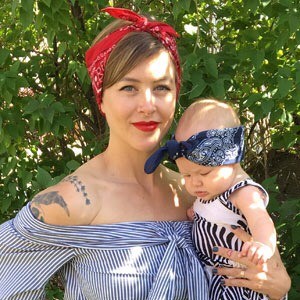 Erica Hoffmeister earned an MFA degree in creative writing and an MA in English from Chapman University of Orange. She has creative work published in the literary journals Shark Reef, Rat's Ass Review, Split Lip Magazine, and others. She has been teaching for over a decade (claiming 8th grade as her favorite grade level because she's an actual crazy person) and currently teaches composition and literature courses for Morgan Community College out of Fort Morgan. Always considering herself a bit of a beer nerd, she met her husband at Our Mutual Friend brewery while on vacation and fell in love with him, Denver, and its beer scene in one fatal swoop. While born and raised in Southern California, don't worry—she's earned her spurs as a transplant by creating her very own Colorado native. As a new mom, she is currently renegotiating her role as a world-traveling, bar-hopping, beer-loving free spirit by taking advantage of Denver's beer culture, where you can find as many babies in breweries on any given afternoon as beers on tap.