Hiking in Golden- Mt. Galbraith
Golden has a lot of offer when it comes to hiking and biking. I have already talked about the joys of hiking and biking North Table Mesa and the Apex. Today, I want to talk about yet another Golden gem, Mt Galbraith.
It is directly across highway 93 from North Table Mesa. The parking lot is up Golden Gate Canyon, not far from Highway 93. The trail leads you up the mountain to a beautiful loop. The loop itself is about 1.5 miles long and getting to the loop is about another 2 miles. Total you are looking at about a 5- 6 mile hike! Now, is a good time to emphasize hike. This trail does not allow bikes, so leave your bike at home.
The hike is slightly more difficult than North Table Mesa. The first part of the hike has limited shade and a fair amount of rock obstacles. It is also steep, so be prepared. When you get to the loop, you will find some good shade to take a break and look and the amazing views. Views of Golden Gate Canyon, Clear Creek Canyon, Coors Brewery, and Golden. This is a dog friendly hike, but remember, they must be leashed and you must clean up after them.
When you are done hiking, head into Golden to Barrels and Bottles. They have amazing beer, both theirs and guest taps, and great food. They have a pet friendly patio, so you don' t have to worry about your furry friends. And, if you are not into beer, they have an awesome selection of wine.  On a hot day, I highly recommend their wine slushy's!
This is a fun and challenging hike that I hope you enjoy as much as I do! Bring plenty of water (for you and your furry friends), wear sunscreen, and enjoy the spectacular views.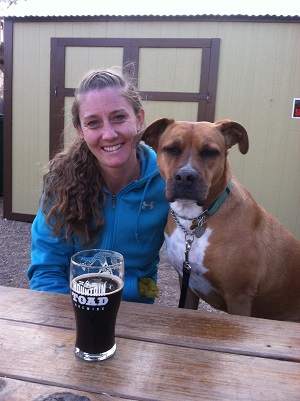 Christie is an outdoor enthusiast from Golden, Co that LOVES doing everything outside. She has an MBA with an emphasis in Sustainability from Brandeis University and a passion for helping others, which she turned into a consulting career. Whether you are looking for social media, marketing, or business strategy, Christie will help grow your business. In her spare time, she enjoys the outdoors and sharing her stories with others through blogs. Christie loves Colorado and hopes her stories help others see Colorado in a way they have never experienced before.