Hiking in Evergreen
Recently, I wrote about hiking in Conifer as an alternative to more popular locations like Boulder and Golden. Another quiet spot that's easy to get to is Evergreen. It's a bit bigger than Conifer and offers a wide range of activities.
For hikers, there are plenty of options in Evergreen, including Elk Meadow Park and Alderfer/Three Sisters Park. Each has over 14 miles of pet and bik
e friendly trails that are easy to moderate. Elk Meadow features wide open spaces and—you guessed it—plenty of elk. For something less strenuous, take Painter's Pause to Noble Meadow (2 miles one way). For something more intense, take the Too Long Trail up to Bergen Peak (5 miles one way), where you'll get excellent views.
Alderfer/Three Sisters Park is the local favorite, and accommodates rock climbers. For climbing, take the Hidden Fawn Trail (about half a mile) to The Eggs. If you're not a climber, you can still enjoy the beautiful Evergreen Mtn. East Trail (about 3.5 miles one way) which leads to the summit.
Other hiking areas include Lair o' the Bear, Pence Park, and the gorgeous Maxwell Falls (summer only).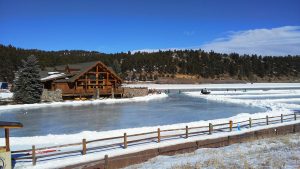 If hiking isn't your thing, why not try Evergreen Lake? In winter, you can go sledding, ice fishing, skating, or play hockey. There's plenty of room for everyone, and the ice is regularly groomed. You can rent skates and hockey nets as well. In summer, the area is great for picnics, fishing, boating, and paddleboarding. You can rent boards and boats, and sign up for sailing lessons. Oh, and on weekends, they even have an outdoor concert series! For more info, go to http://www.evergreenrecreation.com/facilities/evergreen_lake_house/lake_house_general_info.htm#Amenities.
When you need a break, continue SE on 74 to downtown Evergreen. Here you'll find affordable shopping and some great dining. Check out Muddy Buck Café for light fare and house-made chai. It's located in the former Evergreen Hotel, which was built in 1896, and provides an authentic "mountain town" atmosphere.
There's plenty for everyone here, and best of all it's close and affordable. As always, wear sunscreen, bring water, and have fun!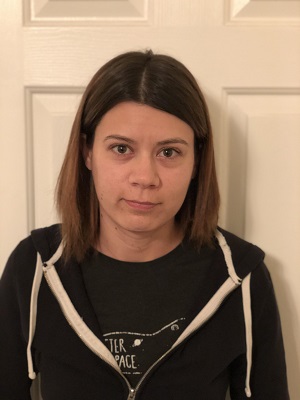 Evan is a writer, filmmaker and animator from Illinois. She moved to Boulder in 2011 to study film at the University of Colorado and fell in love with the Rocky Mountains. After graduation, she moved to Austin to pursue her film career. Despite the amazing tacos, music, and people, she found herself homesick and moved back to Denver, where there are far fewer cockroaches and seasons are an everyday occurrence. She is still writing screenplays and animating her own short films, and spends the rest of her time exploring new trails, towns, restaurants, and slopes all across the state.