Elway's Broncos – Three Years from Now
It's hard to predict the future, but after losing to the Indianapolis Colts and losing quarterback Joe Flacco to injury, the 2-6 Denver Broncos appear to be in familiar territory: a sputtering offense, questions at quarterback, a coaching staff without answers, and another season of disappointment.  General manager John Elway still insists that the team is built for winning now and is not interested in a rebuild.
That's always nice to hear, but with four straight losing seasons and not much of a game plan, the bigger question is what Denver will look like three years from now when Elway's current contract finally expires.
A few predictions for the 2022-23 NFL season:
With his contract about to expire, and despite Denver's sixth straight losing season, John Elway is given a three-year extension on his contract after approval from the organization's President of Football Operations, John Elway. Ownership could have voided the contract, but due to continued legal battles, no one really knew who owned the team.
Insisting that the team's troubles all stemmed from poor quarterback play, Elway announces he has finally found his man. At six-foot-five, this Super Bowl winning quarterback fits the Elway mold of experience, veteran leadership, championship pedigree, and more. Available after being cut from the Jacksonville Jaguar practice squad, the Broncos sign quarterback Nick Foles to a multi-million-dollar deal.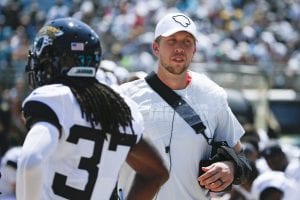 Struggling at the head coaching position, Elway makes a splash by pursuing Kyle Shanahan, but instead surprises the league with his creative, outside-the-box thinking by signing Gary Kubiak as the new head coach.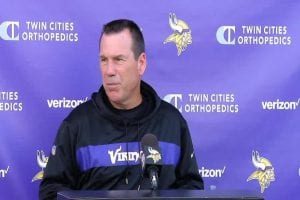 Finally admitting his mistake, Elway releases offensive lineman and former first-round bust Garett Bolles after five long seasons. Bolles ends up signing with the New England Patriots, and after the league implements a new rule allowing offensive lineman to hold—looking to increase league scoring numbers—Boles is named All-Pro.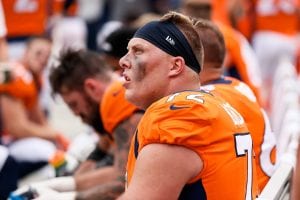 Elway starts the interview process for a new offensive coordinator, which would be the team's ninth in the past six seasons, but after failing to score no more than 24 points in a game over the past six years, the League intervenes and assigns one for him.
In the 2022 NFL Draft, Elway selects the top offensive lineman out of Alabama with the first-round pick. Elway doesn't know his name, or whether he'll fit into the system, but it can't be any worse than his previous first-round picks.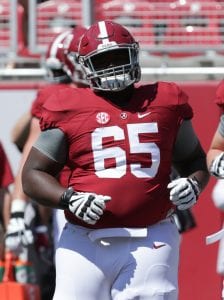 In the second round, Elway takes a lot of heat as he selects an athletic, but questionable young quarterback out of a mid-major conference. It's the fourth year in a row Elway has gone QB in round-two.  When Elway is asked about the often-failed strategy he replies, "According to our analysis of Mock Drafts, research shows that most successful quarterbacks are taken in the second round."  It is later discovered that the Mock Drafts Elway is referring to are from an ESPN Fantasy Football home page.
Empower Field at Mile High sublets their naming rights after low-attendance numbers to try and recoup monetary losses. Fans object, but Spicy Pickle Stadium gets narrowly approved.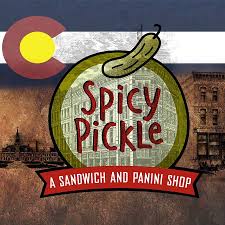 The Broncos finish the 2022-23 season with 6 wins and 10 losses, while 45-year-old Tom Brady leads New England to their ninth Super Bowl Title.
At the end-of-season press conference, Elway admits to making a mistake on an aging QB Nick Foles, shows disappointment that his draft picks didn't progress faster, and apologizes for the new coaching staff failing to make a difference, but reiterates that the team is not ready to rebuild as he introduces next year's big free agent signing…..Eli Manning.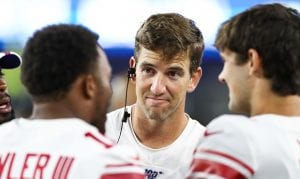 Images via southboundanddown.com, facebook, wdio-tv.com, si.com, pressoftheatlantic.com, milehighsports.com, arizonasports.com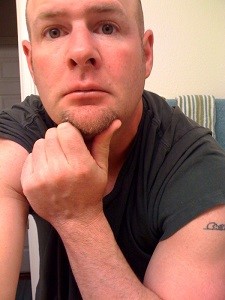 Alan Tapley is an educator, author, and blogger who has lived just outside of Boulder for the last twenty years.  His published work includes two novels, two children's books, a series of cartoons in the Minneapolis Star-Tribune, and multiple sports related articles. His love for family and the state of Colorado is only matched by one thing, his passion for sports.  The first baseball game he ever attended was at Wrigley Field, before there were lights.  At the final Bronco game at the old Mile High, he allegedly cut out a piece of his seat in the South stands.  But regardless of being here for the Avalanche's last Stanley Cup, the Rockies only World Series appearance, and all the Broncos' Super Bowl Victories, his wife never fails to remind him that he wasn't at the University of Colorado in 1990, like she was.  The year the Buffs football team won the National Championship.