Colorado Experiences Near Denver
Colorado is an amazing state. While it may sound trite, there really is something to do for everyone. But you don't have to go to the far corners of it to experience the best. Here are some Colorado must-do's close to Denver.
Relax in some Hot Springs
How would you like to soak in natural hot springs in an underground cave? Indian Springs is just an hour west of Denver. While famous for the indoor pool, the lush botanic garden feels more like Hawaii than Colorado. For something a little more adventurous, opt for the lesser-known geo-thermal caves. The pools are carved into the rock and filled with mineral water at temps of 110°, making it an authentic mountain experience.
Go for a Wildflower Hike
An hour and twenty minutes from Denver, Eldora's Hessie Trailhead is one of the best wildflower hikes in the state. The hills are dotted with bright purples, reds, and yellows of the Pasque, Indian Paintbrush, and Golden Banner flowers from mid-June through September. Park in Nederland and take a free shuttle up to the trail.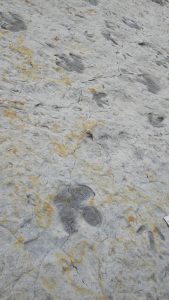 For something even closer, visit Chatfield Farms in Littleton – it's part of the Denver Botanic Gardens and it's only $5 to enter. Take a self-guided tour through the lavender fields and the butterfly garden.
Walk among Dinosaur Tracks
You don't have to go all the way to Dinosaur National Monument – right off of I-70 near Morrison, Dinosaur Ridge is a unique outdoor experience. With two trails and a museum, you can walk alongside real Triceratops tracks and observe fossils embedded in the hillsides.
Take a Ride on a Steam Train
One hour west of Denver is the little mining community of Georgetown. Here, you can take a ride through the famous narrow gauge railroad, which was completed in 1884. It was even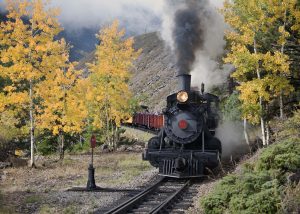 the subject of one of the first films ever made: The Georgetown Loop. And yes, that bridge is still part of the route! You can also take a tour of the old Lebanon Silver Mine and go panning for gold.
I hope these fun, cheesy ideas inspire you to go on an adventure!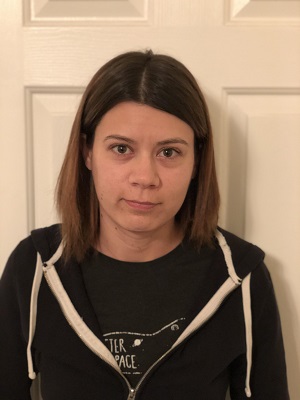 Evan is a writer, filmmaker and animator from Illinois. She moved to Boulder in 2011 to study film at the University of Colorado and fell in love with the Rocky Mountains. After graduation, she moved to Austin to pursue her film career. Despite the amazing tacos, music, and people, she found herself homesick and moved back to Denver, where there are far fewer cockroaches and seasons are an everyday occurrence. She is still writing screenplays and animating her own short films, and spends the rest of her time exploring new trails, towns, restaurants, and slopes all across the state.