Cannabis and Athletics at the MJ for MDs 2018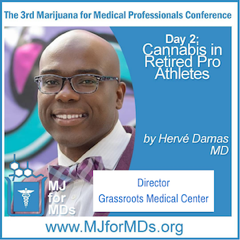 The Marijuana for Medical Professionals 2018 conference in Denver started on Sunday morning, October 14th, wrapped up at the end of the day on Tuesday, October 16th, and it was incredible! I spent three packed days soaking up valuable cannabis education from physicians, nurses, and other leading experts in the industry. With the majority of these presentations being accredited for continuing medical and nursing education credits, it was one of the most comprehensive and informative conferences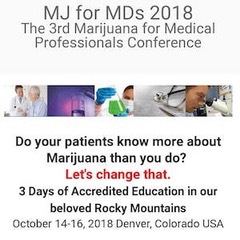 I've had the pleasure of attending. On top of learning so much, I'm very happy to report there was a lot a talk about cannabis and athletics on day two!
We got to hear from Hervé Damas, MD, who is a former NFL linebacker, strength and conditioning coach, and the Director of Grassroots Medical Center in Miami, FL. Dr. Damas, who also holds an MBA, received his "training in general surgery at Albert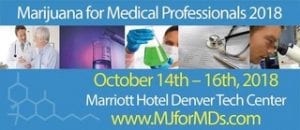 Einstein College of Medicine and diagnostic radiology at Mount Sinai Medical Center in Miami Beach, Florida.  He practices yoga, pumps iron, meditates, eats organic, speaks three languages with his children and believes there's a universal higher power guiding our existence."
Dr. Damas gave a presentation about his involvement with a research study investigating the use of Cannabidiol in a population of retired athletes with issues related to years of playing sports. The study consists of primarily former NFL and NHL players. This research is looking into the overall quality of life for these former pro athletes in regards to improvement in physical pain, neurological symptoms from head trauma, and psychiatric symptoms. This particular study is being used as a pilot in order to secure a fully funded study for a longer term in the future.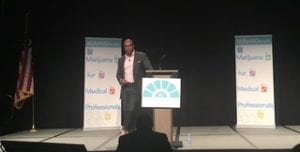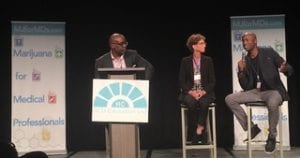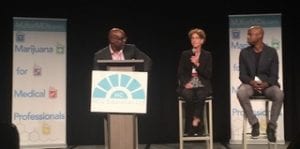 Dr. Damas also moderated the Athletes & Cannabis Panel, which consisted of former professional athletes discussing the benefits of cannabis for athletics. Joining Damas on stage was former Denver Bronco and member of Athletes for Care, Charlie Adams, and Olympian triathlete and 2008 Ironman 70.3 world champion, Joanna Zeiger. I actually had the pleasure of speaking alongside Joanna Zeiger earlier this year as part of the Women, Fitness, and Cannabis Wellness event, held by Ellementa.
The panel covered the use of cannabis in performance and recovery, primarily focusing on the benefits of THC and CBD for the managing of pain and reduction of inflammation. They also touched on their personal consumption habits which vary greatly by individuals. Charlie Adams consumes high THC products in large doses to help with ongoing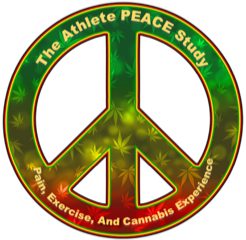 knee pain, and Joanna Zeiger prefers to micro-dose with higher amounts of CBD and lower amounts of THC, throughout the day to manage ongoing issues from a previous bicycle accident in her career as a triathlete.
As an athlete and certified personal trainer who consumes cannabis myself, it was great getting to see these former professional athletes educating the medical community about its benefits in sports. I was also very excited to hear about the study on CBD in retired professional athletes, because as much I am a proponent for cannabis and athletics, more research needs to be conducted. This brings to me to a call to action. Joanna Zeiger is also a PhD and is currently conducting The Athlete PEACE Survey. PEACE stands for Pain, Exercise, and Cannabis Experience. If you're an athlete who consumes cannabis, I'm asking you to help by contributing to this research! Learn more and fill out the survey here.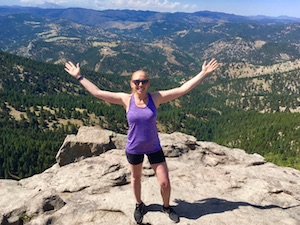 Heather is a sponsored cannabis athlete, content producer, and the Co-Owner of Marijuana Fitness Nutrition at mjfitnut.com. Before becoming an athlete, and advocate for cannabis, she graduated from the University of Missouri, while working full time, and earning her B.A. in Personal Financial Planning. She continued her successful career, rising in the finance industry, only to leave it all behind in search for a life more meaningful. It wasn't until she moved to Colorado, in 2015, when she discovered her true passions, marijuana, fitness, and nutrition. Heather now balances her time between managing her growing lifestyle brand, training for, and placing in athletic competitions, and producing some of the best CannaFitness content in the industry. This requires her to take on the titles of Photographer, Videographer, Director, Editor, Producer…, and the list goes on, but she still manages to enjoy time with her family. Although her adventurous spirit will always take her back out to run a trail, hike a mountain, or raft a river, she loves the peaceful moments at home, and cuddling with her husband, Antonio, and their two cats, Forest and Aspen.