Blue Dime Cabaret
I sometimes feel like the universe wants me to be a lesbian, despite (as far as I can tell, after a great deal of introspection) my straight orientation. Many people, including multiple men I'm actually out on dates with–even literally in bed with! make of that what you will– have asked me if I'm really gay or bi. I have owned big, shaggy dogs. I wear corduroy pants and drive a Subaru Outback. I do not, however, have a side-shave haircut. I recently had a friendly chat with a woman at a networking group who suggested we get a drink at a later date. She was a fun conversant and I agreed, because ladies rock and we should all expand our networks. Our mutual friend texted me the next day with the news that this enjoyable woman had inquired of him if I was single and romantically available. Oh. But then I figured, what the hell? and invited her to attend the Blue Dime Cabaret with me. Maybe I'd discover something unprecedented about myself.
Mostly what I discovered is that women will also stand you up on dates. She cancelled last-minute and I invited my platonic dude friend Chris to come with me instead. He's deaf in one ear, which means I can talk twice as much before it gets annoying to him. I had to think about inviting a platonic dude friend to attend the Blue Dime Cabaret, a "lowbrow" sex show, in a fetish club. I felt totally cool about it, but had to take a moment to wonder if it would be considered weird by said platonic dude friend. Then I remembered that there's nothing that dudes (or pretty much anybody) likes more than a good gander at some gorgeous gams and bouncing boobs. I texted, he replied, we met up on a slippery (appropriate!) night at the Dangerous Theatre.
The Dangerous Theatre is tucked away in the warehouse district off of Federal Blvd., a short hop from a ton of Mexican food and directly across from a delicious cidery. I used to perform in a tame improv show at the Dangerous a couple years ago, when I was just starting out in weirdness and thought that the cages and X-frames and baskets of condoms and sani-wipes were just about the strangest and freakiest things I had ever encountered. The venue showcases all kinds of alternative and sex-positive events and entertainment, as well as some really lovely erotic art, displayed gallery-style and up for sale on their walls. Chris, my up-for-it dude friend, met me there and we helped ourselves to herbal ginger tea, because when you're in such an environment you already have all the stimulus you need. (It's a BYOB venue–and we didn't have the foresight to bring anything anyway.) The snack bar donation jar was an option to vote for 2019 improving over 2018. We got seated at a front-row table reserved, with my name on it! I felt particularly buoyed by this because I've always thought that Chris was one of the cool kids in the improv scene, and here was my huge chance to impress him with my clout in the media world. So yeah, a guest ticket (street value of $20) and a mug of herbal tea would definitely transform my limited social status into cool-kid gold. I remain certain that Chris was enormously impressed.
I read up a bit on blue dimes as artifacts of numismatology, since I'd never heard of them and I loved the title of the show. Blue dimes are just coins, regular old dimes whose small amount of copper in the alloy has oxidized to give them a blue-ish cast. They can be collected as novelties, and "a collection of novelties" is a pretty good description of the Blue Dime show. Most "underground" cabaret-style shows feature a lot of burlesque, which is a popular and accessible form for audiences to watch and performers to do and the Blue Dime was no exception. It also had circus performers in the vein of a chain-apparatus aerialist and a hooper-contortionist, who was about the cutest human I've ever seen. A poet appeared halfway through. There was some truly incomprehensible, if visually interesting, performance art (a live-action Manga character arranges flowers and dances in stripper heels?). It was weird, fun, impressive, puzzling–a lot like a good date can be, even if you're not on a date, but just attending with a unilaterally deaf buddy.
The show was definitely as-advertised. "Sideshow" is a uniquely American brand of entertainment. It's weird. It's a little dingy. There's not a lot of rhinestones, a la the Moulin Rouge or the Sands. It's not best viewed in a large venue. In fact, sideshow has a lot in common with another slice of Americana, which is stand-up comedy. The best stuff in both formats is not-too-polished–raw, real, up-close-and-in-your-face. It depends on a connection with the audience and the truthfulness of the performance. When done right, it's delicious.
So was the Blue Dime an example of cabaret and sideshow "done right"? I'd say yes. It was a swell evening. I enjoyed the performances. The host, in particular, had a charming way about her, reminiscent of Stan Laurel or Art Carney in character as Ed Norton. She fluttered about the stage, making visual examples of her mental processes, consulting notes and correcting herself in real time. It worked as a bit. The stage kittens were cute. The performers could have been a bit more polished in their grooming/makeup/presentation, but then again, that's not always the motivation for sideshow, particularly one with a decidedly punk/metal angle to it. (This one featured multiple performers who embraced that aesthetic.) The only part of the show where I thought "let's get this moving, eh?" was a too-long portion in the middle where the founders came out and talked about founding the troupe. I understand the urge to revel in the success of your idea brought to fruition…I really do. But ten minutes of such self-indulgence is a bit much. We're here to see the show, not listen to you talk about the show. Even Chris considered this twice as much as necessary, and he only hears half.
After the event, Chris wandered off into the unlit alleys of the warehouse district because he needed to get his FitBit steps in for the day, which is clearly an understandable priority over avoiding serial killers crouched in dingy doorways. I caught a Lyft and considered the Blue Dime. I'd totally go again. They've got events coming up in February and are available for other bookings, too. They'll serve up a satisfying dish of rough-cut bawdiness and you might just see me there with a lady with a side-shave.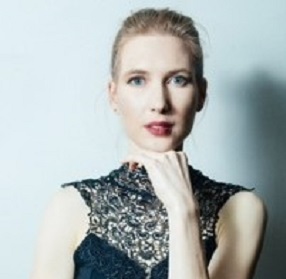 Jessie Hanson lives and works in Denver and couldn't be happier about it. Like the best-possible kind of Jekyl-and-Hyde scenario, she splits her life between science and storytelling. During the day, she performs clinical diagnostics and messes around with test tubes. At night, she performs behind the mic as a standup comedienne, in the air as a circus aerialist, and in rhinestones as burlesque dancer. She begrudges the hyper-inflated cost of a decent pair of false eyelashes. When she's not on stage, she sweating it out as an endurance athlete in triathlons and marathons across the West. She begrudges the hyper-inflated cost of a decent pair of running shoes. She's thrilled to be on board with OnDenver and writing about science, comedy, circus, athletics, and general fun on the Front Range!