Bites with Blondie: The Neon Lights Shine Bright at Broadway Market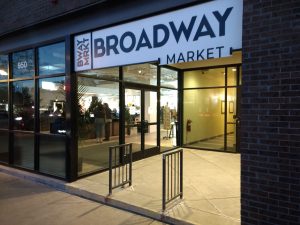 It's not every day that you're invited to attend a private preview of Denver's newest food hall, three days before they officially open for business.
That. Just. Happened.
Well, technically that happened earlier this week, and I'm still ecstatic. I have to admit, I'm still getting used to possessing a press pass, so when I am cordially invited to anything that is food-related, I am elated…and apparently I rhyme when I'm thrilled. Oh, boy.
When Denver's first food hall, The Source, opened its doors and introduced locals to the "food hall" concept, I thought, "What is this? A bar? A food court? A shopping center? What IS this?" To be honest – it's all of the above. But in a killer spot in the city, with much better food and booze options. Now, vendors range from food trucks to high end eateries, offering their signature dishes and a totally new experience.  Food halls are on the rise in Denver. It feels like a new one opens each season – which is probably because it's true. In fact, all 11 food halls scattered throughout the state, have opened within the past 5 years and another 3 more are projected to open in 2019.
With a handful of business cards and my photographer husband in tow, we set off to get a "sneak peek" preview of Denver's newest food hall – Broadway Market – and it did not disappoint.
Located on the corner of 10th and Broadway, on the boarder of the Golden Triangle and Capitol Hill neighborhoods, Broadway Market stands tall amongst its high rise neighbors. Sure, parking can be a bit tricky, but it always is in this area. Metered street parking is available and the bi-level parking lot to the right is free for diners after 5pm – unless you love getting towed, as State of Colorado office workers have priority until then.
Once you reach the entrance, with its brand new neon signage and modern feel, it's hard not to feel like one of the cool kids. A large, open community space is first to greet visitors, with a fully-stocked bar purposefully situated in the middle. Modern accents are found throughout (think clean lines and bold designs), including a variety of seating options. From sleek metal high-tops and counter service to long community tables and plush leather cushions, the options are endless and designed for all types of occasions. Vendors line the walls of the space creating an even more open, airy feel. Bright neon signs hang above each vendor booth, allowing visitors to easily pinpoint where they want to head first.
EAT: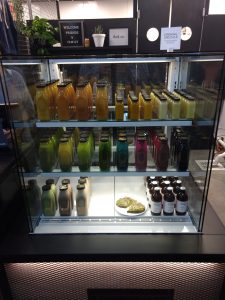 I was immediately drawn to Wonder, a Boulder-based juice company and smoothie shop serving the most vibrantly-colored juices I had ever seen. Founder Robyn Knowlan gave us insight into the juices offered and shots available to aid digestion, and introduced us to her perfectly-crafted avocado toast. The spot features other healthy grab-and-go options along with 100% organic, cold-pressed, never pasteurized or pressure-processed juice. Next door, Maria Empanada offers delicious handmade empanadas in a variety of flavors, each carefully hand -rolled and -crafted to a golden-brown perfection. Famous in both Argentina and the Denver metro, owner Lorena Catarovici continues to pair the most delicious ingredients with love in each empanada. Situated to the right, Misaki first found success at Stanley Marketplace and expanded based on request. This made-to-order sushi stand offers delicious sushi and sashimi using only the freshest ingredients and fish that is flown in daily. (Highlight of the evening – seeing a 250 pound Blue Fin Tuna sliced, diced and put into hand rolls made on the spot!) Mondo Mini Market offers homemade soups, salads, and house-cured meats for their signature sandwiches and charcuterie plate, while veteran chef (also operating Old Major, Masterpiece Delicatessen and Culture Meat & Cheese), Justin Bronson brings his latest endeavor offering "supremely" delicious burgers and chicken sandwiches at Royal Rooster.
With three stand-alone locations and a food truck, Biju's Little Curry Shop caters to Indian food lovers by featuring southern-style ingredients with a kick. Full of protein or keep it vegan; there is something for everyone featuring their signature curry. Also specializing in global cuisine, Chefs Daniel Asher and Josh Dinar created Mother Tongue, specializing in Donar Kebab, falafel and frites. Their concept was inspired after a trip to Istanbul, Turkey and is designed to evolve over time. Their other restaurants include the newly open Ash 'Kara and River and Woods.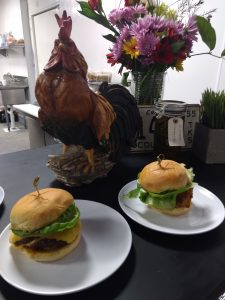 Chef Paul Reilly, from the team behind Beast+Bottle and Coperta, set out to bring the fresh flavors of Rome to Denver with two very different style pizzas – a traditional thin crust wood fired personal pizza and a thicker sliced piece of paradise at Pizzeria Coperta.  Aiming to satisfy your sweet tooth and end any meal, is Miette Et Chocolat. Renowned pastry chefs and chocolatiers Gonzalo and David, introduce a French patisserie with a modern twist, serving homemade chocolate, candy bars and sweet treats.
DRINK:
While the main bar features signature cocktails, a variety of liquors and fine wine, it's the adjacent beer wall that catches the most attention. Given a swipe card upon entry, each guest is able to pour and refill all beer glasses from the wall taps as necessary before cashing out. The swipe card holds the bill, which can be paid after each visit or after a few. Brews on tap range from light to dark, with my personal favorites in the middle – IPA's. Try one or try all, whatever the palate there is something for everyone.
SHOP:
First to catch my eye was Luna and Jasper. This funky-chic boutique hosts unusual jewelry pieces (seriously cool), snarky desk signs, trendy accessories and wild pairs of socks. All gifts looking to inspire laughter, love and joy. Marking its second location, Velvet Wolf caters to women in the form of everything from vintage tee-shirts and flirty dresses to trendy overalls and accessories, while Iron Wolf, is designed primarily around menswear and featuring colognes and men's accessories. Molly and Chris Hakes own and operate the 350 square-foot space housing both stores, while also running their Stanley Marketplace outpost.
PLAY:
From birthday parties, private events and just day-to-day operations, there is always something going on at Broadway Market. First up – Grand Opening TODAY, February 22nd. Doors will open to the public for the first time and visitors will be greeted with coffee provided by Logan House Coffee Company, breakfast and Wonder's cold-pressed juices. Most food businesses open around 11 and are eager to serve the masses. Play all weekend with food, drinks and more as Broadway Market celebrates its opening weekend. For the most up to date event news, sign up for their email list.
With no shortage of food halls in Denver, some might think another one isn't necessary. But don't be fooled – this trendy, neon city brings a popular concept and elevates it to the next level.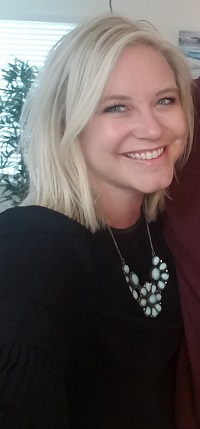 Katie traded in her flip flops for hiking boots at age three when her family moved from sunny Florida to even sunnier Colorado.  Katie's passion for food began at an early age when she would retrieve a strip of bacon from the counter each morning - a daily treat from her nanny.  That was only the beginning for her love of food.  After graduating with a degree in Communications (with an emphasis in Public Relations), she got her foodie start as Yelp Denver's first intern and has been scouting places to nosh all over Denver since.  For the past 9 years, Katie has maintained Yelp Elite status and made lasting relationships with local business owners, while continuing to be an avid food consumer and writer.  Her latest cravings and discoveries are frequently documented on her Yelp page.  Katie is known for her unique and witty writing style, obsession with avocados, and is considered the go-to girl when it comes to finding a place to dine.  When she's not finding a way to quit her day job to be the next Guy Fieri, she can be found slinging balls on the golf course, binging on true crime podcasts or indulging at a local brewery in the burbs.  Look for her work each 
Friday
 under Bites with Blondie.