Bites with Blondie: Highlight on Havana – DAE GEE Korean BBQ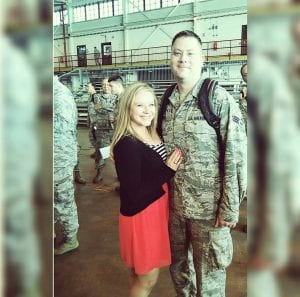 It all started in 2015.
My husband, a Senior Airman in the Air Force Guard, was selected to deploy to South Korea for three months with the 140th Wing. Although it was hard to say goodbye, I knew he was on an adventure of a lifetime with an entire culture to explore. In the months spent overseas, my husband constantly raved about the cuisine, the unique blend of flavors, and the aroma of his favorite little restaurant in the market. He spoke about the hidden gems surrounding base, their house made noodles soaked in broth, he fell in love with chicken bulgogi and even made a special trip to Seoul. After he returned, his palate had changed. While he would always love pizza, he now had cravings for freshly grilled Korean meats, pickled kimchi and the infamous soju.
Unable to make the trip to South Korea to explore the culture myself, I was determined to find a restaurant in Denver with the same authentic Korean flavors for us to experience together. Enter Havana Street. With over 2,300 Korean immigrants living within Aurora's city limits, Havana has transformed into a mini "Koreatown," creating one of the most delicious streets in Denver.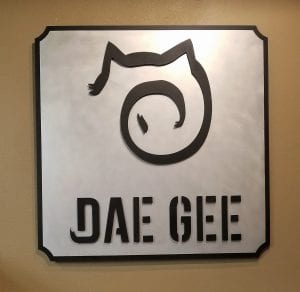 With my husband wanting to introduce me to an authentic Korean experience and a birthday to celebrate, we decided to try an Aurora hotspot – DAE GEE. Voted "Best Korean Restaurant in Denver" by Westword and featured on the Food Network, this one-of-a-kind restaurant provides a unique experience and did not disappoint.
Here's why –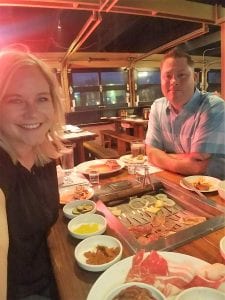 SPACE: Despite four other locations scattered across Denver, this location is the OG and boasts a creative approach to dining with an authentic atmosphere. Located off Jewell and Havana, this little restaurant isn't so little once you enter. With a small main dining room and two adjoining wings, the space is much larger than anticipated from the outside. With large community tables throughout the dining area, the space allows for parties of all sizes. Décor is minimal but offers a peek into the history and origin behind the restaurant, owned and operated by Joseph Kim.
We were seated at a table near the garage style windows, which allowed for the coolest evening breeze to enter the space. Each table features a grill on top and a switch to dial down the heat, as needed. We happily soaked in the vibes while perusing the drool-worthy menu.
SIPS: No great meal starts without a cocktail! With the vast menu featuring various rice wines, sake and beer, we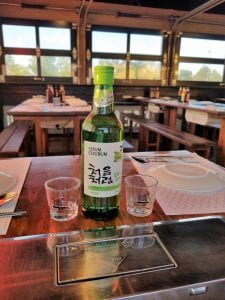 opted to share a bottle of Soju to accompany our meal. Highlighted as Korea's National drink, this famous liquor is offered in various flavors and styles, and usually served neat. Having had the famed cocktail only once before (after my husband returned home with a bottle), I was excited to sample the flavors offered here. Strawberry, grapefruit, apple, and traditional are featured on the menu, each being just as delicious. We settled on the Apple Soju, which was smooth and sweet to the taste. Even sweeter is the happy hour – offered from 3-6 at the Broadway location.
SUSTENANCE: Meaning "pig" in Korean, DAE GEE offers traditional Korean dishes blended with American culture and encourages guests to pig out! The logo speaks for itself – a pig nose!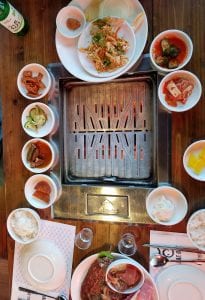 Although the menu features made-to-order entrée's, we decided to take part in the true Korean experience and grill at our table. Best deal for the experience? The all-you-can-eat dinner for two, which features unlimited cuts of pork belly, pork bulgogi, rib-eye beef, chicken and brisket – with an order of short ribs! To accompany the meats, are a variety of sides – rice, cabbage kimchee, cucumber kimchee, potato salad, fermented onion and jalapenos, a kimchee pancake, pickled Korean radishes, fish cakes with vegetables and a dried white chili radish! The meats were delicious, perfectly seasoned and melt-in-your-mouth tender! The short ribs were by far a favorite, with the pork belly a close second. Three types of sauce are offered at each table, which are perfect for marinating, smothering or dipping! All ingredients are freshly prepared, perfectly presented and constantly replenished, which we happily enjoyed.
I know what you're thinking – how can two people eat that much food? To be honest, we couldn't! After round one, we were stuffed but felt compelled to go another round, just for the sake of the experience. Take note – one round, goes a LONG way!
STAFF: Each team member we encountered was welcoming, friendly and determined to provide the best service possible. Because Koreans take such pride in their cooking, the level of service surpasses other establishments. Our server was outstanding in helping us navigate the grilling process, provided marinating recommendations, and ensured our satisfaction, all with a smile and ease.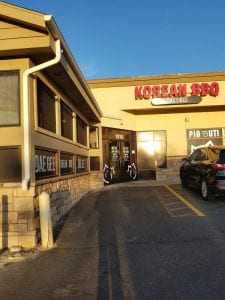 The entire experience is meant to be enjoyed – allowing you to sit back and have good conversations while grilling up a killer meal – without the hustle to turn the table over. Our celebration lasted just over two hours, and not once did we feel rushed, which made us feel right at home.
While the all-you-can-eat lifestyle might not fit your budget, lunch is offered daily for an extremely reasonable price with generous portions. Made to order entrée's or grilling is offered, for a much lower price!  DAE GEE is open daily from 11:00am – 10:00pm. Need another reason to justify a celebration? Click here for updated social media posts and DAE GEE in the news!
Another year older, another year wiser and another year spent celebrating in a unique way with the one I love!
Cheers!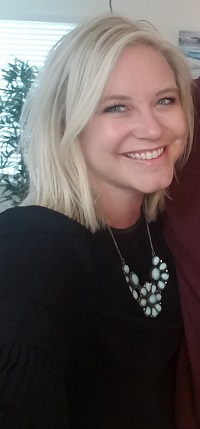 Katie traded in her flip flops for hiking boots at age three when her family moved from sunny Florida to even sunnier Colorado.  Katie's passion for food began at an early age when she would retrieve a strip of bacon from the counter each morning - a daily treat from her nanny.  That was only the beginning for her love of food.  After graduating with a degree in Communications (with an emphasis in Public Relations), she got her foodie start as Yelp Denver's first intern and has been scouting places to nosh all over Denver since.  For the past 9 years, Katie has maintained Yelp Elite status and made lasting relationships with local business owners, while continuing to be an avid food consumer and writer.  Her latest cravings and discoveries are frequently documented on her Yelp page.  Katie is known for her unique and witty writing style, obsession with avocados, and is considered the go-to girl when it comes to finding a place to dine.  When she's not finding a way to quit her day job to be the next Guy Fieri, she can be found slinging balls on the golf course, binging on true crime podcasts or indulging at a local brewery in the burbs.  Look for her work each 
Friday
 under Bites with Blondie.