Bites with Blondie: 5 Food Trucks to Try this Fall
From chuck wagons to push carts, food trucks have gained huge popularity in recent years, and as a result, transformed the way Americans dine. Food trucks have evolved from just being a trend, to an official restaurant concept that millions of hungry diners  love. Although the food truck phase got its start in Los Angeles, many cities have adopted the curbside way of life. Listed as one of the "Top Towns" in food truck nation, Denver has certainly made a name for itself, with over 113 food trucks cruising around the city as of April 2018.
Being a foodie, I have been to my fair share of food trucks – and I am obsessed. In fact, it's been a dream of mine to open one myself. Until I can figure out how to make my dream a reality, I'll stick to noshing at food trucks all over the city – one delicious meal at a time. This year, I have sampled a wide array and so should you. Here are my top favorites to try this fall: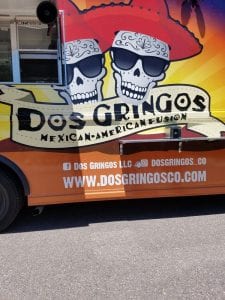 Dos Gringos –   Newest to the food truck scene, Dos Gringos has been a truck in the making since 2016. Two longtime friends decided it was time to embark on the most delicious journey and show Colorado what tacos are all about. But this isn't your average street or restaurant taco. Using all natural and local ingredients, chefs Darrow and Aaron craft Mexican-American style tacos and bowls, to cure any craving.
Each street taco was filled to the brim with all the fixing's, featured perfectly seasoned meats, a colorful presentation and tasted deliciously fresh! I opted to try the 3 tacos for $10, which was perfect in size and oh, so good! The carnitas' taco – was the favorite! The menu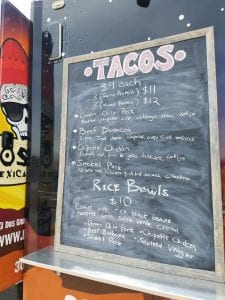 also features tortas, nachos and signature bowls, showcasing their famous Pork Green Chili – which is the trucks top seller. Clearly their menu is well planned and executed as each item is sure to impress your taste buds!
The passion for their craft is showcased through the innovative menu items, which changes weekly, and is impressive for this small truck. With its ability to move through the city, it's easy to live every day like it's Taco Tuesday!
Finding their niche at breweries, farmers markets and various festivals throughout town, Dos Gringos was my 2nd stop at The Big Wonderful and did not disappoint!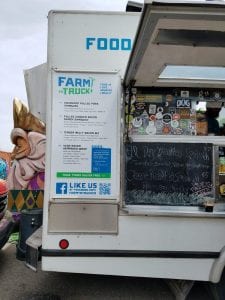 Farm to Truck – Featuring fresh, organic and sustainably grown products, this little truck whips up some of the best tasting meals to date! Sure, the farm to table concept has been around for years, but no one offers this level of quality, on wheels.
The truck itself is large and the menu is massive, serving up a variety of wraps, sandwiches and salads for any palate! I opted for the pork belly BLT sandwich that was loaded with bacon, arugula, fresh tomatoes and garnished with a creamy pesto aioli. Ingredients are locally grown, and grass fed, which the owners take great pride in. Highlighted on their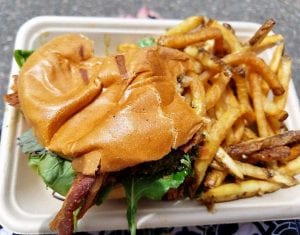 website indicates the farms associated with each menu item, their growing processes and farm locations. Let's face it, knowing where your food comes from is not only great, but tastes even better
When Steven, Bronson and Jon started the truck in 2017 the goal was simple – create locally sourced dishes for all to enjoy – which is easily reflected. These men are committed to their mission, while creating mouthwatering meals, proving not all food trucks are created equal.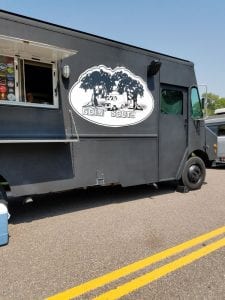 Goin' South – Y'all, let's be real.
I am a sucker for all things southern. Give me all the hush puppies, shrimp grits, po' boys and fried green tomatoes, and I'm one happy girl. Throw in some sweet tea and I'm in Heaven.
Making his way from the South to the Mile-High City, chef Scott decided to share his classic southern dishes with Denverites, offering his take on "fine dining." Conveniently located curbside, this truck can be found at local farmers markets and various events throughout town, serving up the classics from Louisiana.
After drooling over the delicious menu at the Federal Center farmers market , I opted to try the fried shrimp po' boy with a side of traditional potato salad. Traditionally served on a hoagie (but sold out due to popularity) the sandwich was placed on the most deliciously toasted brioche bun. The corn meal dusted shrimp, fresh arugula,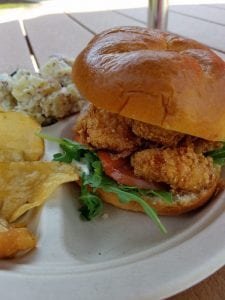 tomato and smoked aioli made the sandwich delicious and full of flavor! The side of potato salad was a nice touch, tangy and featured just the right amount of seasoning.
The menu is truly one of a kind featuring all the Southern classics – everything from Muffuletta's, fried catfish and hushpuppies to smoked BBQ pork and house-made coleslaw! They even have vegetarian options – with fried eggplant!
Fresh from the smoker or fryer, there is literally something for everyone! Prices are insanely reasonable for all you get, and staff is ultra-friendly. Want to see where they are headed next? Check out their website or social media channels updated locations and brewery stops!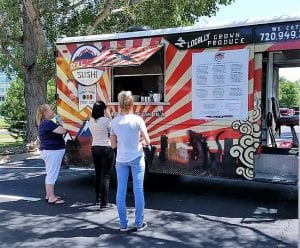 Roll it up Sushi – I know what you're thinking. Sushi, from a truck?! I must admit I was a little skeptical myself, but that changed, quickly. Co-founders Mathew Yamali and David Jagodzinski have always had the dream of trading in their fifteen-hour work days and creating a one-of-a-kind food truck, and finally took the plunge in 2016. Enter Roll it up!
Roll it up creates restaurant grade sushi and appetizers, without the traditional sit-down experience, creating a more casual and unique style. After first hearing about this little gem at the DTC Eats, I knew I had to try it.
Upon entering the line, I was immediately taken with the staff in the truck. Cracking jokes, laughing and exuding positivity, which made the experience fun! Both Mathew and David work in the truck daily, rolling sushi and creating dishes to create relationships with their customers, which is truly genuine.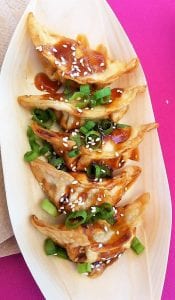 I ordered the crispy gyoza dumplings, which featured a blend of chicken and veggies, fried and topped with young onion, sesame-teriyaki and white sesame seed. With the perfect amount of crunch and killer sauce, I couldn't resist ordering more! The menu features a variety of delicious options ranging from poke' bowls, traditional and fancy sushi rolls, to unique street tacos! All ingredients are fresh, prepared upon order and gorgeous in presentation.
Need an even bigger reason to try this truck? They offer reasonably priced catering options, are available for any private event AND offer sushi rolling classes! Head to their Instagram for updates on locations and events!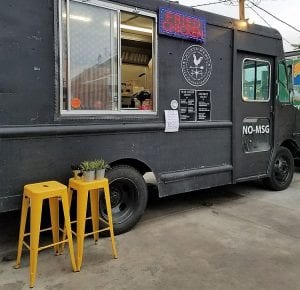 Chicken Rebel – Hot Damn! It has been my sole mission to try this spot ever since the OG truck drove from San Diego to Denver for the entire month of July in 2017. Because the boys behind this operation have discovered just how much Denver loves its fried food, they are here to stay – for good!
Primarily parked at Finn's Manor in RiNo, I hit up the "food truck pod" to experience Chicken Rebel's famed fried chicken. Upon arrival, staff instantly greeted me, were outgoing and beyond helpful in choosing from their limited, but seriously-can't-decide, menu. The boys frying up the goods, perfectly craft each sandwich by hand and ensure its quality before alerting diners their meal is ready via pager.
I opted to try the famous "rancher," which features a thin layer of avocado on the bottom of a perfectly toasted bun, crisp bacon, and the largest piece of fried chicken ever drizzled with buttermilk ranch dressing! HOLY DELICIOUS! Another popular favorite –  the "Hot Mess," which was deliciously spicy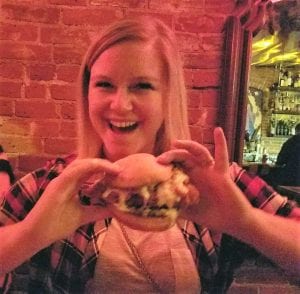 topped with house made jalapeno slaw. My favorite part? The tots – which are as fancy as they come! Try their feature of the day, which ranges from "animal style" and sweet potato to garlic parmesan and herb dusted with lemon zest! Wait time for each sandwich can be a bit long, but each sandwich is all well worth the wait.
Can't make it to Finn's? The truck does venture to surrounding breweries in the area and regularly updates Instagram of their whereabouts. Even better – the brick and mortar location is coming soon!
With food trucks checking all the boxes for diners, it's easy to see why they are popular, and not going anywhere! Now – we eat!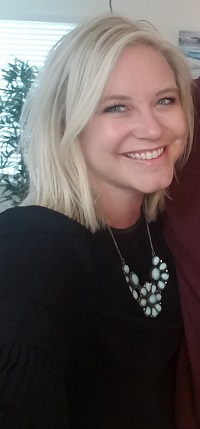 Katie traded in her flip flops for hiking boots at age three when her family moved from sunny Florida to even sunnier Colorado.  Katie's passion for food began at an early age when she would retrieve a strip of bacon from the counter each morning - a daily treat from her nanny.  That was only the beginning for her love of food.  After graduating with a degree in Communications (with an emphasis in Public Relations), she got her foodie start as Yelp Denver's first intern and has been scouting places to nosh all over Denver since.  For the past 9 years, Katie has maintained Yelp Elite status and made lasting relationships with local business owners, while continuing to be an avid food consumer and writer.  Her latest cravings and discoveries are frequently documented on her Yelp page.  Katie is known for her unique and witty writing style, obsession with avocados, and is considered the go-to girl when it comes to finding a place to dine.  When she's not finding a way to quit her day job to be the next Guy Fieri, she can be found slinging balls on the golf course, binging on true crime podcasts or indulging at a local brewery in the burbs.  Look for her work each 
Friday
 under Bites with Blondie.