Bike Smut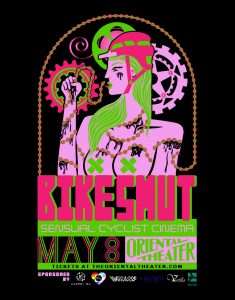 You guyz! You guyz!! You guyz!!! One of my favorite things EVER is coming to Denver! It's called Bike Smut, and it's rolling through Denver on May 8.
Bike Smut is exactly what it sounds like; it's a two-wheeled celebration of sexuality and transportation. And. It's. Awesome. I first stumbled upon this treasure of short films shortly after I discovered that I really enjoy watching creative, independent erotica in large theaters. This was a whole new world of goofy people having fun and not caring what others thought about them. I loved it. Then I found out that goofy people can have fun on bicycles and they still don't care what others think about them! When this happens, it's called Bike Smut.
You might think it's weird to watch risqué content in large groups…but it's really not. We do a lot of things in public that are super sexy. Game of Thrones viewing party, anyone? We watch music videos and the Superbowl halftime show. Look me in the eye and tell me that the Dallas Cowboys cheerleaders need to wear those tiny suits–and we still love talking about that original wardrobe malfunction. Law and Order: SVU, that repository of all our collective dirty thoughts, has been on the air for what, 20 years? I've seen countless burlesque shows and attended probably hundreds of stand-up comedy shows where the content runs to blue–and that's not awkward in the audience either. I've watched a lot of movies in theaters that involve strongly-implied and even graphically-displayed sexual behaviors–and loved it. We humans are naturally social creatures. It's fun to engage in edginess within the magic of the gathering, and also with the blissful anonymity of the crowd.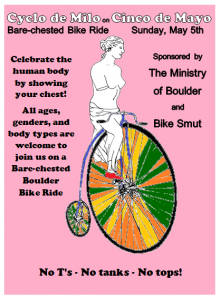 So watching something sexy in public is kind of what we do as Americans. Where do bikes come in? I read somewhere that the best sex is really just unstructured play. I couldn't agree more. As it happens, I love playing with bicycles. I ride them everywhere I go, all year round. I love their free-wheeling movement–as close to flying as I'll ever get. I love their elegant machinery. I love their simplicity and accessibility. I likes bikes maybe even more than I likes boys. So when I think about unstructured play, bikes come up a lot. I've never had sex on a bike, but it's fun to think about how that could work. It's also fun to watch people who also think that bikes and sex should both be unstructured play make movies about their fantasies.
(Quick aside: I once asked a platonic dude friend, in a moment of tipsy inquiry, whether or not he would–strictly in theory– have sex with me. He answered no. I asked why not. He said, "It's the bike, and the backpack, and the f—k-you attitude." Clearly, he wasn't into bikes, but the answer still oddly pleased me–he identified me so strongly with the bike that it affected his perception of my sexual appeal. Bike-riding for the win! We won't dissect the "f—k-you attitude" part.)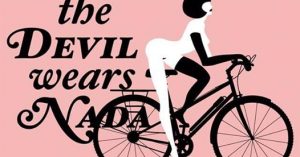 Getting back to why I love this film festival so much…Bike Smut combines the fun of public sexiness with the fun of bicycles into an internationally-touring film festival that plays to ravenous audiences of "bike-sexuals" on four continents. It all started in Portland, Ore., but the films are made by randy riders across the globe. You might see someone in Spain, or Cambodia, or Estes Park. When I saw this film festival last time, I saw Denver herself on film; I had biked past several of the landmarks featured in the film. Tell me the last time you got to see your home featured in an independent film focused on joy and connection and sex and fun! When's the last time you saw a film that focused on joy and connection and sex and fun? The festival tours with different themes or collections, all of which have delightful names: "The Devil Wears Nada" and "Science Friction" included. I love everything about how weird and original and sexy and fun the whole idea is–Yes! Let's play with each other! Let's make sex into something fun to do instead of something we are supposed to perform! Let's enjoy each other and do silly things and give no damns about anybody else's opinion! And let's ride bikes while we do it!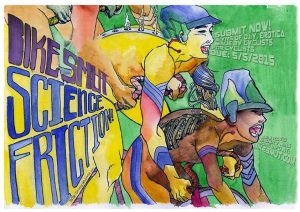 The event on May 8th is centered around the films, and that's reason enough to check it out–they're diverse and inclusive, with all types of people and activities represented in hi-fi. When I first saw them, I was a bit surprised by the quality of the films; this was not the kind of stuff you upload onto homemade-porn websites. They're professionally done by independent artists. There's tons of other stuff going on around the films, too. Rocky Mountain Cares is bringing their testing van and offering free, confidential, on-site HIV testing for all comers. Studio Friction is doing a live shibari demonstration with the help of Velowood Cyclery. Vanilla Kink and Awakenings Boutique are bringing their specialty items. HeyDenver and The Drop will be offering education and services as well. And there are specialty cocktails at the bar, and drawings and prizes that include everything from bicycle service packages to a trip to Las Vegas! It's a great big party to celebrate Spring in the Denver cycling scene and sexual fun and safety. Bike safety, too. Always wear a helmet.
And speaking of bicycle safety, Bike Smut is also organizing a separate event, the Barechested Bike Ride, in Boulder on Cinco de Mayo, which will be a celebration of the human body in its natural and non-sexualized state. It'll cover about five miles through Boulder, ending at Fate Brewing Company, and is hosted by The Ministry of Boulder. Bikes, Boulder, Barechested Brews…What a perfect way to start the cycling season!
The film festival and attendant festivities happens at the Oriental Theater on May 8. Opening fun with toys, treats, shibari, and such starts at 7 pm, and the festival screening begins at 8pm. I got my tickets early to be sure I don't miss it–I'll be there in my Red Merkins cycling team jersey with my finger freshly pricked so that I know my status and a sexy cocktail in hand. No one will be smiling bigger!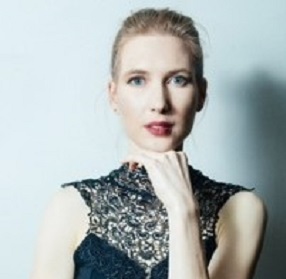 Jessie Hanson lives and works in Denver and couldn't be happier about it. Like the best-possible kind of Jekyl-and-Hyde scenario, she splits her life between science and storytelling. During the day, she performs clinical diagnostics and messes around with test tubes. At night, she performs behind the mic as a standup comedienne, in the air as a circus aerialist, and in rhinestones as burlesque dancer. She begrudges the hyper-inflated cost of a decent pair of false eyelashes. When she's not on stage, she sweating it out as an endurance athlete in triathlons and marathons across the West. She begrudges the hyper-inflated cost of a decent pair of running shoes. She's thrilled to be on board with OnDenver and writing about science, comedy, circus, athletics, and general fun on the Front Range!