Avalanche Update – Matt Duchene Traded
It's over. Matt Duchene has been traded to the Ottawa Senators in a three way deal with Kyle Turris of the Senators going to Nashville, while the Avalanche receive a bundle of picks and prospects from each team.
Duchene was pulled from the ice in the first period after completing two shifts to be informed of the trade and was immediately sent to the locker room to get his things and catch a flight…. To Sweden… for the Global Series… Where his first two games as an Ottawa Senator will be against his old team. The Colorado Avalanche.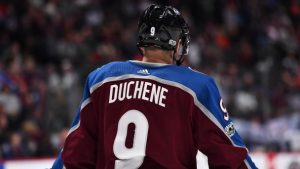 Here is the breakdown: Avs receive Ottawa's first round pick, 3rd round pick, Andrew Hammond (Goaltender), and first round prospect Shane Bowers.
The Avalanche will also receive Nashville's 2nd round pick, prospect Vladislav Kaminev, and 19 year old defenseman Samuel Girard, who could potentially fit in the lineup right away and greatly help with the Avs defensive woes.
The Avs essentially got a haul for Duchene. Many will be frustrated a big name D man didn't come back to Colorado, however this team is rebuilding and Sakic did good by the franchise to add so much to the future of this team, as well as adding in a player like Girard who can help right away and in the future.
While Sakic did great in this trade, it is still hard to see a guy like Matt Duchene go. This is a move that had to happen however. Duchene was not happy being in Colorado anymore. What started as a dream come true to play on his childhood favorite team and being coached by his heroes, turned into a lengthy period of missing the playoffs and trade rumors that probably hurt his confidence and game in general.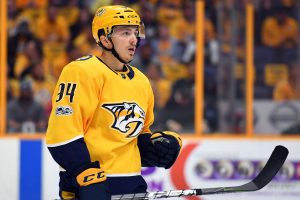 Samuel Girard
Image – Christopher Hanewinckel-USA TODAY Sports
This move benefits both Duchene and the Avalanche organization however. Duchene can move on to a team that is a contender for a Cup and not have to worry about where he could get traded to, while the Avalanche can keep getting younger and adding a ton of talent to a team that needs pieces to not just be in the playoffs, but be a future contender.
It's about time this move happened, the Avalanche seemed to get derailed years ago after they made the playoffs and lost to Minnesota in seven games in the first round. Winning the division that year gave them the impression that they were in "win now" mode, which led them to giving lengthy contracts to old veteran players that ended up making the team worse instead of adding younger guys, and keeping a slow and steady rebuild mentality.
This move ultimately shows Sakic is dedicated to the rebuild and developing the young talent that is now taking over the organization. Yes, it can be frustrating, many fans believe that this rebuild will never end. This is completely different however. The Avalanche are actually transitioning to a team that is nothing but young players, whereas in the past there was the revolving door of veterans still on the team. This is probably the best pool of prospects the Avalanche have ever had..
The way I see this team now is reminding me of the Toronto Maple Leafs of old. The Leafs team that finally moved on from an era of Phil Kessell and Dion Phaneuf, having a rough couple of years but eventually adding young stars like Auston Mathews and Mitch Marner etc.
The Avalanche are doing this the right way. The era of Matt Duchene, Paul Stastny, and Ryan O'Reilly is officially over.
The era of Nathan Mackinnon, Gabriel Landeskog, and Mikko Rantanen is here. A fresh face of the organization and new mentality is here. A time of growing, developing, and winning, is surely on the way.
Thanks for everything #9, you deserve the chance to win a Cup. Good luck in Ottawa. Colorado will miss you!
See ya Friday.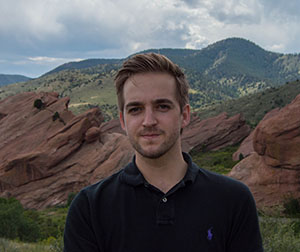 Graham Rendell is a native of Colorado, growing up in Evergreen, Denver, and Steamboat throughout various points of his life. He attended Saint Mary's University of Minnesota where he completed his BA in Journalism and Public Relations. He also completed an Art minor due to his passion for photography. Not only is he an avid photographer and writer, but a passionate musician as well. When he is not taking pictures around Denver or writing, he is likely to be found playing guitar with his band, or teaching students how to play the instrument that has made a profound impact on his life. Graham is looking to further use his skills in writing and photography in the photojournalism field to promote not just his own work, but the beautiful state that he has spent the majority of his life in.