Avalanche Update – Hot Start
Its just five games… Its just five games.. No matter how much you repeat it, something still feels different about this team. Through five games, your Colorado Avalanche are 4-1.
The Avs first game of the season took place in New York against a highly skilled New York Rangers club featuring "The King" Henrik Lundvist in between the pipes. The Avs were ready to sack the king's castle however after they got off to a hot start. And who would be the first goal scorer of the new Avalanche season? Yep, you guessed it. Matt Duchene. After an offseason fueled by trade rumors and slights against everything from his game to his attitude, Duchene has shown that fire in his game we are accustomed to. Avs would end up winning this one 4-2 in a competitive matchup.
Moving on to New Jersey, we would experience an unpleasant flashback to last season. The Avalanche would allow 3 power play goals and a short-handed goal, dropping this one 4-1. An interesting note of this tilt was witnessing the former Avalanche draft pick Will Butcher, a player who spurned the Avalanche this offseason and chose to sign with New Jersey, get not only his first assist/point in the NHL, but get 3 assists in this game.
The next two games came against the Boston Bruins, one on the road at "The Garden" in Boston and another back home at Pepsi Center in a rare home and away matchup. The Avs would proceed to thoroughly dominate the Bruins these two games beating them 4-0 in Boston, with Semyon Varlamov getting the shutout, and another win of 6-3 in Denver, chasing Boston goaltender Tuuka Rask for the crease.
A scary moment in the second game against Boston occurred however when Adam McQuaid of the Bruins hit rookie Tyson Jost from behind with a cross check, sending him awkwardly into the boards legs first. He couldn't get up without help from the training staff at first, leading all to expect the worst with an assumed knee injury of some sort, but a period later he was back skating on the ice. He took the following game off with a bone bruise but it appears it is a minor injury. So thank goodness for that..
This leaves us to game 5 back in Denver against the Anaheim Ducks. The Avalanche dominated this game as well, though the score was much closer than you would have expected with the Avs winning 3-1. The Avalanche had two goals called back, both for an equally questionable goaltender interference call.
One horrifying moment occurred in the first period when Nathan Mackinnon took a stick to the eye. He would not return this game, which led many to fear the worst. Post game however, coach Jared Bednar would confirm that even though it was a scary moment, Mackinnon would be fine and maybe even play against Dallas the following night. Fans can all take a great sigh of relief.
Through the course of the first five games many other interesting notes are still to be mentioned.
-Nail Yakupov currently has five points through the first five games including 3 goals and two assists. For a so called "bust" from Edmonton he is looking like a standout on the team and looks as though he has made great chemistry on a line with Matt Duchene and Alexander Kerfoot. He was also the first star of the game in Denver against Boston mentioning how happy he was to be on the Avalanche. A positive attitude this team greatly needed. As Adrian Dater from BSN Denver stated best, we could be looking at "Year of the Yak."
-Another pleasant standout for the Avs has been Swiss forward Sven Andrighetto, who currently has 3 goals and 3 assists, leading the team in points. Not bad for a guy who was acquired last year in a once considered "small trade" after sending Andreas Martinsen to the Montreal Canadiens. Martinsen is not currently on an NHL roster while Andrighetto is on the top line for the Avs. Won the trade?
-The Avalanche are currently on a 3 game winning streak. That didn't happen once last year. They also have scored 5 empty net goals in the first five games. They only scored that same amount in the ENTIRE SEASON a year ago…
-Matt Duchene has been great so far. Many wondered if he would protest going into the season or have some sort of attitude problem. It seems as though he has put the drama of the offseason aside and left it there. He has five points to start the season with 2 goals and 3 assists while leading the team at center position on the top scoring line so far this season.
-Defensive pairings have been holding up pretty well. The addition of Patrick Nemeth off of waivers has panned out well with his solid play. Tyson Barrie has been pitching in offensively including a game winning goal against the Anaheim Ducks. It isn't perfect, but they are getting the job done. Some say when your defense is playing well you don't notice them so much. That is the kind of feeling they are giving so far this season. Not too many blunders on the back end, which is huge for the team's success.
-Goaltending duo Semyon Varlamov and Jonathon Bernier are playing lights out. The two of them both have some highlight reel saves that have to bring the team great confidence so far this year.
Ultimately the biggest takeaway for the Avalanche so far is that they are playing with an attitude and a chip on their shoulder. They are playing with speed that the new youth movement has brought and confidence that was nowhere to be found a year ago. They appear to be having…. Fun?
Last season was a wakeup call. A lot of times people say you have to hit rock bottom before things turn around. Last year was surely rock bottom for this club. Playing for each other has made a huge difference with this team.
You see this change of attitude through various examples, such as Zadorov dropping the gloves with Adam McQuaide in Boston after the cheap shot on Tyson Jost. Zadorov took a beating in the fight but the guy answered the call and stood up for his team. This kind of attitude goes a long way. These guys are meshing well. If it continues..? Lets follow the team's example and take it day by day and have fun. One cant help but think of an old mantra used by the team years ago however.. How does it go again? Oh yea.
Why Not Us?
images via Denver Post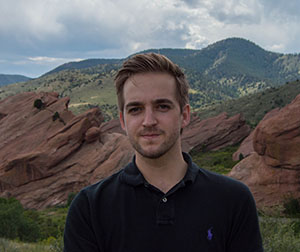 Graham Rendell is a native of Colorado, growing up in Evergreen, Denver, and Steamboat throughout various points of his life. He attended Saint Mary's University of Minnesota where he completed his BA in Journalism and Public Relations. He also completed an Art minor due to his passion for photography. Not only is he an avid photographer and writer, but a passionate musician as well. When he is not taking pictures around Denver or writing, he is likely to be found playing guitar with his band, or teaching students how to play the instrument that has made a profound impact on his life. Graham is looking to further use his skills in writing and photography in the photojournalism field to promote not just his own work, but the beautiful state that he has spent the majority of his life in.