Avalanche Update – Growing Pains
The Avalanche had a quick start out of the gate with an impressive road record and home game that got many fans excited for the season. Now we are looking at a 4-4 record and currently on a three game losing streak. So what happened? Many things happened. For one, the Avs got thoroughly demolished by the Dallas Stars 3-1 in Dallas, and then went on to basically have the exact same game against the Nashville Predators with another ugly loss, losing 4-1. Then we had ourselves a controversy back home at Pepsi Center against the St. Louis Blues when a Mikko Rantanen game-tying goal late in the third period gets called back due to an offsides challenge.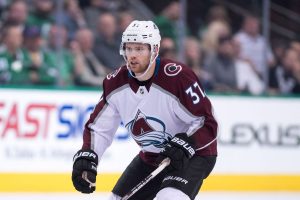 Image via Jerome Miron-USA TODAY Sports
The Avalanche got shot out by the Stars 36-23 in this game and allowed a power play goal. Duchene scored a late goal in the third period, but by then the game was essentially out of reach. The Preds also out shot the Avs by a similar margin getting 34 shots on goal while the Avs would get 21. The Avalanche would allow another power play goal in this game as well. Like I said, these games were basically identical.
The game against St. Louis had quite the ending with the Blues luckily squeaking out with a W after a goofy call by the refs took away the Rantanen game-tying goal. This was such an atrocious call that the NHL even APOLOGIZED for the call saying it was a mistake and it should have been allowed.
"St. Louis requested a Coach's Challenge to determine whether Sven Andrighetto of Colorado was off-side prior to the Avalanche goal. The video review decision determined the play was off-side but that determination was based on a play prior to the puck clearing the zone.
Per Rule 78. 7 (Note 1) Coach's Challenge: 'Goals will only be reviewed for a potential "Off-Side" infraction if: a) the puck does not come out of the attacking zone again; or (b) all members of the attacking team do not clear the attacking zone again, between the time of the "Off-Side" play and the time the goal is scored.
Although there was an off-side, it occurred prior to the puck clearing the zone which nullifies any goal review related to that off-side. The entry in to the zone immediately prior to the goal was on-side, therefore the goal should have counted."   -NHL Public Relations/NHL.com
So there's that. Not a whole lot we can do about it folks.
The game against St. Louis had its ups and downs regardless of the goal situation. Former Avalanche Paul Stastny scored his 600th career point last Thursday in this game after a bad backwards pass by Rantanen in the offensive zone was turned into a 2 on 1 going the other way. Stastny had no problems burying that one.
Ex Harvard captain Alexander Kerfoot remains a great pickup by the Avs after potting 2 more goals in this game on the power play in the first and off a lucky bounce in the third period.
As if this game couldn't be more odd, a comical sequence happened after Blake Comeau appeared to get pushed into backup Blues goaltender Carl Hutton, which led to Blues defenseman Robert Bortuzzo to collide into Hutton and landing on top of him outside of the left circle. Blake Comeau eventually buried an empty net goal while Hutton turtled on the ground with his defenseman still on top of him.
Avs would actually have the advantage in shots on goal this game 41-28 but still lose 4-3.
With all that said and done, many fans seem to be freaking out already. To them I say the classic Aaron Rodgers line "R E L A X." Yes the games against Dallas and Nashville were bad. You can't have great games every night in this league, especially when the majority of your team is in their early 20s. This team is rebuilding, with the fun and excitement of a young team comes the ugly learning process that you just have to go through. Having a .500 record at this point is great, especially for a team that was abysmal a year ago. Long way to go still.
Some other notes:
-JT Compher broke his thumb after blocking a shot on the penalty kill Thursday against St. Louis, he will be out 3-4 weeks.
-Jost was also injured in this game with a lower body injury and is said to be back in 2 weeks.
-The leaders on this team need to step up. Nathan Mackinnon has 1 goal, Duchene has 3, and Landeskog has 2. This team gets criticized constantly for not having their top guys step up when needed the most. It is time to prove it, with all the trade rumors of Duchene going around and the embarrassing last season, what more motivation do they need?
Day at a time everyone, this team is growing every game and to be honest, aren't looking that bad at all. Deal with the growing pains and lets watch these guys build something.
Puck drop is at 7, back home at Pepsi Center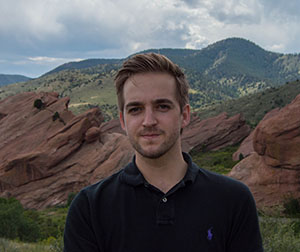 Graham Rendell is a native of Colorado, growing up in Evergreen, Denver, and Steamboat throughout various points of his life. He attended Saint Mary's University of Minnesota where he completed his BA in Journalism and Public Relations. He also completed an Art minor due to his passion for photography. Not only is he an avid photographer and writer, but a passionate musician as well. When he is not taking pictures around Denver or writing, he is likely to be found playing guitar with his band, or teaching students how to play the instrument that has made a profound impact on his life. Graham is looking to further use his skills in writing and photography in the photojournalism field to promote not just his own work, but the beautiful state that he has spent the majority of his life in.