The Thanksgiving Play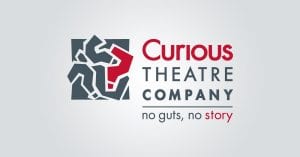 I went to see The Thanksgiving Play at the Curious Theatre this past week and I'm having a hard time writing about it. Not because it wasn't well-produced (it was) or beautifully played (it was indeed), but because I walked out of the venue feeling like yet another clueless white person who should probably just shut up for a while. That's a weird thing to write and it makes the play seems like kind of a downer, which it both totally is and completely isn't. It was simultaneously both one of the most uncomfortable and one of the funniest things I've seen in 2019.
The premise is this: the drama teachers at a school (it seemed to me that it bounced back and forth between being an elementary school and a high school—maybe I was missing something?) got a grant to put on a Thanksgiving play—including funding for a Native American actress to lend authenticity to the production. Mayhem and misunderstanding ensue as the overly-well-intentioned white folks at the helm struggle to honor the Native American experience and incorporate it into a holiday that celebrates European dominance over the continent. Suffice to say, it doesn't go so well.
The characters in Larissa FastHorse's play are pitch-perfect. They're a bunch of totally white people who genuinely want to do the right thing, but who equally-genuinely have no idea how to do it. These well-intentioned white people (WIWPs?) are the type of folks who went on a "humanitarian trip" and now their Facebook profile pic is a snapshot of them with a small, brown child in a hot, sweaty country. The kind of people worry about the carbon footprint of their grass-fed beef but drink a lot of LaCroix because they don't think about cans of water having a carbon footprint.
The play's structure reminded me a lot of the classic improv structure called the Harold, with narrative scenes interspersed with "games," where the characters sing, dance, and otherwise engage in non-scenic interludes. The play opened with one of these musical games that reached a fever pitch of saccharine annoyance and, as the show progresses, they grew darker and darker, until, by the end, there's some truly terrible depictions going on. It's hard to watch, but it's a great metaphor for the experience of looking past the commercial depictions and realizing what the history of this continent really entails. Yeah, lots of fun, but, you know, real. And really necessary.
FastHorse's dialogue is spot-on throughout the entire work. I have several notes that just reference fantastic quotes: "Do you know how hard it is for a straight, white man to feel less-than in this world?!"; "You're too smart to be content; I've never met a smart person who was"; and, last, but certainly not least, "I need a Native American person in this play—I got a grant!" which is the primordial scream of all federal grant applicants across this great and not-so-great nation, including myself.
The four players in this production (Emily Ebertz, John Jurcheck, Adriane Leigh Robinson, and Matthew Schneck) made me forget that there were only four of them. They moved with energy and took up space (in a good way) to the extent that a small cast filled up the entire stage and storyline. I confess that I am deeply envious of musical people—all four of the cast displayed a musical aptitude that I will only ever wish I possessed. Ok, this play didn't demand the vocal virtuosity of Anthony Roth Constanzo, but it was still beyond my reach, and I appreciate that others can do what I cannot.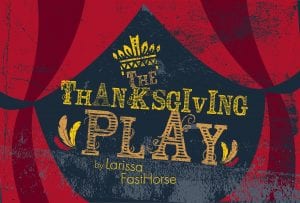 I won't spoil the ending by revealing the final conclusion of the WIWPs, but it's spot-on for the characters and the lexical mastery of the playwright. The Curious troupe has a trademark of doing post-show discussions with the audience, which also happened the night that I attended. A few members of the audience, including a bunch of teenagers, clustered around the stage and discussed the piece with the director (Dee Covington). I applaud the idea of having in-depth discussion about the meaning and impact of the production. I also recognize that it's a bit awkward to have twenty white people sitting around and discussing the impact of a play written by a Native woman to discuss the awkwardness (at the very best!) of white people discussing American history. It was a Facebook group come to life. To Curious's credit, they had a Native woman, a member of their group, as a crucial leader of the discussion, but my comment is more about the rest of us. After a play that says that we just don't get it…we gather to explain to each other how much we wish we got the thing that we don't get. Oh, white people. We're just not there, even yet.
The Curious company has a reputation for producing challenging, thoughtful, and courageous pieces and I have to hand it to them. The Thanksgiving Play is all three. Even as an audience member, I felt paralyzed by the awkwardness of being a white person watching these excruciating WIWPs trying to navigate the uglier side of American history; it's an act of bravery for the performers and producers to tackle it in a far more active sense. To quote one of the play's characters, "By doing nothing, we are part of the solution!" The Curious Theatre is roundly rejecting that idea and putting their actions behind their decision. I applaud the quality of their decision and their production.
The Thanksgiving Play runs through December 15 in the Curious Theatre, 1080 Acoma St. Denver, CO 80204.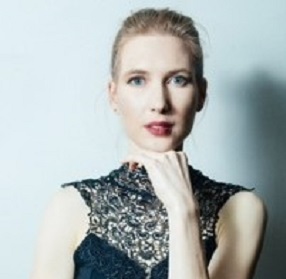 Jessie Hanson lives and works in Denver and couldn't be happier about it. Like the best-possible kind of Jekyl-and-Hyde scenario, she splits her life between science and storytelling. During the day, she performs clinical diagnostics and messes around with test tubes. At night, she performs behind the mic as a standup comedienne, in the air as a circus aerialist, and in rhinestones as burlesque dancer. She begrudges the hyper-inflated cost of a decent pair of false eyelashes. When she's not on stage, she sweating it out as an endurance athlete in triathlons and marathons across the West. She begrudges the hyper-inflated cost of a decent pair of running shoes. She's thrilled to be on board with OnDenver and writing about science, comedy, circus, athletics, and general fun on the Front Range!