3-Day Colorado Road Trip Adventure: Day 1–Aspen
Early October I decided to take a last minute three day Colorado road trip.  I wanted the trip to include some fun and adventurous activities along with some relaxation.  I narrowed down my options to Aspen, Ouray, and Pagosa Springs and I would spend the night at each location.  My first stop would be Aspen.  The drive to Aspen during the Fall is glorious especially if you take the Independence Pass route (closed during the winter).  I must say there were a few scary turns where my heart was racing from pure terror due to the narrowness of the road but the views were spectacular.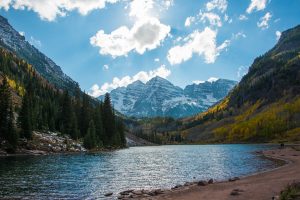 You will see mountains completely covered with Aspens in several shades of yellow along with mountains blanketed with snow neighboring mountains with a beautiful mixture of green, red and yellow tree lines. There are numerous lookout spots throughout the route where you can safely stop to take pictures.  I also couldn't resist pulling over on the shoulder to photograph some unique views I encountered along the way, there were a few spots I didn't stop that I now regret, so my suggestion–if you have the urge, stop and take that picture.  I arrived into Aspen around 3pm, my plan was to visit the famous Maroon Bells the next day but was strongly advised by the front desk clerk at the Tyrolean Lodge (where I decided to spend the night and located in Downtown Aspen) that I should go now since it was still a gorgeous day and they were expecting snow the next day.  I quickly offloaded my bags into my room, changed into my hiking clothes, packed my backpack with water and snacks, grabbed my camera and set off to Maroon Bells which was only about a 20-minute drive from my hotel.
Maroon Bells is located in the White River National Forest.  I had learned in my History of Photography class that Maroon Bells is considered one of the most photographed peaks in the United States…during the right time you can capture beautiful reflections of the peaks upon Maroon Lake.  As I mentioned earlier it is located in a National Park…there is a $10 per vehicle admission fee unless of course you are a National Park pass holder.  Active Duty, Guard and Reserve military personnel and their dependents can also get a free annual National Park pass which gives them access to about 2,000 National Parks and disabled veterans can receive a lifetime pass. If you meet this criteria and haven't obtained your free National Park pass you can get it right there from the Guard at the entrance (military identification will be required).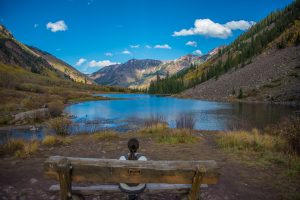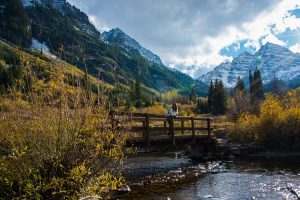 Once you park your car it's just a short (about 2-minute) walk to the shores of Maroon Lake where you can stand or sit and admire Maroon Bells from a distance. I've seen it's beauty in many photographs but seeing it in person left me speechless.  All I wanted to do was just sit there for hours and take it all.  The bell shaped peaks were lightly kissed with snow and at their base surrounded by beautiful green, golden and red fall foliage.  Although the lake was a bit choppy and there was no reflection of the peaks upon the lake it was still a glorious sight to see.  A sense of peacefulness overwhelmed me, I just sat there for about 15 minutes to take it all in…enjoying the warmth of the sun on my face with a slight breeze blowing through my hair, closing my eyes from time to time and breathing in that clean crisp air.  Then I became like every other person there and couldn't stop taking pictures of it from every angle I could think of.  I wanted my own images that I could look upon to remind me of how wonderful I felt in that moment and how thankful I was to live in such a beautiful State.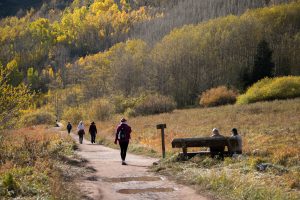 The road to Maroon Bells will be closing this year on November 12th so you still have time if you wish to visit this year, there will be no vehicle access after that date. The road will reopen mid-May.  You can still visit Maroon Bells during the winter by hiking it, snowshoeing it or cross country skiing it…it's about a 12 mile trip.  If you wish to make it more adventurous and adrenaline driven then another option is to access it through a snowmobile tour, you can try  T-Lazy 7 Ranch.  During certain seasons there are parking and access restrictions/exceptions therefore make sure to check their website when making your plans to visit.  Not only they have several trails with different levels of difficulty, you can also fish and camp there, for more detailed information go to https://www.stayaspensnowmass.com/activities/visit-maroon-bells.  If you have never been to Maroon Bells or haven't visited it for a long time then maybe you should add to your list of things to do…highly recommend during the Fall…you will not regret it!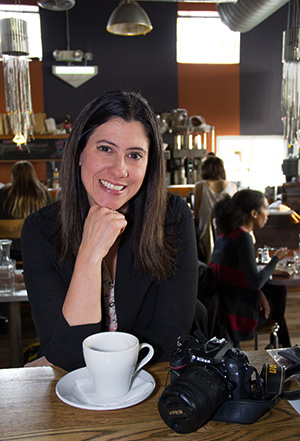 Alida is a photojournalist, photographer and world-traveler.  In 2015, she made Colorado her home after serving 20 years in the Air Force to pursue her love of photography on a full-time basis.  She specializes in Architecture, Real Estate, Lifestyle and Travel photography.  She holds a B.A. and M.A. in Business as well as an AAS in Photography.  Traveling is one of her biggest passions, she has visited 28 countries and continues to mark off locations from her bucket list.  During her free time, she enjoys traveling, photographing and exploring new places, and meeting new people along the way.  She calls herself a "food and adventure junkie" and loves to capture fun and special moments with her camera.  You may find Alida at a local coffee shop enjoying a cup of coffee, enjoying live music at a local bar along with friends with a glass of wine in hand and a plate full of goodies, hiking one of Colorado's many trails or giving back to the community as a volunteer for a special cause.