Westbound and Down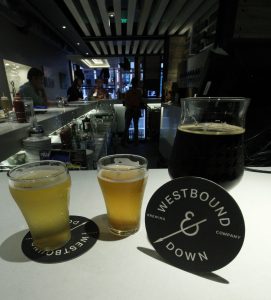 Is fresh Rocky Mountain air and water really the key to a perfectly brewed craft beer? Many think it definitely helps. At Westbound and Down Brewing Company in Idaho Springs, even the wind of the Rockies helps brew what they call "sophisticated" beers: distinct, crisp, and delicious.
Whether you are headed back home to Denver from a mountain adventure, or are you are actually headed out west to fuel the natural escapism Colorado harbors in our souls just by living near the Rockies, Westbound and Down should always be a pit stop. Cuddled up on Main street in Idaho Springs, this cute little mountain town is the perfect getaway stop to breathe in the clean air and remember why you live in Denver in the first place. The city is awesome, but it's the Rockies that keep you calling Denver home. Idaho Springs is a short 45 minute drive west on the I-70, but it feels like much farther away. The temperature drops at least twenty degrees, the sounds of traffic fade, and you're free to wander about and enjoy some coffee, ice cream, or even better: beer.
Across the parking lot, the windmill and waterfall is in view—in the winter, this freezes over, but now that it's summer, it is picturesque and welcoming. Inside, the brewery surely sets itself apart from what you would expect a mountain brewery to look and feel like. It doesn't feel like the inside of a cabin; there are no cheesy game trophies on the wall, and no sign of the color hunter green (thank God). Instead, it is stark white, bright, and clean. The dining rooms to the side have a homier feel, complete with dim lighting and road signs decorating the darker walls. But when you sit at the bar, you begin to understand the sophisticated concept. It takes a minute to get used to, but it's a welcoming adjustment.
The beers are delicious. There are a few big beers, and a few sessionable, which I always appreciate. Long gone are the days I chug several 10% beers during the afternoon. Through the summer, their specialty brew is Milo's Mosaic Smash: a perfect recipe of Maris Otter Pale Ale Malt and Mosaic hops, providing a punchy, bright summer beer. What makes it special is the cause behind it: brewed in loving memory of Milo, a Collie who battled lymphoma, $1 of every pint sold is donated to the CSU Flint Animal Center, giving back to those that took care of Milo through his treatment and helping families in need for future oncology care of their beloved canine family members. Delicious inside and out—heed the advice and kick one back after a summer hike or day's drive. Also on the sessionable list is the Soberish Monk: a Belgian table beer that also does the trick after hiking trails through wildflowers on a cool summer's day.
In addition to the crisp and refreshing Milo and Monk, I happily sipped on the Seven Sisters Stout. It was a chilling evening after a off-road expedition, and before traveling down "the hill" (as we used to call the mountains back home in Southern California), where we left it at 98 degrees, I wanted something big and boastful. At 4.
7% ABV, I wasn't required to throw in the towel, and instead blissfully engaged in the sessionable, coffee-roasted stout—exactly what I needed. There are always the go-to's on the list as well: Don't Hassle the "Hef", the House IPA, and the Vers L'Ouest Tripel. I also really love the fact that they have the option for you to buy a round of beers for the kitchen, included on the beer menu. Cheers to supporting the support staff! They offer a full menu, but I will admit, of the several times I have visited myself, I've only indulged in pretzels and knots (which are always delicious!). Have some lunch and fill me in!
With cool sophistication, the vibes in Westbound and Down are still earthy and friendly. Make it a tradition to stop through on your next mountain escapade and enjoy everything this quaint Rocky Mountain town and brewery has to offer.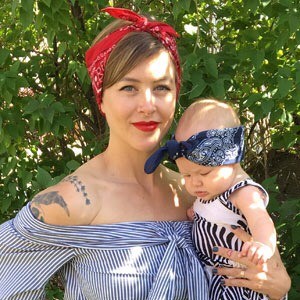 Erica Hoffmeister earned an MFA degree in creative writing and an MA in English from Chapman University of Orange. She has creative work published in the literary journals Shark Reef, Rat's Ass Review, Split Lip Magazine, and others. She has been teaching for over a decade (claiming 8th grade as her favorite grade level because she's an actual crazy person) and currently teaches composition and literature courses for Morgan Community College out of Fort Morgan. Always considering herself a bit of a beer nerd, she met her husband at Our Mutual Friend brewery while on vacation and fell in love with him, Denver, and its beer scene in one fatal swoop. While born and raised in Southern California, don't worry—she's earned her spurs as a transplant by creating her very own Colorado native. As a new mom, she is currently renegotiating her role as a world-traveling, bar-hopping, beer-loving free spirit by taking advantage of Denver's beer culture, where you can find as many babies in breweries on any given afternoon as beers on tap.