Top 10 Best Things About Denver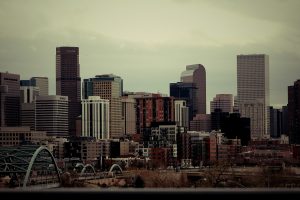 Top 10 Best Things About Denver
#1 The Weather in Denver
The first time I visited Denver it rained for 3 days straight and all the mountain views were shrouded in clouds!  Somehow I still fell in love.  After living here for 2 years I don't think I have ever seen consecutive full days of rain.
When news got around that I was leaving New York for Denver, the reactions were heavily riddled with concern for the fierce weather.  But, the 1870's claim that Denver receives 300 days of sunshine was attractive to me!  When we moved in during the first week of January, I remember thinking what a great stretch of weather for moving in!  The weeks went on the same exact way and I was taking selfies in tank tops with disbelief.  Truly, the weather here is refreshing!  Denver gets more clear days than Miami and more hours of sunshine than San Diego and Tampa…raising the question, what really is "The Sunshine State"?  Sunglasses are a must!
On the other hand we are the 6th driest city in America.  I have found that no normal lotion, no regular lip balm, no hydrating shampoo will do the trick!  I am talking about a dryness that when simply walking around and breathing the air makes you parched.  I actually don't mind it.  It means being conscientious about drinking water and protecting your skin, nails, and hair.  But honestly, the dryness is so much more comfortable and tolerable in the heat and in the cold.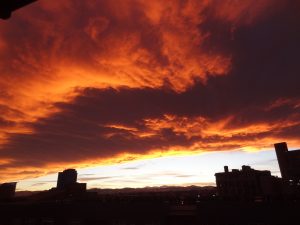 Denver also has an incredibly dramatic and ever changing skyscape!  The sky in Colorado actually is bluer because ofthe low humidity.  But apart from the blue sunny skies, the mountains create their own weather, it is ever changing.   Some patterns we see here in Denver are wave clouds, virga, and Kelvin-Helmholtz clouds, which are known to exist at the boundaries of Earth's magnetic environment and also within the atmospheres of Saturn & Jupiter.  The sunsets are like no others I have ever seen. I have even witnessed a lightning storm at sunset.  This is big sky country and out on the flat plains there are no trees to speak of and therefore 180 degree views of stars and planets.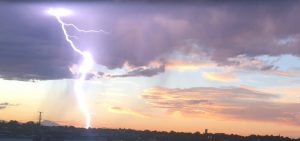 And of course, there is the altitude.  At a mile high, the air is thinner, which translates to less oxygen, more fatigue, dehydration, sun-exposure, magnified effects of alcohol, and being prepared for four seasons on any given day.  You may need a coat in the morning, a raincoat around noon, a tank-top in the evening, and once the sun goes down the temperature drops quickly because of the low humidity.  For example, 3 hours ago I walked to the store in shorts and flip-flops.  An hour ago it was thunder and lightning.  At this very moment, as I write, it is snowing!  CRAZY!  It's best to dress in layers!  Mountain weather is unpredictable, and storms pop up and move through quickly…almost every afternoon in mid-summer.  As the saying goes, "If you don't like the weather in Colorado, wait 5 minutes"!
For more on this topic see my personal blogpost "Storms"
#2 Denver is Walkable
I have never lived in a city before!  The first few months learning my way around was an adventure!  There is so much to do and see in downtown Denver.
Opera
Live music shows
Hip RINO District (full of hipster types with outrageous mustaches)
REI flagship store complete with indoor climbing wall and tons of classes (it's worth a visit if you're in town for a short trip…it's that cool)
…need I say more?
For the first year my husband and I often were troubled by our feet from all the walking until we became accustomed to it (and yes, we are those weird people who wear the shoe inserts.  They save my life!) But there is something very satisfying to be able to leave my wheels behind and reduce my carbon footprint in exchange for health, well-being, and convenience!  And whenever the destination is just a little too far, there is always public transportation or Uber!
#3 The Rocky Mountains
Though I have now adapted to being a city girl, the ONLY way that I can remain such is that Denver is so closely situated to the Rocky mountains.  In 30 minutes I can be in a sparsely populated wilderness area and enjoy all the peace and quiet I could ever want.  The mountains are home to big horn sheep, mountain goats, mountain lions, black bears, rattle snakes, raptors, foxes, moose, elk, coyotes, record-breaking trout, black widows, and rodents of all sorts.  Colorado has close to 60 fourteeners, which means peaks of at least 14,000 feet.  Daytrips could include:
hiking

cycling
climbing
fishing
snow-tubing
snow skiing
snow shoeing
camping
snowmobiling
dog-sledding,
zip-lining
ice-climbing
ice-fishing
rafting, canoeing
4-wheeling
Having greenspace close by is essential for city life in my opinion!  People here embrace the outdoors and are active in all seasons.  No wonder the facts say Colorado is the least obese state!  It's a contagious attitude!  Meanwhile, everywhere you look from downtown Denver, the buildings frame a beautiful scene of snowcapped mountains and blue sky!  It takes my breath away every day!
#4 The Denver Food Scene
Within 5 blocks of my house, there are two major grocery stores!  That has been a game changer and I no longer stock up my freezer…instead I shop every day or two, picking whatever looks fresh.  Every Saturday May-October there is a wonderful farmer's market at Union Station featuring the best just-picked fruits and vegetables, eggs, local meats, cheeses, colorful flower bouquets, honey, coffee, and fermented goods.  They also offer many enticing ready to eat delights such as hand held burritos and a porchetta sandwich made from slow-cooked garlic and herb pork belly served with blanched broccoli rabe and a tangy dressing, all on a delicious grilled ciabatta roll.  The market has a great vibe, families come out with their dogs and children.  It can be hot and busy…so I enjoy it most early in the mornings but it lasts until 2 pm.
Denver has a dense community of restaurants!  Yelp says there are 202 restaurants within one mile from my home!  202!!!  There are 377 Pho shops, and 1698 Mexican restaurants in Denver.  With the population explosion of 77,000 new residents last year in Colorado, the pressure is on for competing restaurants to please the elevated pallets of foodie-type millennials moving in from out-of-state.
5280 Magazine reports: "Restaurants are closing that were good enough for a while, but now there are too many options"…says Symensma…"without innovation, relevance, and uniqueness it's tough to stand out and survive."
Thankfully, for connoisseurs, this means the bar is raised and we get better service, cooler atmospheres, and tastier food.  One thing that is lacking in my opinion is that small-town feel…places where you can belly up to the bar and everybody knows your name and drink of choice to the point that we become friends and exchange numbers.  I have found that elusive in Denver, and something I highly prize in my eating and drinking experience…I'm not sure Denver will ever be able to create that.
Another great thing about Denver is the food truck scene!  Three times a week May-October almost seventy local food trucks gather to Civic Center Park creating a festive mid-week lunching experience!  It is a unique phenomenon that I have never witnessed anywhere else.  You can join in on a free workout with a professional trainer in the shade of the trees and walk a few meters into an eating frenzy like no other!
Last but not least there is kitschy Casa Bonita, as seen on a South Park episode and said to be the "Disneyland of Mexican restaurants"!  You can dine on the worst Mexican food while surrounded by tacky décor and watch really bad acting shows and cliff divers that jump into the indoor waterfall.  There is also fire, magic, puppets, and a pirate cave!  It is so bad that it is good…and a must-see for Denver visitors with kids.
#5 Denver Communal Spaces
There is a wonderful trend in Denver for shared spaces.
From train station to shipping containers, former airplane hangars, and warehouses…a mix of part food hall, drinkery, retail shopping, and shared office space…I love these places!  If you feel lonely or isolated, hanging out in one of these lively buzzing market halls will give you the shot in the arm of belonging that you crave.  And though many will be shocked with disbelief that I have left legalized pot off of this top 10 list…an equally gripping habit of coffee culture as a social lubricant and a widely consumed stimulant is very real here in Denver.  All of these moving parts provide great networking opportunities and everything you need for an alternative work place, including beverages, like-minded people, and USB outlets…so if you work from home and are tired of the same old four walls…get out there and communalize!
#6 The Beer
A good friend planning a visit from the east coast said she wanted to check the breweries in the area and wanted to know if they were close by.  My response was there is one on every street corner…google says around 20 within a mile and 643 in Denver!
Some of my faves:
Every Saturday evening and also the first Friday evening of every month Drink RINO sponsors free eTuks to this neighborhood offering ease of access to many of the top area breweries without having to drive…WIN-WIN!  And of course there is the quintessential Coors, the largest single brewery facility in the world which offers a 30-minute self-paced tour and free tasting.
#7 Red Rocks
I have never been to so many concerts in my life.  I don't know if it's the ease of access to them, or the beautiful venues available in Denver like Red Rocks, or if there are just more good bands passing through town.  There is nothing that quite compares with driving 30 minutes out of downtown Denver, passing through the suburbs, and driving within sight range of this beautiful, natural landscape of protected lands, open fields, and this gorgeous red-orange angled rock formation jutting out, forming an open-air amphitheater with ideal, natural-occurring acoustics.  In the back drop you can see the Denver city skyline.  It's just an awe inspiring place to experience artists like no other.  If you haven't been…you need to try it.
The climb up to the amphitheater from the parking areas is not for the faint of heart.  It can be a trek!  There are some convenient shuttle services from a couple of locations in Denver that provide a safe and stress-free alternative to driving.  They usually include some sort of pre-concert special offering from a local restaurant and they permit you to bring your own beverages to tailgate with as long as it's not glass.
Besides concerts, there are many other fun things to do at Red Rocks including miles of hiking trails, picnicking, yoga & exercise for fitness, fossil exploration, and full length movies projected onto the rock.
# 8 Green Chile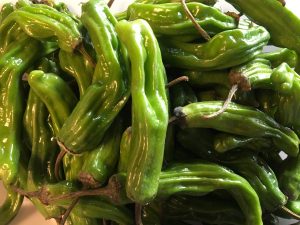 Why are so many of my favorite things about Denver food related?  I moved to Denver from New York.  When we eat chili it's usually while camping or tailgating…it's fall weather food.  Our east-coast chili is rich and beefy and red.  It's spicy, has beans, tomatoes, jalapenos, ground beef, lots and lots of chili powder, cumin, and we top it with cheddar cheese, sour cream, and green onion.  When you say chile in Colorado, it means "green chile"!  We even spell it differently here in the west!  These chiles come from New Mexico in many varieties but one of my favorites is the Hatch variety, grown in the Hatch Valley.  Chile stands pop up beside the streets of Denver during late summer and into fall.   You typically order them by the bushel and wait as they are freshly fire-roasted right in front of you, releasing a smoky, earthy flavor that permeates the air!  From this state they are frequently eaten as-is, frozen for year-round use, or commonly we make pork based green chile which is used as a tasty dipping sauce, over eggs, mac-n-cheese, and to smother burritos or french fries.  YUM!
#9 Team Loyalty
Whether it's professional football, baseball, hockey, basketball, soccer, lacrosse, or rugby…Denverites love to support their sports teams.  On any given game day they come out in droves!  After moving here two years ago and already having my own favorite team, I felt the pressure to convert to become a Denver fan…or I might as well move back to New York.  I became a Denver resident in January 2016, the year the Broncos won the superbowl.  The homecoming parade was INSANE!  I think every business closed down…because the streets were a sea of over a million fans decked out in orange flooded the city to show their loyalty to their beloved team.  It's an infectious zeal, one that makes a united community…and you just want to be a part of it.  And though, I am not quite to that level yet, I respect and admire the Denver fans.
#10 DOGS DOGS DOGS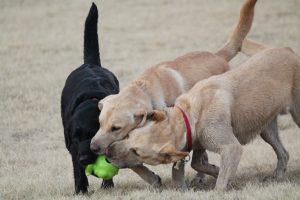 Last but not least, I happen to love dogs and so does everyone else here in Denver.  It's a very dog-friendly town.  Everywhere you look people are out and about with man's best friend.  Dogs are eagerly welcomed most places that humans are.  For example, one night we met up with friends at a local brewery and when we stepped inside there were no less than 20 dogs inside laying at their owners feet, making new friends, lapping up spilled beer while everyone around benefits from that "zen" factor that dogs can be the source of.  It's no secret that dogs decrease stress, promote relaxation, influence social and emotional development, and encourage an active lifestyle.  What's not to love about that!
I hope you have enjoyed my long-winded storytelling journey and slice of life from here in Denver…now come visit!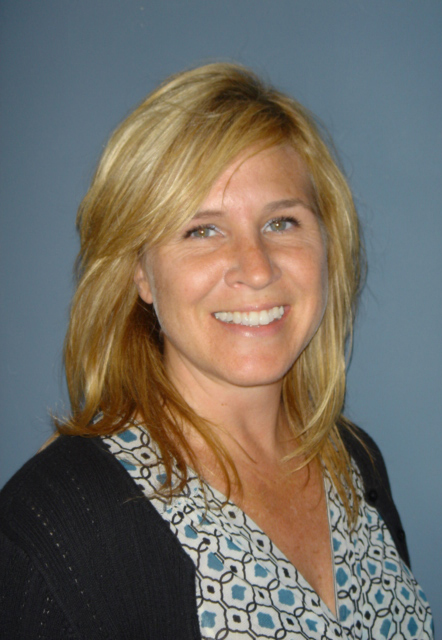 Heather is a creative writing wizard, travel guru, Elite Yelper, personal blogger, and Spartan Sprint race finisher!  After living most of her life in rural New York State, Heather quit her career and moved cross-country to Denver looking for a new and urban lifestyle.  Although, she has traveled to over 20 foreign countries, she had never before lived in a city and her last home was outside a Hamlet with only one traffic light.  Heather now exists as a well-adapted LODO Denverite who considers herself an area expert.  Moving can spin you around and spit you out, but Heather's journey proves the joy of waking up with a new city as your playground and opening up a box of discovery every day.  She has overcome setbacks, dealt with being an out-of-towner and urbanized into an individual who can easily maneuver living in Denver with thoughtfulness and skill.