The Robischon Gallery
Since 1976, Robischon Gallery has been curating contemporary art exhibitions from regional, national, and international artists. Their shows encompass a wide range of styles, mediums, and themes. Their extensive artist list, built over more than four decades, includes many influential artists. Currently on display are four concurrent solo exhibitions from Debra Zlotsky, Ted Larsen, Jonathan Parker, and Scott Chamberlin. These artists explore abstraction through their respective approaches to painting and sculpture. The works range from large to notably small scale, focused on color and composition while maintaining a sense of humor in their pursuit of the experimental.
Deborah Zlotzsky is a world-renowned painter with a BA from Yale University and an MFA in painting and drawing from the University of Connecticut. Her works have a unique way of absorbing the viewer, drawing them into a universe where dimensions are subjective, logic is misleading, and asymmetry is the norm. She often uses vibrant color palettes reminiscent of the 60s and 70s. Author Carmen Machado describes her style as, "a convergence: of Renaissance images and pop art, of the past and the present, of science fiction and reality, of physicality and illusion." Zlotsky's latest series, Loopholes, is her third solo exhibition at Robischon. These paintings feature intricate curvilinear and rectilinear designs. The shapes are visually illusive, full of seemingly coincidental interactions on multiple perspective planes. Zlotsky has been the recipient of numerous awards, including First Place in a SACI International Art Competition, and a Juror's Award from Mohawk Hudson Regional. In addition to her work as an artist, she teaches Experimental and Foundation Studies at the Rhode Island School of Design.
Ted Larsen is an internationally exhibiting artist with a BA from Northern Arizona University. His work centers around geometric abstraction, minimalism, constructivism, and the importance of high art practice. He often uses salvaged or repurposed materials, breathing new life into previously discarded items. His selected works are from a collection titled, Stand Up, Buddha. It consists of small-scale sculptures made from metal rectangles roughly the size of matchboxes. The boxes are stacked, leaned, and joined in precarious arrangements. The sculptures are positioned on roughly hewn wooden platforms, giving them a figurative appeal. Larsen has shown at many prestigious venues including the New Mexico Museum of Art in Santa Fe, The Albuquerque Museum, The Amarillo Museum of Art, The Spiva Center for the Arts in Joplin, Missouri, and the Philadelphia Museum of Art. He has also been featured in nearly 100 gallery exhibitions. Larsen has been the subject of numerous articles in The New York Times, The Philadelphia Inquirer, The Denver Post, and The Dallas Morning News, among many others. His sculptures are part of private and public collections all over the world.
Robischon is pleased to present its first solo exhibition from Jonathon Parker. The New Mexico artist specializes in mixed media, often using cut and sewn pieces of canvas painted with acrylics and stitched onto stretched, unprimed canvas. He assembles his works layer by layer, through brushstroke and patchwork, with painstakingly stitched patterns. He allows the materials to keep their raw edges, scuffs, and stains, creating a variety of interesting textures. His series, Sewn, includes an astounding 46 works crafted in his signature style. The works are a dialogue, conducted in a sort of visual language based on shape, repetition, and intuition. Parker has been awarded residencies at the Djerassi Residency Artists Program, the Kala Institute, and the Fleishhacker Foundation, among others. His work has exhibited throughout the US and Europe.
Scott Chamberlin is a sculptor and professor, originally from southern California. He holds a BA from San Francisco State University and an MFA from New York's Alfred University. He's taught at universities in Auckland and London, and currently teaches at CU Boulder. Chamberlin's works are understood and experienced almost innately. He focuses on the full spectrum of experience, beyond the restrictions of language. This makes his works difficult to verbalize, which is of course, at the root of his expression. His latest series, Sira, follows suit. The sculptures take on familiar, but abstract forms, often drawing on human anatomy. He's able to remain conceptually unambiguous, while still connecting with strange, sometimes unsettling feelings deep inside the minds of his audiences. His work has shown all over the country and abroad, including shows in Taiwan, New Zealand, Portugal, Sweden, England, and Holland. He and his wife, Deborah Dell, share a residence and studio in Denver.
Don't miss your chance to see these four momentous exhibitions from world class artists. They're on display thru March 21st at Robischon. The gallery is located at 1740 Wazee Street in Denver, and hours are Tuesday-Friday, 11-6pm, and 12-5pm on Saturdays.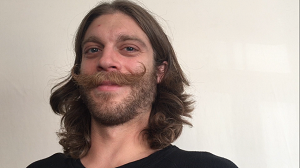 Jared is a local content contributor and aspiring author. He was fortunate enough to grow up in Golden, Colorado and graduated from MSU Denver. While an insatiable love of travel lures him all over the world, his roots remain firmly planted here. He enjoys writing short stories, poetry, children's books, societal observations, and everything else. A nature enthusiast and sunshine connoisseur, Jared is perfectly at home on any mountaintop or patio. He frequents art galleries and concerts, poetry readings and breweries, museums and bookstores. When he isn't making neighbors cringe at his musical attempts he can be found on a snowboard or sailboat, depending on the day. A perpetual adventurer and eternal patron of the road less traveled.