The Birth of Cool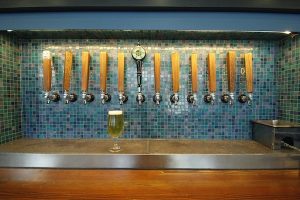 In order to stay fresh and original within a vast sea of microbreweries, many of Denver's owners and brewers have taken to theming their businesses. Breweries like Ratio, which connects the beer industry to all things music, TRVE, a truly heavy metal establishment through and through, Fiction, a brewery for total book nerds, and Grandma's House, aptly named for a decorated taproom pulled literally from your grandma's 1980s basement, are just to name a few. It is helpful to know what you're in the mood for or where you belong, if not just for the day. For a unique taste of history, head to the well-executed jazz-themed brewery, Spangalang, sits right in the heart of Denver's own historical Five Points neighborhood and hits every note with style.
Former Great Divide Brewers Austin Wiley, Darren Boyd and Taylor Rees teamed together to build out Spangalang from the former DMV in the Five Points Plaza on Welton Street,joining many other amazing Welton Street local eateries and watering holes. It's no secret that these guys are brewing some of the very best beer you can enjoy, period. They take time, effort and pride in the craft above all else, and their beers are difficult to match. Spangalang represents the name of a classic jazz ride cymbal pattern, the jazz theme evident in every corner of the room—even in the bathrooms. Essentially, you get to drink appropriately named beer, like their year-round saison, Beatrice, with Sam Rivers himself. Jazz nights are held every Tuesday night, featuring live jazz from the Gabriel Mervine Quartet, but most times, you'll find a cool jazz tune playing through the speakers no matter what. The vibes are relaxing, refreshing, and nostalgic. In a city currently going through a track-condo crisis with overdevelopment built on top of once beautiful, historical neighborhoods, sitting at a bar that gives credit to Five Point's historical roots in the midst of evident change is a uplifting experience. Especially when the beer is this good, and the service one-of-a kind. You'll always be in the company of at least one of the owners here, a friendly face always in sight.
Gaining substantial notoriety in the short two years since they've opened, Spangalang always has a long list of beers to choose from, none of which disappoint. From their 2015 GABF and World Beer Cup winning Belgian style table beer Sugarfoot, to the go-to local's favorite D-Train IPA—named after the train that stops right in front of the brewery—there is always something for everyone. Their Nightwalker series always keeps things interesting, often brewing special versions of their delicious imperial stout. Currently on tap is the Carrot Cake Nightwalker—save this big, boastful beer for a dessert. The brew that I find to be the most special, however—the one I always look forward to its tapping—is the Birth of Cool. I'll be the first to claim that of all the cucumber beers popping up this season, Spangalang did it first, and their cucumber gose does it best. It is slightly sour and salted and wonderfully balanced, making it the most refreshing beer you can drink directly from the source. After all, you can't get much cooler than Miles Davis. Grab a full pour and pair it with a delicious snack from Sarah at, the snack shack adjacent to the taproom, and sit on Spang's newly constructed front patio to watch Welton Street go by.
Also to note: Spangalang is a featured brewery in the Denver Mug Club for the month of July, and has also paired up with The Real Dill to create The Colorado Pickle and Beer Society. Need beers to go for the long holiday weekend? They offer growler and crowler fills, and are often offering specials—currently, crowler fills are half off when you get a full pour through the 4th of July. Fill as many as you can muster, and taste sweet jazz as you watch the fireworks overhead on Tuesday night. And have a safe and happy holiday!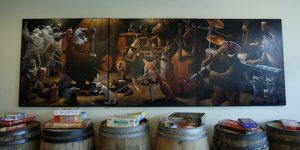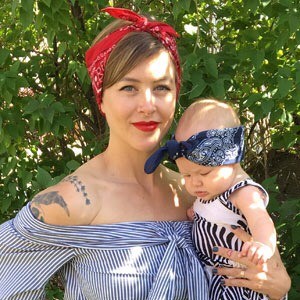 Erica Hoffmeister earned an MFA degree in creative writing and an MA in English from Chapman University of Orange. She has creative work published in the literary journals Shark Reef, Rat's Ass Review, Split Lip Magazine, and others. She has been teaching for over a decade (claiming 8th grade as her favorite grade level because she's an actual crazy person) and currently teaches composition and literature courses for Morgan Community College out of Fort Morgan. Always considering herself a bit of a beer nerd, she met her husband at Our Mutual Friend brewery while on vacation and fell in love with him, Denver, and its beer scene in one fatal swoop. While born and raised in Southern California, don't worry—she's earned her spurs as a transplant by creating her very own Colorado native. As a new mom, she is currently renegotiating her role as a world-traveling, bar-hopping, beer-loving free spirit by taking advantage of Denver's beer culture, where you can find as many babies in breweries on any given afternoon as beers on tap.