Teach Your Dog to Bike with You!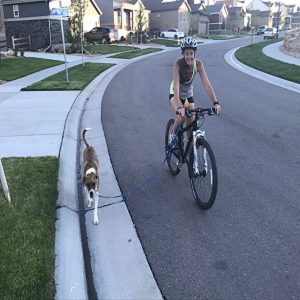 I love summer in Colorado. I love hiking, biking, and camping. And I especially love to do those activities with my dog. Teaching my dog to hike and camp was easy, but teaching my loyal companion to bike was another story. I love biking for exercise and ending at a brewery to reward myself; but I hated leaving my pup at home. So, I taught him to bike with me! This week I decided to share my experiences and five-step process.
Acclimate the Dog
Bikes can be scary for our four legged friends. So, it is very important to let them sniff the bike in a nonthreatening way. As your dog sniffs the bike, make sure to praise him. Acclimating my dog took a while because he is a scaredy-cat. Hopefully, it will not take you as long. Or maybe my dog is good at pretending so he gets lots of loves and treats.
Acclimation Part 2
Not that your dog is accustom to your stationary bike, it is time to get them accustom to a moving bike. To do this, take a few steps with your bike and encourage your dog to follow. You can walk your bike and your dog so your dog gets comfortable moving with the bike. Things you should work on include: turning, speeding up, slowing down, stopping, a wobbly bike. Again, this step took my dog a while.
Commands
Once your dog is comfortable with the bike, you need to teach your dog biking commands. Some good ones include: Slow, Stop, Turn, and Leave It. Leave it quickly became the most important for me considering Auggie loves rabbits!
Start to Ride- Slow and Steady
Once you and your dog are comfortable with the commands and the bike, it is time to start riding. Take your dog for very short rides to start with. As he builds up endurance and you build up confidence, you can increase the length of the ride. For this step, try to remember how long it took you to build up endurance and be patient with your pup.
Gear
For safety reasons, it is important to think about gear. Holding a leash puts you and your dog in danger. That is why there are bike attachments made for biking with dogs. They keep your dog a safe distance from your bike and allow you to have your hands on your handlebar. Here are a few options: Bike Tow Leash, Springer Dog Exercise, Walkydog, Petego. If you aren't sure what to get, go to your local pet shop or talk to your vet.
No more leaving your dog at home. Now that your loyal companion can bike, the two of you will be able to enjoy the all the trails and breweries Colorado has to offer. My favorite "tour" is the Beer Walking Tour from LoDo to LoHi! If any of you have trained your dog to bike, I would love to hear your story.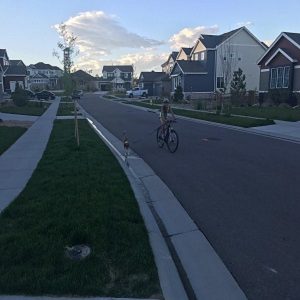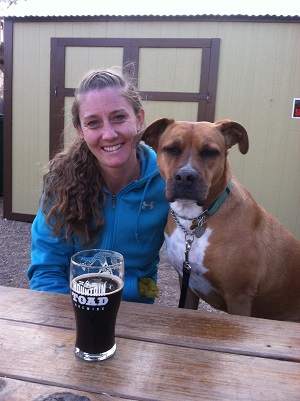 Christie is an outdoor enthusiast from Golden, Co that LOVES doing everything outside. She has an MBA with an emphasis in Sustainability from Brandeis University and a passion for helping others, which she turned into a consulting career. Whether you are looking for social media, marketing, or business strategy, Christie will help grow your business. In her spare time, she enjoys the outdoors and sharing her stories with others through blogs. Christie loves Colorado and hopes her stories help others see Colorado in a way they have never experienced before.