TC McCartney–Some Stories Write Themselves
Last week, TC McCartney was named the quarterbacks coach for the Denver Broncos.  Generally, a story about a QB coach doesn't draw much interest, even in Bronco Country, but this one may change your mind.
McCartney was with the San Francisco 49ers last season, and worked under head coach Kyle Shanahan and Denver's new offensive coordinator, Rich Scangarello, as a lower-level assistant.  McCartney is 29 years old, started in the NFL as a quality control assistant with the Cleveland Browns, and the TC stands for Timothy Chase. Have I piqued your interest yet?
Well, maybe it would help to let you know that TC McCartney is the grandson of legendary University of Colorado football coach, Bill McCartney.  Coach Mac, as he was called, started off as a high school coach in Michigan, was hired by Bo Schembechler at University of Michigan, and then accepted the head coaching job at CU in 1982.  Coach Mac ended up coaching the Buffs for 13 years, going 93-55-5 over that span, including a National Championship win in 1990.
TC's mom was Kristy McCartney.  Kristy was a student at CU back in 1988, and the campus and local news had a field day when it was discovered that Kristy was pregnant with child.  A college pregnancy happens on occasion, but the fact that Kristy's father, Coach Mac, was also the founder of a highly successful Christian conservative group for men called Promise Keepers made headline news.  Coach Mac and the Promise Keepers had many old-school religious beliefs, including being opposed to abortion, and most relevant, preaching against pre-marital sex. The Promise Keepers had almost a million men gather in Washington, D.C.; the movement was exploding locally and nationally, and now the founder's daughter was unmarried and pregnant with TC.  It was a big deal.
TC's father was Sal Aunese.  Aunese was a 5-star recruit from California who came to the University of Colorado after being recruited by the Buff's head recruiter at the time, Les Miles.  Coach Mac was in need of an option quarterback and the talented kid from the San Diego area was the type of recruit that could turn a program around. Aunese came to Colorado, became an instant star, and the Buffs were not only nationally ranked, but they were now nationally known.  The whispers were getting loud, but no one spoke of it publicly. Coach Mac's daughter was pregnant with the star quarterback's baby.
There's more.
Kristy finally told her father about the pregnancy, and despite thoughts to abort, she decided to keep the baby.  Coach Mac confronted Aunese, but Aunese had no intention of marrying Kristy. Coach Mac understood. To marry without love would be foolish and eventually the couple would stop seeing each other.  But the Buffs were now challenging for a National Championship, and the whispers continued. Then Sal got sick.
It was a short time later, during the winter conditioning program that Aunese started throwing up blood during practice.  Hospital results determined that the star quarterback had a rare form of stomach cancer. He would only have six months to live.
The players were devastated, but as Sal's condition worsened, the team would galvanize together and try their best to win for their suffering brother.  Sal's condition would become a rallying call.
Timothy Chase McCartney was born on April 24, 1989.  His father, Sal Aunese, would make it to the hospital for the birth.  Kristy and Sal had moved on from each other, but Sal, despite his weakened condition, would cherish the little time he had with his son.  Sal immediately nicknamed the boy TC.
Sal Aunese died on September 23, 1989. He was 21 years old.
At the memorial, Coach Mac finally acknowledged in public what most knew already.  Kristy gave birth to Sal's child, and Coach Mac would love him unconditionally. A young TC would spend nearly everyday with his grandfather as the years passed.  Talking football, watching film, spending time with Grandpa, and learning from the best,
The 1989 Buffs came close to finishing their mission of honoring Aunese as they lost the National Championship game to Notre Dame 20-6, but the following year they would complete their goal.  With a 10-9 victory over the Irish in the 1990 Orange Bowl, Colorado won their first and only National Championship. Coach Mac would retire four seasons later.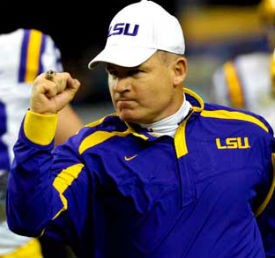 TC McCartney would go on to play quarterback for Fairview High School (Boulder, CO), where his uncle, Tom McCartney was the football coach.  Coach Gary Barnett, a former assistant for Coach Mac, was ready to give TC a roster spot at CU upon graduation, but Barnett was replaced by Dan Hawkins, and the plans fell through.  Then a call came in from LSU, a national powerhouse, and an offer to make the team as preferred walk-on. The coach at LSU at that time was Les Miles. The same man that recruited TC's father decades earlier. TC would go on to coach at LSU and CU before taking a job in the NFL.
Yep.  Some stories just write themselves.
Images via espn.com, pac12.com, sports.espn.go.com, boulderinn.com, elevenwarriors.com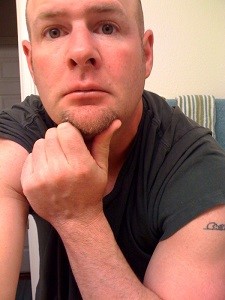 Alan Tapley is an educator, author, and blogger who has lived just outside of Boulder for the last twenty years.  His published work includes two novels, two children's books, a series of cartoons in the Minneapolis Star-Tribune, and multiple sports related articles. His love for family and the state of Colorado is only matched by one thing, his passion for sports.  The first baseball game he ever attended was at Wrigley Field, before there were lights.  At the final Bronco game at the old Mile High, he allegedly cut out a piece of his seat in the South stands.  But regardless of being here for the Avalanche's last Stanley Cup, the Rockies only World Series appearance, and all the Broncos' Super Bowl Victories, his wife never fails to remind him that he wasn't at the University of Colorado in 1990, like she was.  The year the Buffs football team won the National Championship.