Stem Ciders: The Unofficial Drink of Winter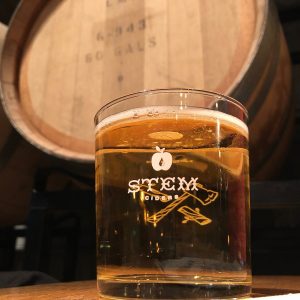 I'll be totally transparent and begin by mentioning up front that Stem Ciders is my favorite tap room in Denver. Since 2014, Stem changed the way I thought about cider, and has never stopped impressing me since. Whether you are already a cider fan, are cider-phobic, or have never tasted cider other than from a bottle out of a variety pack from the liquor store, you owe it to yourself to visit Stem.
Located in the heart of RiNo, Stem Ciders opened its doors right before the RiNo arts district boom, and in the past (nearly four) years now, they have seen a lot of changes. Fortunately for them, these changes have not only remained within the thriving growth of the neighborhood, but have also meant incredible growth for their well-deserving company. If you've had the pleasure to visit Stem, you may have noticed some changes over the past several months: from a bright, fresh new design, to total name changes of the classics, Stem's brand is evolving and transforming. One of the reasons for these changes is expansion. Stem is now distributing not only through Colorado, but also through the Midwest, from Chicago to Kansas City—hence new names of some old ciders. Big things are happening, and it t may be well to assume that Stem will become even more wildly known as they continue to expand and grow, so embrace the subtle changes for the better. For now, the taproom remains the same: a warm and cozy corner off Walnut, where you can drink all the staples, seasonals, and special releases every day.
What used to be an almost weekly ritual for my husband and I, dwindled down to monthly, and with our busy lives and schedules and re-location to the west side of town, is now an occasional treat. When we thought about our last visit to Stem, it escaped us. It must have been several months, and I was long overdue for some cider; there is something special that happens once Halloween comes and goes and November creeps up on the heels daylight savings' shorter days, the tinge of crisp winter biting the fingertips. In short, it was cold, and I was thirsty. I needed my winter warmer: Stem Ciders.
Things were definitely different than my last visit; there was much more on tap, new menus, and a whole fridge of take-away goodies. Frozen cider slushies are now a staple, though it was way too cold for me to indulge. Instead, I took a flight of a little new, a little old, and some well-recommended blends (hopped-pear, whaaat).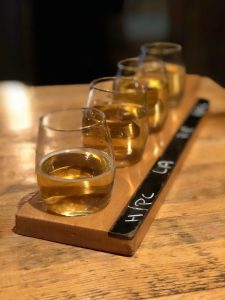 The pear cider, which was new and only seasonal last time I tried it, is now a "special release" featured on their menu, and is still as delicious as I remember. The thing about Stem that sets them apart from the ciders we were first introduced with—those melted candy atrocities that illicit immediate headaches and instant sugar rushes—is that the sweetness is completely dependent on the fruit, and their dryness (and sometimes dry-hopped!) offsets the ciders into a perfectly balanced, never-too-sweet, drinkable adult fermented juice. Depending on your own style and sweetness-to-dryness preference, there is a fair gradient to choose from. The new(er) names of the ciders help guide you: Real Dry, Off-Dry, and Hopped provide a range. There is also Raspberry, the Grapefruit Citra Hopped to pair with the Pear for a fruity sampling, as well as my two forever favorites: L'Acier and Le Chêne. Newest on the board: The Pippins: Cox's Orange and Newtown Pippin apples from Michigan are fermented with Brettanomyces to create a very dry, yet complex and bright cider that I would love to recommend to anyone still hesitant to give cider a try. For the brave, there is also coffee cider, and for those looking to bring home something special, the Colorado Heritage and Perry are available only in 750ml bottles. But, be sure to bring home at least one of the 4-packs or the 6-pack dry series of cans no matter what—you'll get thirsty for these, I promise you.
Our return to Stem was welcomed by a jam-packed taproom full of new faces, and complete with live bluegrass—which can be enjoyed every Thursday from 7-9:30pm. There is nothing more warming than sipping on cider, listening to some classic Colorado banjo, beside a wall of barrels when it is cold out. Well—that moment may be matched when they feature warm cider and mulled cider in the coming winter months, so keep a look out! You will find me on cuddled up to a glass gazing peacefully at fresh fallen snow the second it is released. Until then, enjoy their monthly firkin tappings, Tuesday pairing events, and Bluegrass Thursdays, as well as Geeks Who Drink trivia nights, special events on the weekends, and much, much more. And, as the holidays approach, and you find yourself frequenting the taproom more and more, Stem's seasonal gift baskets make the perfect gift to send back to the folks. So, if you haven't already, now is the time to get to know your favorite local cidery—this way, as Stem grows even bigger, you can tell all your friends that you knew all about it first.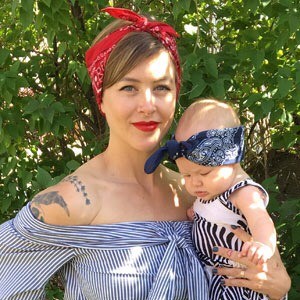 Erica Hoffmeister earned an MFA degree in creative writing and an MA in English from Chapman University of Orange. She has creative work published in the literary journals Shark Reef, Rat's Ass Review, Split Lip Magazine, and others. She has been teaching for over a decade (claiming 8th grade as her favorite grade level because she's an actual crazy person) and currently teaches composition and literature courses for Morgan Community College out of Fort Morgan. Always considering herself a bit of a beer nerd, she met her husband at Our Mutual Friend brewery while on vacation and fell in love with him, Denver, and its beer scene in one fatal swoop. While born and raised in Southern California, don't worry—she's earned her spurs as a transplant by creating her very own Colorado native. As a new mom, she is currently renegotiating her role as a world-traveling, bar-hopping, beer-loving free spirit by taking advantage of Denver's beer culture, where you can find as many babies in breweries on any given afternoon as beers on tap.